10 Financial Processes to Digitize During COVID-19 (Part 1)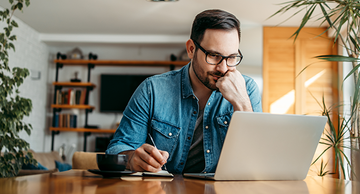 In these unprecedented times, digital banking and other financial services have become crucial for millions sheltering at home. Around the world, people now rely more than ever on online banking portals, mobile banking apps, and other remote banking channels – even for interactions that would traditionally involve a visit to the branch or a face-to-face meeting with an advisor.
In an ideal state, this increased volume of digital interactions, applications, agreements, and transactions would flow straight through digitally. The challenge many banks and financial institutions (FIs) now face is that while some core processes have been digitized, many others are not yet automated end-to-end. From account opening to small business loans, much of what starts out through an online portal or mobile app still involves manual, paper-based processing.
These gaps in the digital chain hamper the "right here, right now" service needed in times of crisis. In response, banks and FIs are rapidly adjusting their digitization efforts to meet customers in their moment of need. To help prioritize these efforts as the world settles into a new normal, we are publishing a two-part blog series that explores the top banking processes to focus on. (Read part 2 here)
1. Commercial and Small Business Lending
Governments around the world are issuing economic stimulus and relief packages for businesses affected by the outbreak. From the EU, where the European Investment Fund will guarantee loans to help "provide liquidity to at least 100,000 European SMEs and small mid-cap companies" – to Japan, where SMBs are being offered interest-free loans and large corporations have access to crisis lending programs. Many businesses need these funds as quickly as possible. FIs can support their business clients now, when they need it the most, with an expedited digital process.
At the same time, government agencies must also find ways to digitize their processes and deliver the necessary resources to businesses through their designated intermediary lenders. In the U.S., for example, the Office of Management and Budget released a memo instructing government agencies to "leverage digital forms and electronic signatures to the fullest extent practicable."
One federal bank, the Business Development Bank of Canada, integrated e-signatures with their mobile app to enable entrepreneurs to complete a loan or financing application in 15 minutes. "E-Signatures transformed the customer experience, because now we can get the client the help they need, in the time they need," says Jorge Oliviera, Director of IT Solutions Delivery at BDC. 
Recommended resources:
Security tip: Banks are experiencing increased fraud attacks in lending and need to be on heightened alert. Fraudsters are actively trying to exploit the current situation in various ways, including via application fraud (loan origination fraud). This is where a criminal applies for a loan as a net-new customer by submitting a new application based on fraudulent identity details such as stolen or synthetic identities. To help prevent this type of fraud in your digital channels, the first line of defense is digital identity verification security – notably, ID document verification with facial comparison.
Recommended resources:
2. Consumer Lending
Large-scale lockdowns and business closures are affecting household finances significantly. As a result, some banks are offering immediate relief for loan payments. The Wall Street Journal reported on examples such as Goldman Sachs "allowing borrowers who have personal loans from its consumer bank, Marcus, to sign up to delay their payments for a month." 
Despite short-term relief and government programs, financial pressures on workers, solopreneurs, and small business owners are expected to lead to increased demand for emergency personal loans, bridge loans, and debt consolidation loans. According to American Banker, "Many banks are also working to identify emergency borrowing needs – and using digital platforms to provide advice and process loan applications."
One area that banks, alternative lenders, and student loan providers are re-prioritizing is the mobile channel. With so many customers transacting through their personal devices from home, the speed and efficiency of mobile-first lending is gaining momentum. As developers pivot to build out and enhance lending workflows in mobile banking apps, two technologies will be important to consider: mobile e-signatures with digital audit trails to quickly capture signatures while maintaining compliance and mobile app shielding to protect the banking application from cyberattack.
Recommended resources:
Security tip: With more customers transacting through a mobile banking app, banks also need to strengthen their mobile app's resistance to intrusion, tampering, reverse-engineering, and malware. Mobile app shielding technologies can fortify banking apps against mobile threats without hindering the customer experience.
3. Remote Bank Account Opening
In times of crisis, banks and FIs are focused on supporting their existing customers. More so right now with loan applications than deposit accounts, due to the current economic shutdown.
However, new customer acquisition remains a growth priority for many banks. Even in the current environment, prospective retail and commercial customers are trying to open new bank accounts. According to American Banker, Citi's commercial clients have "strongly gravitated toward digital onboarding." At Citi, new and existing corporate clients opened over 1,000 accounts online in March 2020. This represents a 300% increase over the previous year. 
This new growth is at risk among institutions that still rely on manual identity verification and/or signature in the branch. According to a Litico survey from mid-March 2020, 82% of people are hesitant to visit bank branches during the outbreak. However, the same survey reveals that 63% are more inclined to try an app.
This is good news for banks and FIs that already offer a mobile account opening experience or that are in the process of building or enhancing it. In a recent ISMG banking industry survey, 68% of FIs surveyed had already identified digital account opening as a priority initiative for their institution this year. Nearly all (99%) confirmed level or increased budgets to invest in digital ID document verification, machine learning, and electronic signatures. These projects are being fast-tracked now, as technologies that securely service new and existing customers via remote channels are needed more than ever.
Recommended resources:
Security tip: Ensuring an applicant is who they say they are is critical in this time of low-touch/no-touch interaction. When a bank can't have a physical meeting with the customer, this increases opportunities for fraud. Used together, facial biometrics and digital ID document verification can help the bank ensure an applicant or user is in fact the person they claim to be.
In addition, combining these technologies with strong mobile application protection gives banks an advantage over criminal hackers. For example, even if a mobile user has a jailbroken or rooted device, mobile app shielding will identify the risk factors but still allow the banking app to function securely in an otherwise risky environment.
Once the applicant is onboarded, two-factor authentication (2FA) and multi-factor authentication (MFA) such as fingerprint scanning make it possible to offer mobile banking while still keeping the customer's information protected. These features enable customers to login to their accounts quickly and securely from a mobile smart device. Many banks also layer in additional security measures; for example, a customer's debit card can also be instantly 'frozen' to keep the missing or stolen card from accumulating any fraudulent charges. 
4. Account Maintenance
Banking customers tend to go to the branch to manage changes to existing accounts. Many such changes require a signature. Some, like adding a new spouse to an existing account, also require that the bank verify the new joint account owner's identity. But with branches limiting hours and customers unable to visit due to restrictions or heath concerns, FIs need to adapt these processes quickly with e-forms, e-signatures, and digital identity verification, so they can be securely and easily executed online.
Recommended resources:
Security tip: Fraud prevention is a top consideration when automating any financial process. Industry analysts at Aite Group have reiterated that financial institutions need to be particularly aware of online fraud during this time. "Bad actors thrive in times of chaos and uncertainty, and they have been quick to capitalize on the fear that surrounds the global outbreak of COVID-191". One of the top security challenges facing banks is account takeover attacks. Account takeover attacks happen when criminals infiltrate a user's digital account. Once this has occurred, the attackers can attempt to steal funds in multiple ways – including adding new account payees or changing the account owner's contact information or address to facilitate the theft. Fraud detection platforms can continuously monitor account activity to block – among other things – fraudulent attempts to change the account holder's name, address, and contact information.
5. Employee-facing Processes
For all essential services providers and businesses operating in the current environment, the top priority is maintaining operations in a way that is safe for employees. Some of the rapid actions that banks and FIs have taken to protect their front-line teams include virtual meetings and web chats for customer interactions.
Similarly, FIs are protecting back-office and work-from-home employees by removing the need to manually handle paper. There are still a number of back office processes across all lines of business, including in fraud and disputes, legal, compliance, risk, and others, that require paper. Like cash, paper documents carry bacteria and viruses. Considering all of the forms and documents printed solely for signature, banks are acting decisively to digitize the paperwork that their employees process by introducing e-signatures.
For organizations that need to move quickly, there is no need to wait for e-signatures to be integrated with internal systems or an employee portal. Employees can be up-and-running in minutes with an e-signature service that enables users to prepare and send documents for e-signature. Pre-built integrations or e-signature connectors to popular third-party back-office applications like Salesforce, nCino, and Pega also significantly reduce go-live time.  
Recommended resources:
Security tip: Historically, banks have generally resisted implementing work-from-home policies due to data security risks. That has changed virtually overnight. We recommend FIs do the following:
Recommended resources:
Five More Processes to Digitize 
Accompanying customers through these uncertain times will require FIs to rapidly adjust and implement new digital capabilities to meet customers in their moment of need. To address these needs in mediated use cases such as wealth management, treasury management, residential mortgage and more, look out for part 2 of this series. In the next article, we'll review processes where digitization can make it easier for customers to interact remotely with their trusted advisors, agents, and other financial services representatives.
Until then, stay safe and healthy.    
1. Aite Group, COVID-19: Challenges and Opportunities in Financial Services, https://www.aitegroup.com/report/covid-19-challenges-and-opportunities-financial-services