7 Reasons Banks are Prioritizing Mobile Banking Investments Now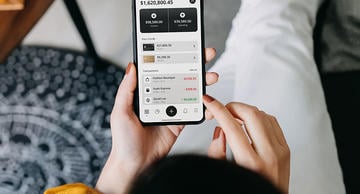 Prior to the pandemic, traditional banks were racing to improve their customers' mobile banking experience amid increased competition from neobanks. COVID-19 amplified that urgency. In banking, the mobile channel has now become the primary gateway for customer engagement and revenue growth.
When done well, mobile banking adds value to customers' lives in the moment they need it. For example, saving customers a visit to the branch by enabling them to open a bank account using digital identity verification. An amazing mobile experience would also make it easier for customers to apply for a credit card or loan by pulling data from the identity verification process to pre-fill the application form. It would give customers the ability to sign simply by tapping their touchscreen. And it would make logging in to their checking account or savings account simpler and more secure with biometric authentication.
Now is the time to add these enhancements to the mobile experience, as customers form new banking habits due to the pandemic.
However, enhancing the mobile experience goes hand-in-hand with security. Focusing only on making it easier for customers to transact without shoring up security is a mistake. Fraud has surged since the start of the pandemic and mobile is now a primary attack vector. There are real opportunities for growth in the mobile channel, but also serious risks for financial institutions that don't give equal priority to mobile security.
7 Reasons to Invest in the Mobile Experience Now
Banks that prioritize improvements to the mobile experience position their institution to achieve strategic goals and mitigate risk.
Attract new customers: The quality of the mobile banking experience can make or break customer acquisition. Mobile has become THE central access point for financial transactions and account activity because it provides freedom and flexibility. The beauty of mobile is that it allows people to transact from anywhere – almost like carrying the bank branch in your pocket. The first step in reaching customer acquisition goals is modernizing the bank account opening process to reduce abandonment rates as high as 90%. Banks that fully digitize their in-app deposit account opening, loan application and financial product sign-up processes will be the most successful at converting applicants in order to enroll more customers.
Grow revenue and cut costs: Advanced security technologies broaden the types of services that banks can offer via the mobile channel, beyond the ability to transfer money, do mobile check deposits, make bill payments, check account balances, and request a new debit card. In addition, according to Fiserv, mobile users transact more frequently, have lower attrition rates, and generate more revenue. A study from Bank of the West and Fiserv found that "following enrollment in digital banking, monthly revenue per customer increased by 10.7%, compared to a 4.5% increase for non-digital users during the same period." The mobile channel also enables banks to serve customers at a lower cost than the branch. A Fiserv research study found that after just three months of adopting mobile banking habits, credit union members visited the branch 30% less often.
Offset lost branch revenue: Customers aren't going to the branch the way they used to. Historically, that was where banks recommend and sell additional products. Offering more in-app services gives banks greater exposure to their customers and therefore, the opportunity to provide personalized recommendations for new products and services. This helps increase digital channel revenue and offset losses in the branch.
Protect customers from mobile fraud. Mobile fraud attacks are surging. Since the start of the pandemic, data breaches, identity theft, and cyber fraud have increased exponentially. Security Magazine reported that in 2020, malware increased more than five times and "nearly 20% of mobile banking customers had a trojanized app on their device when trying to sign into their personal mobile banking account." Successful attacks erode trust in your brand, affecting your ability to acquire and retain customers.
Invest now to save later. Fraud costs more every year. Fraud losses amount to billions each year, but the direct losses are only the tip of the iceberg. According to Crowdfund Insider, "For every dollar of fraud lost during the pre-COVID period, financial services providers in the US incurred $3.78 in related costs, which is up significantly from the estimated $3.35 in costs involving fraudulent activities from the previous year." Similarly, Fintech Singapore reports that "APAC countries lose an average of US$4 per transaction due to fraud." Then, there are the hidden costs for financial service providers. For example, fraud loss claims not only raise insurance premiums, they can cause financial institutions to lose coverage.
Gain a competitive edge. More agile competitors are pulling ahead. Many neobanks don't even plan to invest in online banking; mobile is enough for their users. According to The Financial Brand's Top 7 Customer Experience Trends in Banking for 2021, "if you can focus on the redesigning of any of your platforms, start with the mobile app. Our research has shown that the biggest banks are redesigning their mobile platforms at a much greater frequency than their website." Mobile innovators following this trend include Orange Money, Belfius Bank, the Business Development Bank of Canada, Regions Bank and Bank of Montreal.
Don't put your other mobile initiatives at risk. Many banks have multiple mobile initiatives waiting in the wings, such as mobile account opening for corporate banking, super apps and contextually relevant mobile banking apps with real-time personalization. All of these apps contain and process a lot of customer data. That data needs to be secured. In the mobile channel, for example, banks can gather real-time data not only about transactions, but also customers' behaviors, preferences, environment, location, and more. Improving the user experience through real-time data analytics is where the industry is headed, but banks that don't secure their mobile channel, apps and data put not only current but also future mobile efforts at risk. (Not to mention the increasing number of data privacy and data security regulations with which financial institutions must comply, from the GDPR to the US FTC Safeguards Rule – some of which carry significant non-compliance penalties.)
Use the Cloud to Overcome Resource Shortages and Legacy System Limitations
While transforming and securing the mobile customer experience may seem like a daunting task, the good news is there are cloud-based solutions on the market that make it easy to get started.
"A common concern we hear from banks that are hesitant to make the move is, they don't have the resources needed to overhaul their legacy systems," says Sam Bakken, Director of Product Marketing at OneSpan. "That's why many of our banking customers are turning to the cloud. They want to quickly get to market with a solution that has all the core functionality needed for a seamless and secure mobile experience, but with minimal resources and disruption to their business."
In fact, banks can add enhanced security to their mobile banking app in just minutes.
Sony Bank, for example, integrated mobile app security using app shielding technology. It is very easy to implement and use, says Ms. Kahori Kusunoki, lead project manager with the bank.
"It's as simple as selecting on/off."
Modernizing the mobile authentication experience can also be achieved quickly, thanks to cloud-based technologies. This includes in-app one-time passcodes (OTP) delivered via push notifications instead of SMS messaging. Biometric authentication such as Touch ID or Face ID on Apple iOS devices such as the iPhone and iPad (fingerprint scanner or face recognition on Android devices) are also available as cloud solutions to accelerate time to market.
Similarly, integrating e-signatures into a mobile app to enable customers to tap-to-sign takes less time than you think. "We initially built in a 90-day window for the integration and go-live," says Ken Long, Head of Technology for Consumer Sales at Direct Energy.
"We got full implementation in 48 days, exceeding my expectations."
In addition to speed to market, the cloud also frees up "more time to focus on banking activities and customer acquisition, with the technology priority focusing on differentiating the customer experience rather than on infrastructure,"1 according to analyst firm Aite.
Cloud-based platforms make all of this possible by integrating the capabilities banks need to improve the mobile user experience and prevent fraud, into a single hub. This includes identity verification, mobile authentication, mobile app security, mobile app shielding, fraud prevention, electronic signature, and more.
Banks can modernize the mobile banking experience within even the most aggressive deployment schedules, by implementing these cloud-based technologies. This is critical, especially considering that, "nearly 80% of bank operations leaders say their organization's existence could be threatened if they don't update technology to be more flexible and capable of supporting rapid innovation," Accenture reports.
The Time to Transform the Mobile Banking Experience is Now 
The era of the ATM, money transfers at the bank branch, and in-person banking is drawing to a close. Enter a new era of mobile innovation, ranging from Apple Pay to Zelle. Amid all this change, customers want more from their mobile banking services and will reward banks that get it right.
Put yourself in your customers' shoes. Imagine how much more convenient it is to remotely prove your identity in seconds, no matter where you are, just by using your mobile device. Or, how reassuring it is to know you can e-sign a time-sensitive document by tapping a few buttons – even if it is five minutes before a critical deadline. Not to mention peace of mind knowing your bank is going the extra mile to protect your identity, data and life savings through multi-factor authentication (MFA) with fingerprint and facial biometrics.
The upside of acting now is huge: growth, cost reductions, greater customer satisfaction and trust, and a stronger competitive position.
Learn how OneSpan can help your organization quickly achieve your mobile goals. Contact us today or watch our webinar: Harnessing Mobile: How to Keep Pace with Mobile Innovators and Challenger Banks.
1. https://aitegroup.com/report/neobanks-bumpy-road-profitability