Christopher Forbes, OneSpan Senior Quality Engineering Manager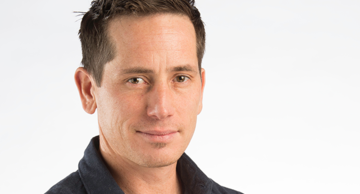 Meet Christopher, OneSpan Senior Quality Engineering Manager based in Brussels.
Christopher earned his undergraduate degree in geography from Simon Fraser University and later earned a post-graduate degree in informatics from the British Columbia Institute of Technology. After working in tech for several years, Christopher decided to return to school and earn a master's in industrial engineering in 2005.
From Politics to Tech
As a young adult, Christopher imagined a career in politics, more specifically urban planning. He quickly learned he wanted a job that would provide him with more opportunities for innovation and variety. After earning his degree in information technology, he began an internship at a small start-up and discovered a new passion.
"I realized technology was where I needed to be," said Christopher.
Christopher went on to work for a large telematics company. He viewed this new position as a vital stepping stone in his career. From a small start-up to a large corporation, Christopher was able to apply all of his knowledge and experiences to fit multiple markets. He learned of an open position at OneSpan and has been working on the team since 2010.
His current role requires him to manage and lead a team of quality engineers. He and his team are responsible for defining and specifying tests for OneSpan software and hardware products. They execute and implement test automation to determine which efforts can be used across various platforms and mediums. Essentially, Christopher oversees the general quality of OneSpan's software solutions.
Christopher finds fulfilment in identifying and guaranteeing the strengths of OneSpan's solutions as well as working in a cohesive group. His career allows him to be innovative and work alongside many talented individuals.
Working Globally
Another aspect that makes Christopher's role enjoyable is the opportunity to meet and work with a diversified group of people. OneSpan is a large company with employees around the globe. Christopher likes working with people different from himself.
"For me, the most important part is the diversity," said Christopher.
Outside of the Office
Aside from his passion in technology, Christopher is a very active person. His hobbies include swimming, biking, and running. Outside of the office, he can be found training for triathlons. Not only does triathlon training keep him in shape, it is one of the key ways he likes to destress and unwind.
What Advice Would You Give Someone Considering a Career in Tech?
"It is important to understand that it is an industry where you constantly have to learn and push yourself to keep up with the newest advancements in technology."
Join the OneSpan Team
OneSpan is constantly looking for hardworking and innovative people to join the team. Head over to the OneSpan careers page to view all of the available positions.