What Differentiates Your Mobile App From the Competition?
"There's an app for that" is a common IT catchphrase that has morphed into a real global phenomenon for consumers and businesses alike. Today, there are millions of mobile apps out there and app developers are competing for consumers in a sea of mobile brands. To reach customers through app stores and other mobile channels, you need to ensure that your app gets high ratings and stands out from the competition. But how can you win over the consumer and build a stellar mobile app in today's fierce app economy?
Native vs. web
We can do almost anything from our mobile devices – pay bills, purchase movie tickets, and order and track an Uber. But what about signing documents? Does your app offer the ability to e-sign? The reality is, many mobile apps pale in comparison with their web app counterparts. For example, have you ever tried to perform a task on your mobile banking app only to find out that it could only be done on the internet banking website? Where's the disconnect? Delivering a true "omnichannel" experience means that consumers should be able to perform key functions, such as e-signing, across all devices and channels.
Add e-signing capabilities to your app
Features such as e-signing can drive the consumer's interest in using your app (and ultimately your products). The eSignLive Mobile SDK for iOS was designed for just that purpose. It not only enhances the way customers do business with you, but also provides a consistent experience across all your web and mobile channels. Whether that's for an account opening process, disclosure or consent delivery, or loan application, the mobile SDK helps you create better mobile experiences for your customers. What's more, the SDK is optimized for rapid development so that you can get up and running with a prototype in as little as 30 minutes! [promotion id="15334"]
To start the e-signature process
It's easy to create and run a program that starts an e-signature process. Use the code below: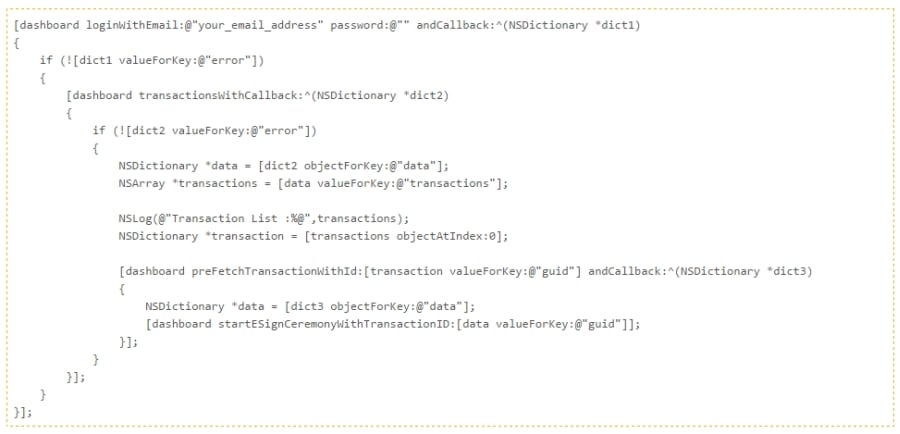 Calling all mobile developers!
According to Forrester Research, by 2020, the majority of e-signature transactions will be launched from mobile devices. But is your mobile app ready? Turbocharge your app with e-signatures by downloading the eSignLive Mobile SDK to help your app stand out from the competition. The SDK comes with a sample app, code snippets and complete online documentation to help you get started quickly. But if you ever need a hand along the way, we're here to help. Visit the Mobile SDK forum in the eSignLive Developer Community for support in building your app.