Emily Davies, OneSpan Enterprise Analytics Lead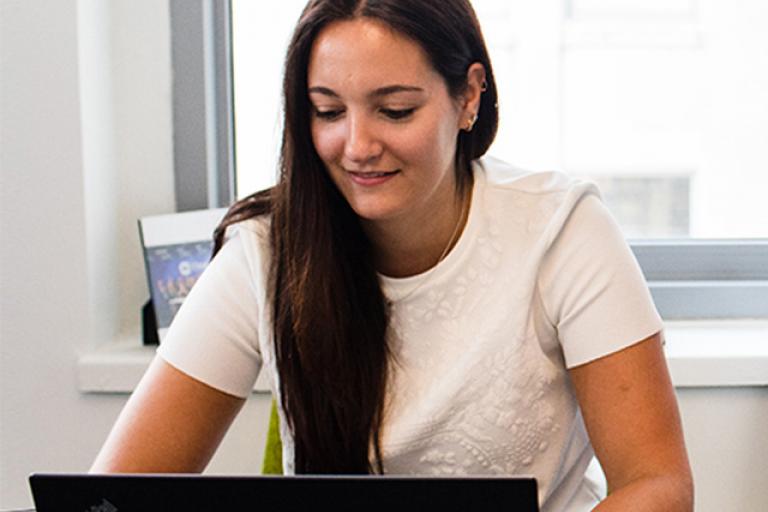 Meet Emily, OneSpan Enterprise Analytics Lead based in Chicago.
Emily earned a finance degree from the University of Iowa in 2011. Since then, she has discovered a passion for coding and tech, which led her to her current role as an enterprise analytics lead at OneSpan.
"I'm the head of the business intelligence team. We take care of all data analytics and reporting across the company," said Emily.
Finance to Analytics
Although her career began in finance, Emily took a coding class a few years in and realized just how much she enjoyed working with data. Emily then decided to make the transition to the world of business intelligence (BI), which she finds to be the perfect mixture of business and data.
Emily's role at OneSpan is to analyze activities within the business to help predict and identify business opportunities, determine optimal project investments, and implement new business and technical solutions.
"It's very exciting to be working in the BI world at OneSpan," Emily said. She also mentioned that OneSpan recently invested in a new data visualization tool, so her team is able to access much more data and push out greater predictive analytics. This will allow the BI team to make better decisions internally and provide better analytics to customers.
Working Globally
Another reason Emily enjoys her role at OneSpan is the opportunity to meet many diverse individuals. Because OneSpan is a global company, Emily finds herself learning about different cultures from colleagues around the world. "Everyone has their own culture and work ethic, and it's great to visit other countries and learn about different perspectives," said Emily.
Outside of the Office
When Emily isn't traveling for work, you can find her traveling for personal adventures. Emily loves to escape reality for a bit by traveling the world. When she can't hop on a plane, you can find her with her nose in a book. Emily feels that reading also allows you to visit other worlds.
Emily is a smart, driven, imaginative woman. Not only is she a go-getter, but she is also an incredible team member and one unique individual.
What Advice Would You Give Someone Considering a Career in Tech?
"Constantly keep up with the newest technologies. It's good to have a nice base of whatever it is you're first learning in tech, but technologies are constantly evolving. It's important to keep on top of everything that is relevant like new coding languages and things like that."
Join the OneSpan Team
We are always looking for hardworking and driven individuals to join the team.  Check out all of our available positions at the OneSpan careers page.