eSignLive Release 11.13: Signer Authentication Customization
Version 11.13 of eSignLive has recently been deployed to the preview environment where we've added customization of the recipient authentication at the account level, in addition of a couple of bug fixes. You can find the deployment dates for all our environments on our Trust Center page. Let's get into it.
Signer Authentication Customization
In this release, we've given the ability for account owners to customize the signer authentication options. In other words, you can now limit the options available (SMS and Q&A).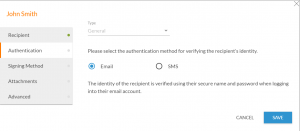 For example, if you decide to enforce authentication, your senders will not be able to access the designer view without setting an SMS or Q&A authentication. This also applies for integrators using the SDKs or REST API. In order to have these settings, you will need to send our support team a request ([email protected]).

Signer Session Redirect on Mobile
We've also enhanced the Mobile Signing Ceremony by enabling the redirection of signers to a customized external page when their session expires. To have this customized, please contact our support team ([email protected]).
SDK Additions
Some new additions that have been made to the Java and .NET SDK are the ability the retrieve layouts by name and also upload multiple documents in an existing transaction in one single call. These enhancements will available in SDK 11.13.
Bug Fixes
A couple of bugs have also been fixed in this release. You can find the complete list of bug fixes on our documentation page. If you have questions regarding this blog or anything else concerning integrating eSignLive into your application, visit the developer community forums: community.onespan.com. That's it from me. Thank you for reading! If you found this post helpful, please share it on Facebook, Twitter, or LinkedIn.
Haris Haidary
Technical Evangelist