FINRA Rule 4512: SEC Approves Electronic Signatures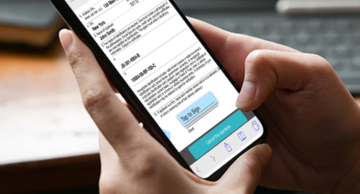 As banks and other financial institutions continue to modernize their business processes to reduce operating expenses and enhance the customer experience as part of an overarching digital transformation, outdated regulations have caused some approaches to hit a wall. 
Updating the FINRA Rule 4512 for Electronic Signatures
In the brokerage industry, Financial Industry Regulatory Authority (FINRA) Rule 4512(a)(3) (Customer Account Information) is an example. As it pertains to discretionary accounts, until recently it required member firms to obtain the "wet" signature of each named, natural person authorized to exercise discretion in an account. 
Members complained that this antiquated requirement raised operational costs without providing any meaningful security protections for investors. Further, the competitive playing field had been tipped in favor of investment advisers who have been able to capture customers' signatures electronically for some time, likely as far back as the enactment of the Uniform Electronic Transactions Act (UETA) and the Electronic Signatures in Global and National Commerce Act (ESIGN Act). 
As you might imagine, customers would download the account forms from the web to comply or have them sent by email. They would then print the forms, sign manually, and scan them to return them by email. In cases where the customer mails the form back, the firm would then have to scan it for electronic archiving.
To address the concerns of member firms, in November 2018, FINRA filed a proposed change to Rule 4512(a)(3) with the U.S. Securities and Exchange Commission (SEC) to permit e-signatures for those account forms, streamlining what was a multi-step, onerous process for the customer and time consuming for the firm's discretionary accounts. On April 16, 2019, the SEC approved the rule change. No doubt, this approval generated many happy smiles on Wall Street.
The updated FINRA Rule 4512(a)(3) took effect on May 6, 2019.
Other Regulations Easing Digital Transformation: The MOBILE Act
In May 2018, the Economic Growth, Regulatory Relief, and Consumer Protection Act became law. The law removed many of the regulations imposed on banks in the wake of the Great Recession. It also bears particular relevance to mobile banking and e-signatures.
The law includes a provision called the MOBILE Act (Making Online Banking Initiation Legal and Easy). This provision makes it easier for financial institutions to onboard new customers remotely without the need for the customer to travel to a branch to complete the process.
Within the law, a financial institution is defined as:
An insured depository institution
An insured credit union
Any affiliate of an insured depository institution or insured credit union
Banks can now create an entirely digital onboarding process by verifying a scan or digital copy of a new customer's government-issued identification, such as a driver's license. While some states already allowed banks to accept a scanned driver's license as proof of identity, the MOBILE Act makes it legal at the national level. From there, the customer can complete the necessary forms and enter data online or via mobile and even sign documents using an electronic signature to finalize the process.
The key word here is "bank." The MOBILE Act does not apply to brokerages. With the FINRA Rule 4512 hurdle cleared, it remains to be seen if new legislation is introduced to enable brokerages to do the same and further advance their digital transformation. 
E-Signature Resources for Broker-Dealers and Financial Advisers
Learn how a top 10 North American bank is using electronic signature with their mobile investment advisers.
 
Learn the top 4 e-signature insights for broker-dealers, told through the story of PlanMember Securities.
 
See how easy it is to get started with e-signatures, so you can take advantage of recent regulatory changes to improve the client experience:
This article, authored by Michael Magrath, Director, Global Regulations & Standards, first appeared May 6, 2019 on CSO Online. Reprinted with permission. © IDG Communications, Inc., 2018. All rights reserved.