The Gift That Keeps On Giving for Administrative Professionals' Day #ESIGN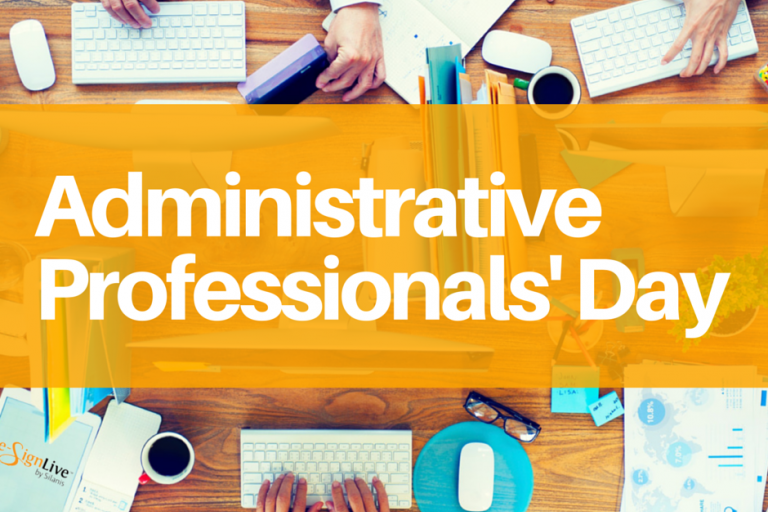 April 22 is Administrative Professionals Day.  You could pick up a Hallmark card to commemorate the day with a quaint sentiment like "Thanks for all you do" or "You're someone who deserves to be celebrated every day".  Other ideas for celebration include planning the annual lunch or handing out an appreciation plaque.  Or the occasion can be marked by disrupting the work day with a cake and a song or imbibing at an after work happy hour when most people probably just want to go home and enjoy dinner with their families.
There is a better choice than offering up a fleeting commemoration.  Instead, consider gifting an e-signature solution.  Think about it.  What administrative professional wouldn't prefer a gift of enduring efficiency to a short-lived floral arrangement?
Paperwork -- especially when associated with acknowledgement receipts, initialed pages and signatures -- can be a real thorn in an administrative professional's side.  All of the printing, scanning, faxing and filing is time consuming and tedious.  Then there is the chase and the frustration that comes with hounding others to review, sign and return.
Digital-enabling technologies such as e-signatures are helping organizations of all sizes automate their business processes and develop all-digital workflows.  Going digital isn't as difficult as it may sound.  A quick and easy way to get started is to add e-signatures to your core business processes.  By ensuring that the process stays 100% digital and never falls to paper, you can help keep your business and projects moving.  That's a gift that keeps on giving.
According to Nicolas Depasse, assistant director of IT at Le Grand Hospital de Charleroi, the department's one administrative assistant coordinates approvals for 1,000 documents per year.  With e-signature software, she no longer has to distribute paperwork, chase down signatures and manage all the manual steps associated with paper documents.  Instead, she prepares PDF documents for signature, defines the workflow and sends out the digital documents via email -- all in a fraction of the time it took on paper.  Any administrative professional would appreciate a gift like this.
E-signature add-ons (so-called "connectors") offer the convenience of adding proven e-signature capabilities directly to business applications used every day.  For example, e-SignLive integrates seamlessly with Box, Microsoft SharePoint and Salesforce to keep document workflows free from the hassles of paper.  e-SignLive has a number of out-of-the-box integrations with third-party business tools.  We also have REST API calls and a mobile SDK iOS and .Net and Java SDKs to integrate e-signatures into other existing applications.
To learn more about e-signatures download the whitepaper Beginner's Guide to Electronic Signatures or call us at 1-888-745-2647 to find out how e-signatures can not only continuously improve work life for  administrative professionals but also for most other areas of business as well.