Latin America: The Next Digital Frontier of Open Banking and Electronic Payments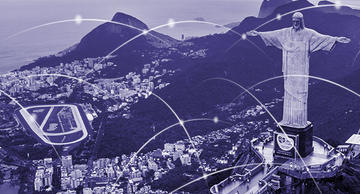 For banks and other financial institutions seeking new opportunities to expand financial inclusion efforts and attract new customers with digital banking services, Latin America is providing a challenging yet fertile digital landscape. The regional fintech sector has only continued to grow in the wake of the COVID-19 pandemic due to a larger consumer demand for mobile financial services. Digital payment applications, used largely for consumer remittance transactions from the United States, have become increasingly popular in all five of Latin America's largest fintech and financial markets – Mexico, Colombia, Brazil, Chile and Argentina.
Regulatory authorities have been slow to catch up to the progress of regional fintech business by implementing legal frameworks for digital services, but some of this is due to the widespread preference for cash among consumers living in rural areas and working in the agricultural sector. Most Central American countries are largely agricultural and while financial inclusion efforts have been moderately successful, banks and financial institutions have yet to leverage consumers' preference for familiarity in digital transformation initiatives. With an increasing number of fintechs dedicated to modernizing Latin America's financial sector, banks and traditional institutions such as credit unions are opting to partner with newcomers or lobby national governments to keep financial service providers to established entities.
Latin America saw much regulatory activity in 2020. Areas such as open banking, data privacy and data protection, electronic signature, and digital payments stand out as key focus areas. In this blog, we pull the highlights from our inaugural OneSpan Global Financial Regulations Report to provide a summary of how these themes are driving transformation for financial institutions in the region. 
Open Banking
Open banking in Latin America gained traction on the regulatory front in the past year. Several countries, especially Brazil, are seeing a rising demand for access to digital payments and have begun open banking initiatives in response.
In March, Mexico's central bank published the first set of rules for open banking in accordance with its Fintech Law. The initial rules integrate credit bureaus and clearing houses into the open banking framework. Rules applying to banks and other FIs are expected in Q1 2021.
In May, Brazil published regulations for open banking in the country by allowing sharing of personal data between financial entities and by integrating existing financial institutions' API systems. Brazil began rolling out open banking over four phases, with the first just last month, in November 2020. This will enable access across channels, products and services.
Data Privacy and Data Protection
Data privacy and data protection is an area that also saw a lot of activity this year.
In February, the Uruguayan government issued a decree introducing new rules related to personal data privacy that supplement the 2017 law. Chile's bill to Regulate the Protection and Processing of Personal Data and Create the Personal Data Protection Agency continues to make its way through the legislative process. In March it was referred to the Senate Finance Commission. If enacted, it will align with the GDPR and other international data protection standards.
Brazil's new data privacy law, the LGPD (Lei Geral de Proteção de Dados Pessoais), took effect September 16, 2020.  Enforcement will take effect August 1, 2021. The law is modelled after the European Union's GDPR.
Several other countries passed laws, enacted legislation or made regulatory changes related to data protection and data privacy, including Mexico, Paraguay, Uruguay, and Colombia. Costa Rica has also announced plans to move forward with a national data protection and privacy strategy.
Digital Payments
On the payments front, in December 2019, the Central Bank of Chile published a regulatory framework for implementing the country's new Real-Time Gross Settlement (RTGS) interbank payment system for payments made in U.S. dollars.
In August, the Rules Committee of the Central Reserve Bank of El Salvador approved technical rules for the registration and operation of electronic money providers operating within the national territory. The new rules regulate the requirements and processes for the authorization of electronic money provider services while facilitating financial inclusion. Entities that must comply with the rules include electronic money provider companies, as well as banks, cooperative banks, and savings and credit companies interested in providing electronic money services.
And earlier in March, the Congress of the Republic of Guatemala issued a decree authorizing the use of electronic checks in response to the COVID-19 pandemic. The decree makes several amendments to the national Code of Commerce to allow for the use of electronic checks in order to promote international best practices and modernize the financial system. Most significantly, the amendments grant the same legal validity to electronic checks as physical checks, particularly during clearinghouse transactions.
Electronic Signature
The use of electronic signatures in Latin America is growing, particularly in countries where there is a legal framework supporting e-signatures and digital signatures. This includes Mexico, Brazil, Colombia, Peru, and Chile, among others.
However, there remains a number of challenges on the regulatory front. Many countries in Latin America require wet ink signatures for different types of transactions and contractual processes, such as lending and credit approvals. With that said, a few Latin American countries have enacted electronic communications laws with e-signature requirements in the past year, mostly in response to the COVID-19 pandemic; while others continue to implement e-signatures as part of longstanding national plans to modernize the banking and payments industries. Many of the laws are broad in scope and don't necessarily target the banking or payments industries.
Additionally, it appears the implementation of advanced electronic signature has taken precedence with regulators and regulatory authorities in general. Paraguay, for example, has had longstanding plans to adopt a national eIDAS-influenced digital identity regulation under its draft bill on trust services for electronic transactions, electronic documents and electronic transmissible documents. The draft bill was just introduced to the federal government in September 2020. The bill states that electronic signatures are legally recognized. And companies such as financial institutions that offer remote e-signature services will be required to enhance certain management and security safeguards to further protect the client. Along with confirming the legality of e-signature, the bill addresses new regulations surrounding electronic transactions and documents, specifically confirming the future adoption of regulations that follow the EU eIDAS regulation, the UNCITRAL Model Law on Electronic Signatures, and the UNCITRAL Model Law on Electronic Commerce.
In April 2020, the National Congress of Honduras enacted a law to provide various types of assistance to workers in the production sector in response to the COVID-19 pandemic. The new law amends articles 7 and 27 of the Electronic Signature Law to allow government institutions to use technology equivalent to the advanced electronic signature for signing documents, including electronic signature systems that operate in the cloud, two-factor authentication (2FA) systems, biometric systems, and other electronic signature technologies that may develop in the future. The law went into force that same day.
Digital Identity
Some of Latin America's most active countries in terms of open banking participation and regulatory development have plans to adopt digital identity regulations influenced by international standards such as the European eIDAS Regulation. Like e-signature, many digital identity initiatives in Latin America were sitting patiently on the backburner until the COVID-19 pandemic changed the face of remote payments.
Uruguay published its 2020 Digital Government Plan in September 2019 through the Agency of Electronic Government and the Information and Knowledge Society. The agenda established a national digital policy framework to be implemented through several initiatives, programs and projects. The goal is to streamline digital services for a variety of distribution channels, including mobile devices, and create a trustworthy digital government. As part of its plan, the government will eventually issue a universal digital ID to enhance security for digital services. The plan outlines three steps to implement its universal digital identity, including establishing best practices on privacy and promoting adoption by public and private institutions.
In early December 2020, Mexican authorities approved plans for a national digital ID card mandated under the new General Law on Population, Human Mobility and Interculturality. Mexico's Ministry of the Interior will create a national database that will hold personal data, including biometric information.
Colombia also just announced their rollout of a digital identity card that began in November 2020.
Conclusion
Latin America will provide a challenging yet rewarding landscape for financial institutions supported by regulators seeking to modernize public and private financial services and expand financial inclusion. Certain regions, such as Central America, will continue to be slow with regulatory adoption while others, such as fintech hub Brazil and digitally progressive Uruguay, will begin to expand open banking initiatives while strengthening data privacy and data protection.
For further insights and updates, download our Global Financial Regulations Report. We welcome your feedback on how we can improve on this valuable resource. Reach us at [email protected] with your comments on this report.
This blog is the third of a regional series covering financial regulations in North America, Asia-Pacific, the Middle East, Europe, Africa and Latin America. Subscribe to our blog for alerts as new blogs are published.
This document is for informational purposes only and does not constitute legal advice. It is recommended that independent professional advice is sought from your side. OneSpan does not accept liability for the contents of these materials.