Leveraging Our Own E-Signatures to Power HR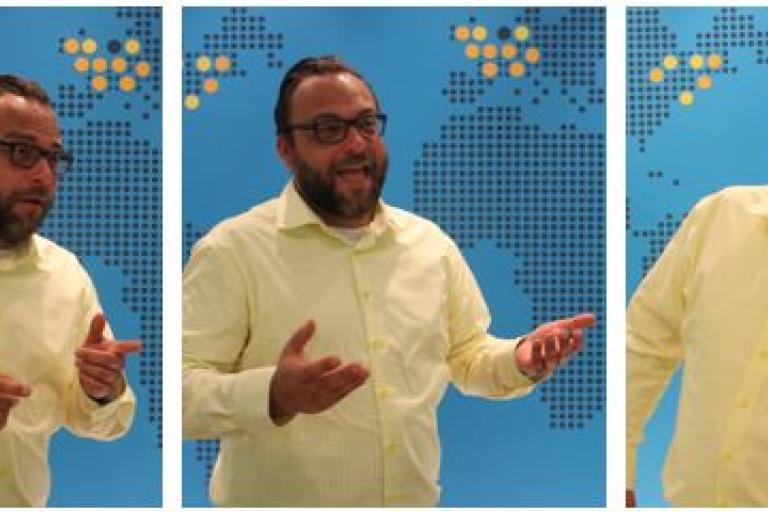 It's always a good sign when a technology company uses their own software effectively. In addition to reaping the intended benefits of the solution, being a power-user allows the organization to have the same user experience as their customer, and become a reliable go-to source for suggested product improvements and user testing.
Such is the case with eSignLive leveraging its own e-signature solution internally for all things related to Human Resources. eSignLive HR Director, Martin Duval, shared the many ways his company's e-signature solution allows him to run an efficient, compliant department that serves the organization's requirements while protecting and supporting the hundreds of employees in his care.
The era of true digital disruption has finally hit HR, according to Deloitte's "Global Human Capital Trends 2016" report; but despite some shining examples, many HR departments have yet to embrace available tools, like electronic signatures, for a fully digital experience.
"Using electronic signatures on all personnel processes creates bookends and checkpoints that we can easily track and access in each employee record. It creates transparency and transparency builds trust," says Martin.
From onboarding to legal compliance through performance management, Martin takes us through the e-signature-powered employee life cycle at eSignLive.
The Offer
Every potential employee to whom we extend an offer of employment has their first user experience when they sign on with us. There's no software required on the employee side – just a valid email address that enables a "click-to-sign" acceptance from anywhere, on any device. So a candidate who might be climbing Kilimanjaro between jobs can sign our offer – even offline – and we'll get that e-signed acceptance the moment they're back online and documents sync up.
Incidentally, this may not be the first experience a potential employee has had with our e-signatures. If they've applied for a mortgage or renewed an insurance policy recently, there's a good chance they've used eSignLive to do that, without knowing it was us.
Onboarding
On day one, each new hire spends their first full day onboarding. Our company president, Tommy Petrogiannis, personally welcomes and spends time with every onboarding class – consisting of a handful of new faces each Monday. The remainder of the day includes a required security overview, important HR details covering things like payroll and vacation accrual. The non-disclosure agreement, code of conduct expectations and other legal and compliance procedures are also on the agenda.
There's a small packet of documents that each new hire e-signs, for their own protection and for ours. Everyone signs a code of conduct, non-disclosure and security procedures document. When assigning company assets like PCs or company credit cards, receipt of those items are also confirmed by e-signature.
Using e-signatures for our onboarding processes ensures we complete our checklist and have an electronic record, date and time stamped, of receipt and/or compliance. Anything that demands an annual refresh, such as our code of conduct and security review, we track through e-signatures for full and convenient employee compliance.
Performance Appraisal
One of the best things about using our e-signatures for HR purposes is that our service allows for multiple signatures and we can define the order of those approvals. The performance appraisal is a good example of where this is particularly useful.
Each annual review is signed by both the employee and their manager following a face-to-face discussion. The employee e-signs first, then the document is automatically routed to their manager to be signed. The signed document is then forwarded to HR to become part of the employee's official record.
Ongoing performance management, which might include professional development or performance improvement, is likewise document and e-signed by the individual, their manager and HR.
Professional Development
We often find ourselves creating professional development plans to prepare individuals to take on expanded roles and tee them up for promotions. Growth plans are documented and signed by all involved including HR. This process helps set expectations for career development, track individual progress, and ultimately expand job responsibilities (and increase salaries!)
For official promotions within our organization, we use Employee Change Forms. These forms are completed by the requesting manager and require several signatures to for approval: the employee, the requesting manager, Human Resources, and on occasion, a signature from the C-suite. For senior management positions, our president will either e-sign approval or exercise veto power.
Tax Compliance
In our Quebec office, we have a unique legal requirement. Provincial regulations demand that a full one percent of a company's payroll budget be designated for formal professional development. This money is invested back into our people in the form of conferences and workshops and we are required to track expenditures to remain compliant for government tax purposes.
Tracking all professional development activity through e-signed authorization from managers with assigned budgets allows us comply with tax regulations and be ready for tax season with no extra effort.
Termination
Every so often, we must part company with an employee with a termination letter that outlines separation conditions and severance. These releases require all parties accept the terms and assure confidentiality and legal protection for everyone involved. Termination letters are e-signed by the manager, the employee and Human Resources. The final document is digitally stored in the employee record as part of the entire lifecycle of that individual in our organization.
Human Resources Philosophy
Martin shares his progressive approach to HR:
"Tracking is HR's biggest challenge. Digitizing HR processes with e-signatures is the simplest way to formalize an employee's history, protect that individual, and allow us to keep our promises of growth, compliance and honesty. Digitization allows us, as HR professionals, to remain a neutral party and provide the necessary balance between employee interests and corporate goals – all of which creates openness in HR processes, a critical factor in employee happiness."