Remote E-Signatures Eliminate Boundaries for Banks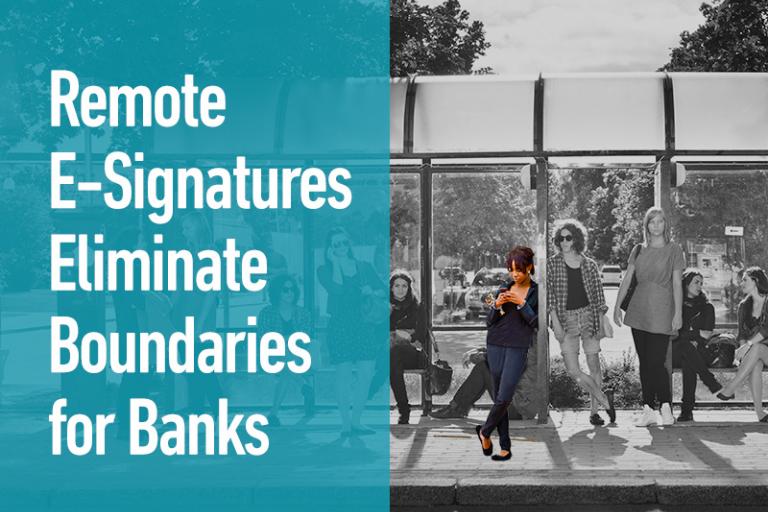 Once upon a time, banking was done within four walls.  Today we have the Internet.  It connects pretty much everyone everywhere.  There is only one problem with doing business virtually: the signature on the bottom line.
Now, even that has changed with electronic signatures.  Consumers are looking to their banks to provide simple mobile banking experiences. Remote e-signatures are helping banks create an easier customer experience. With a mobile connection, processes like customer onboarding and many other everyday banking transactions can take place from any location, even with documents that require a hand-scripted signature.
Here are three examples of financial services organizations that are using a compliant remote process to capture e-signatures from wherever is most convenient for the customer, rather than asking customers to make a visit to a retail location.
A top North American bank recently began offering a fully digital and mobile account opening process at airport kiosks. The bank is doing this through a dedicated app for iPad, with e-signatures integrated into the app. After successfully using e-SignLive for five years in other areas of the bank, it was a logical next step to extend e-signatures to the remote account openings process.
Tangerine, Canada's leading direct bank, offers mobile e-signatures to online customers that want to e-sign the form required for transferring retirement savings from other financial institutions. With e-SignLive's Mobile Signature Capture feature, banks are able to better attract, retain and engage with customers who are increasingly mobile savvy – all while remaining compliant with industry regulations.
Many lenders invite consumers to e-sign loan documents online. In the case of one privately held lender that focuses on consumer loans, "What used to require a visit to the branch can now be done from home. This level of convenience is important to customers who want to complete a transaction quickly," says the company's Vice President. The customer pre-qualifies on the lender's website and contacts the call center to continue the application process. The call center representative then sends an email to the customer, inviting them to access the e-sign login page. The customer enters a PIN and the last four digits of their SSN. All that is left is to follow the prompts to e-sign the documents.
To learn more about the benefits and considerations for remote digital onboarding, download Beyond the Branch: How Electronic Signatures Enable Remote Account Openings.