Stefanos Britzolakis, OneSpan Scrum Master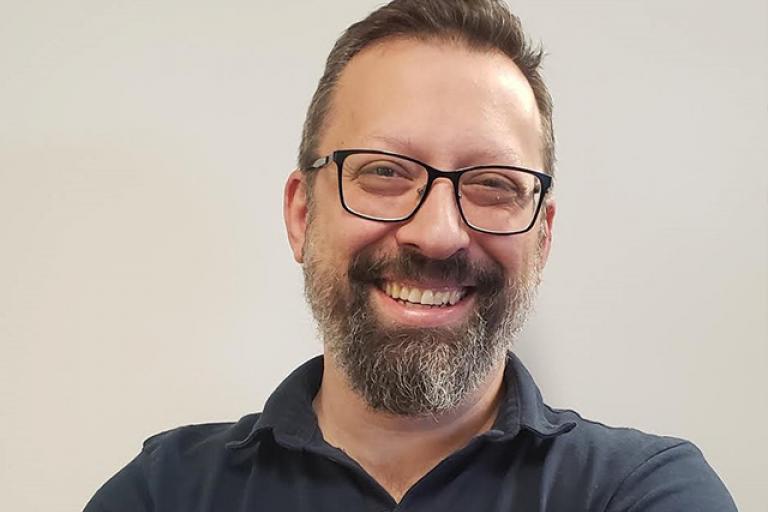 Meet Stefano, OneSpan Scrum Master based in Montreal.
Around the office, he's known as Stef. Stef has gone through a number of careers in his lifetime, but technology kept calling him back.
He started out studying technology and later found himself working in IT, construction, and even a few recording studios before making his way back to school and completing his degree. Well into his 30s, Stef graduated from Concordia University at the top 10% of his class.
From Odd Jobs to Scrum Master
Post-graduation, Stef found himself struggling to land a job. Sending out resume after resume, Stef was ready to give up hope and leave his home in Canada, until he received a call from a friend and now colleague. The pair went on to accept positions at OneSpan together. Stef now works as a scrum master at OneSpan.
Scrum, similar to project management, is a practice that allows a team to self-organize and quickly make changes in harmony with one another. The scrum master manages the process of exchanging information among group members.  Essentially the scrum master is someone that helps his or her team run more smoothly. Unlike a project manager, a scrum master does not manage risk and only has responsibility to their team versus the team and entire organization.
"I help the team work more efficiently to meet their commitments. I am always joking around to lighten the mood," he said. The role of a scrum master is to support your team and remove any roadblocks they might encounter. Stef does so by assisting with communication and prioritization within his team, as well as creating an enjoyable atmosphere for team members. He loves working with his team, for Stef, the people are the best part.
Working Globally
Stef also enjoys working with people from around the globe. One of the perks of working at a global company is being able learn about various cultures from your colleagues. "What's nice is that you get to work with people from different parts of the world and learn about their ways of working," said Stef.
Outside of the Office
Outside of the office, Stef enjoys a range of physical activities. One way he stays in shape is by lifting weights. Stef also enjoys the occasional DIY renovation. He even does all the repairs/renovations at a property in the Plateau that he rents out.
Stef is a man with many hats and a prime example of how following what you love can really pay off.  Not to mention, he's a remarkable team member.
What Advice Would You Give Someone Considering a Career in Technology?
"It should be something you enjoy. Tech is a popular field right now but don't go into it because of that.  Go into, because you enjoy it, because it requires constant learning!"
Join the OneSpan Team
OneSpan is seeking passionate, dedicated individuals that are looking to advance their career. Browse the OneSpan careers page to learn more about joining the team.