Top 4 Takeaways from the Money 20/20 USA Conference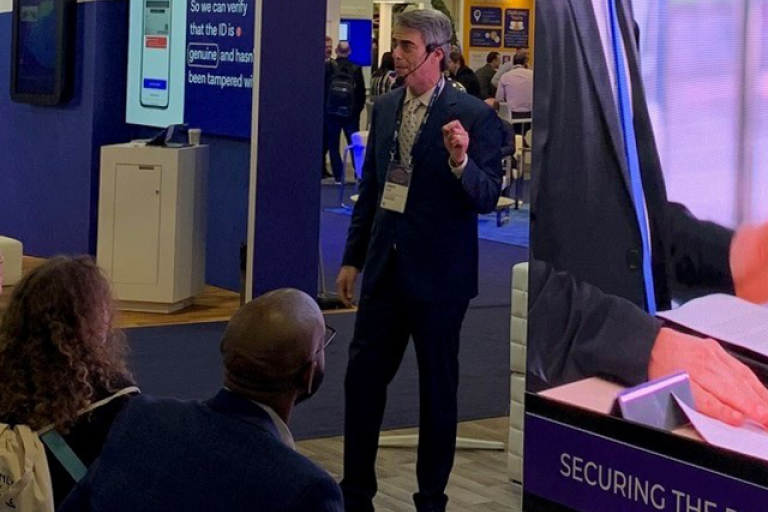 This past week in Las Vegas, over twelve thousand bankers and technologists gathered at the Sands Expo for one of the biggest financial services conferences of the year. Money 20/20 has become the number one event for financial industry professionals looking to stay abreast of industry innovations as well as the technologies and providers behind the latest tech trends. If your organization is involved in the movement of money – whether for the affluent, underbanked, or a niche segment like students or migrant workers – this conference helped uncover how to create the best possible customer experience and capture their business.
Money 20/20 lived up to its tagline, Journey to The Future of Money, with three and a half days of panels, interviews, round-tables, and presentations on the prevalent challenges and opportunities of the financial market. Part optimistic roadmap, part reality check, Money 20/20 delivered tremendous insight into the direction of the financial services industry.
Catch up on what you missed and browse our shortlist of the most salient takeaways from Money 20/20. See where money is headed in the coming year and beyond.
Top Takeaways from Money 20/20
Takeaway #1: Much of the U.S. banking population is underserved, and Fintech is filling the gap
A recurring theme among the keynote presentations was the financial realities of the new middle class. Though focusing largely on the U.S. middle class, many presenters noted that these trends exist in many other developed and undeveloped markets as well. Three in ten American adults do not have any emergency savings. This often leaves them without access to credit lines and unable to acquire capital and build their financial future.
While banks and traditional financial institutions try to develop new offers and services to reach these individuals, Fintech organizations are further disrupting the landscape with new solutions of their own. For example, Peter Hazlehurst, Head of Payments at Uber, hosted a keynote presentation introducing Uber Money, a financial product for their fleet of drivers. 
Uber Money allows the driver to immediately receive payment for their trips from Uber. The money is stored in the Uber Money App where it can then be redirected to other financial accounts. Among other notable features, Uber Money gives the driver more flexibility in how they spend their money. Rather than a strict overdraft fee, Uber Money actually allows the driver to overdraft up to $100 a day. This enables a driver to fill up their gas tank at the start of their workday and earn back their deficit without paying the overdraft fee. It is this kind of innovation that will lessen the financial strain on the new middle class and open opportunities for these individuals to secure their finances. We may think of Uber as a ride-sharing service, but we may soon consider them a financial service provider of the gig economy.
Uber is not alone in offering services catered to the underbanked market. OneMain Financial, based in Indiana, uses OneSpan Sign electronic signatures to offer remote consumer loan applications. These customers could apply for small personal loans from OneMain to cover immediate needs, such as holiday shopping or emergency bills.
Takeaway #2: Security needs to "move left" in mobile app development
Almost like a mantra, this phrase was repeated from panel to panel. If you imagine the app development process as a timeline, security typically occurs towards the end. After the application is built and stable, many devops and devsecops teams will perform penetration testing or work with white-hat hackers to test an app just before launch. On that visualized timeline, this process would be all the way on the right. "Moving security left" refers to integrating security best practices earlier in the development process. Rather than testing at the end, developers should be writing secure code from the outset.
Alissa Knight, white-hat hacker and senior consultant at Aite Group, was involved in multiple sessions on this exact topic. The first was a panel discussion in which she stressed the importance of in-app protection, but the second session later in the conference was far more scathing. With identifying information redacted and bank names left anonymous, she displayed the real coding oversights of banking apps in use today. She showed how easy it was for her, as a skilled and experienced hacker, to find keys coded directly into the app. Knight stressed that these oversights from development teams were extraordinarily common, even among the largest financial institutions in the U.S. By involving security earlier in the development process, these issues can be better avoided.
Knight's message matched our own mobile security presentation at the OneSpan booth. Senior Product Marketing Manager, Sam Bakken, referenced Knight's stats and comments to build a case for app shielding and in-app protection.
Key Takeaway #3: The fight against fraud is only escalating
In a brilliant session on the future of fraud in 2020, Frank McKenna, Chief Fraud Strategist at PointPredictive, walked through his top ten predictions. Though we won't recount them all here, the overarching message is that fraud is growing in both expected and unexpected ways.
Account takeover, application fraud, wire fraud, and synthetic identity fraud are all projected to grow in the coming year. Driven by the availability of PII and the continued growth of the mobile channel, financial institutions must redouble their efforts to fight these threats.
Notably, McKenna also cited social media as another cause for the continued growth of fraud. Defrauding a financial institution is now seen as "cool" and alluring to younger generations, and social content creators are taking advantage of this. One such content creator writes and produces rap songs describing how to perform various fraud scams. Included with his musical album is a multi-gig PDF document explaining in further details how the scams in his raps can be properly executed. This is a bizarre, and worryingly effective, frontier to the proliferation of fraud schemes.
Key Takeaway #4: Rethink organizational structure and assemble Fusion Centers
In light of growing fraud threats, financial institutions need to take a new approach to how they address fraud and data security internally. One recurring recommendation was to develop a Fusion Center in your organization.
A Fusion Center brings together disparate teams and data in an organization to form a "shared consciousness" around a given topic. In this iteration, a Fusion Center with the stated goal of combatting fraud would assemble representatives of the fraud department as well as the data security department onto a single team or committee. By opening up channels of communication, starting conversations, and most importantly sharing data, these two teams can better work together to solve a shared problem. Often the fraud and data security teams come from different backgrounds, possess different skillsets, and think about challenges differently. The Fusion Center can therefore create a diverse team and a unified front in the fight against fraud.
OneSpan on the Expo Floor

In addition to the available sessions, OneSpan could be found in force on the Expo floor presenting our digital identity and mobile security solutions. With an explanatory video and live presentations throughout the conference, OneSpan spoke with over 500 financial industry professionals about how to use these technologies to digitize the customer journey.
 
@OneSpan is doing some very cool stuff with identity verification. #Money2020USA pic.twitter.com/EuRPfLNNoM

— Bryan Clagett (@Clagett) October 29, 2019
Considering the projected increase in application fraud, OneSpan Secure Agreement Automation with our ID verification and e-signature technology offers financial institutions a powerful tool to securely digitize processes such as account opening and lending. Meanwhile, the OneSpan Mobile Security Suite can help protect banking applications as development teams work to move security left in their development cycles.
Looking Ahead to Next Year's Money 20/20
It's impossible to distill over three days of insight into a short blog post, so above all else, we encourage you to attend next year's conference. Money 20/20 is both thrilling and informative. It's the best way to learn how to turn the challenges of the financial industry into opportunities for growth and a better customer experience.
See you on the floor next year.