Which E-Signature Deployment Option Is Right For Your Business?
Deciding how to deploy an e-signature solution that will support your business is a tough decision. There is really no right or wrong answer. Many of the buyers we speak to only make a decision once they've defined their e-signature use cases and assessed their business needs, IT expertise and infrastructure. What's interesting is that even within the same organization, we're seeing different lines of business and departments take different approaches to deployment – whether that's in the cloud or on-premises.
At e-SignLive, we often use the term "flexible" to describe our solution and our approach with prospects and customers. This is admittedly an overused marketing term, but one that truly reflects how we do business.
While most e-signature vendors only offer a one-size-fits-all deployment approach, e-SignLive can be delivered on a public or private cloud anywhere in the world, as well as on-premises behind your company's firewall. In the Forrester Wave report on e-signatures, Forrester analyst Craig Le Clair points out that we are "the strongest vendor with both an on-premise and a cloud offering."
Regardless of how you deploy, we offer the exact same product, the same code base and the same user experience without compromising on security or functionality. Our single SaaS platform means that you can start developing using a common REST API and SDKs and deploy however and wherever you want. And if your needs change over time, you have the flexibility to migrate from one deployment to the other, as well as implement e-SignLive as a shared service to deliver e-signatures company-wide.
If you're simply looking to get started with e-signatures for your ad hoc contracting processes (and don't need to integrate e-signatures into your app or website), we offer the e-SignLive Professional Edition web-based service – there's no software to install and no infrastructure or staffing investments required.
Where's my data?
As organizations support borderless digital business scenarios and move customer-facing transactions to the cloud, data residency becomes a challenge of global proportions. While some e-signature providers will claim that they are the "global standard", the reality is that they may only have data centers in one or two geographic regions and not have the infrastructure or capacity to scale their data centers and operations globally.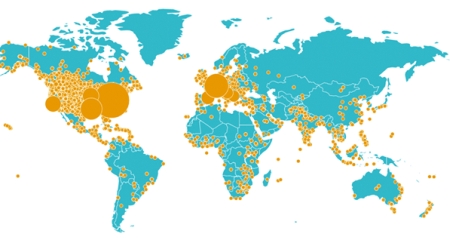 We're proud to offer organizations worldwide with access to both public and private cloud instances of e-SignLive in the US, Canada, Australia, the UK, Germany, Japan, Singapore and Brazil through our international expansion with IBM. This means that e-SignLive is hosted in more global cloud locations than any other e-signature solution in the market – more than DocuSign and Adobe Document Cloud combined. Our global coverage not only helps businesses around the world fulfill their data residency requirements, but also ensures high service performance and minimal data latency – which is particularly important for global organizations with high-volume B2B and B2C transactions.
An e-signature solution that grows with your needs
When faced with the choice of cloud-based or on-premises software deployments, many buyers struggle with making a decision because they believe they'll be locked in for a long period of time. e-SignLive offers the most choice for getting e-signatures quickly in front of your customers, partners and employees using the technology and resources you have in place today. What's more, you'll be able to easily make changes as your needs and technology environments evolve. Check out our webcast, "Is Your Company Ready for E-Signatures?", for insight into how to get your e-signature project off the ground effectively.
Nearing 1 billion documents processed annually, e-SignLive provides a global footprint for your unique e-signature needs, across multiple lines of business and departments – both locally and abroad – delivered publicly or privately.