Faster and Friendlier Experience
Remove unnecessary friction from digital agreement process
Clunky and complex forms add unnecessary friction to digital agreement processes. Forms automation and modernization is key to minimizing this friction and ultimately reducing abandonment. Smart digital forms provide your employees and customers with a faster and friendlier experience that is prone to fewer errors.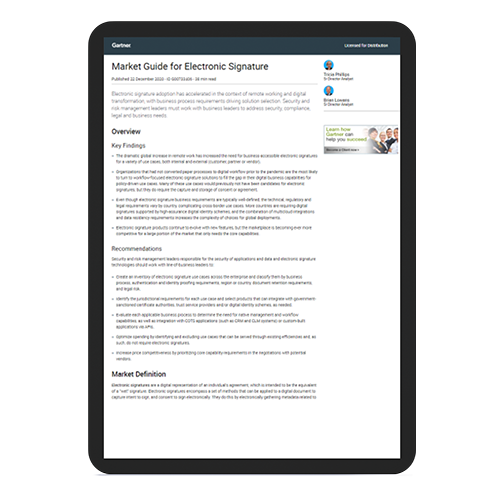 Analyst Report
2022 Gartner Market Guide for Electronic Signature | OneSpan Listed as a Representative Vendor
Get your copy of the 2022 Market Guide for Electronic Signature Report to find out why, with compliments from OneSpan.
Download Now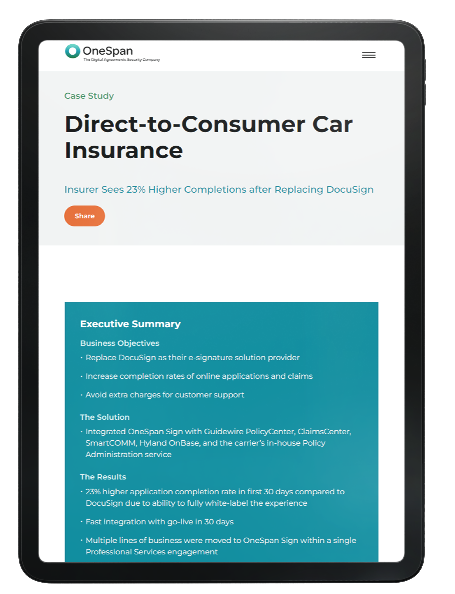 Case Study
Direct-to-Consumer Car Insurance
Insurer sees 23% higher form completions after replacing DocuSign
Download PDF
Why OneSpan Sign?
Superior Experience
Bring automation to your agreement workflows and deliver optimal experiences to your customers and employees – across channels and devices
Global Solution
An enterprise-grade solution that scales across geographies with support for Simple, Advanced, and Qualified E-Signatures, multiple languages, and data centers around the world
Strong Electronic Evidence
Vendor-independent audit trails that help you deliver legally binding, admissible, and enforceable digital agreements
Secure Agreements
Bank-grade cloud security, digital signature encryption that guarantees the integrity of your agreements and strong authentication options
Questions? We're ready with answers
OneSpan can help your business securely digitize the execution and delivery of contracts and other types of agreements with smart digital forms and e-signatures.