Success Story
How BMO transformed the digital account opening process
Customer
Bank of Montreal is the fourth largest bank in Canada, serving personal, commercial, corporate, and institutional customers in North America and internationally.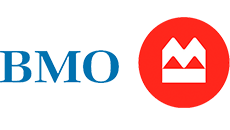 Challenge
Drive growth and modernize by replacing the paper-based account opening process with a customer-centric mobile account opening and client onboarding experience.
Results
Prospective customers can open a bank account in less than 8 minutes using their smartphone
Increased frontline capacity, leading to more customer conversations and incremental revenue
Reduced the number of forms and steps required to open an account
80% fewer errors in the account opening process
40% increase in process efficiency
How it Works
See how OneSpan helps create digital account opening processes
According to the Aite Group, "Application abandonment rates are still between 65% and 95%, depending on the product."
OneSpan's digital identity verification and e-signature solutions help onboard more new customers with mobile ID capture and signing capabilities to speed up digital customer acquisition and reduce abandonment across online and mobile channels.
Offer Digital Identity Verification
Acquire more customers in your online and mobile channels with digital ID verification solutions
ID document verification and facial comparison enable a customer's identity to be authenticated in real-time.
OneSpan Verification Hub automates new digital customer acquisition and reduces fraudulent enrolments by positively identifying qualified customers during the application process.
Protect Against Application Fraud
Help prevent application fraud during the remote account opening process
Application fraud represents one of the fastest growing business challenges to financial institutions. OneSpan helps mitigate new account fraud across online and mobile channels with technologies, such as mobile ID capture, digital ID
verification solutions, and electronic signing, to ensure better
remote account opening experiences.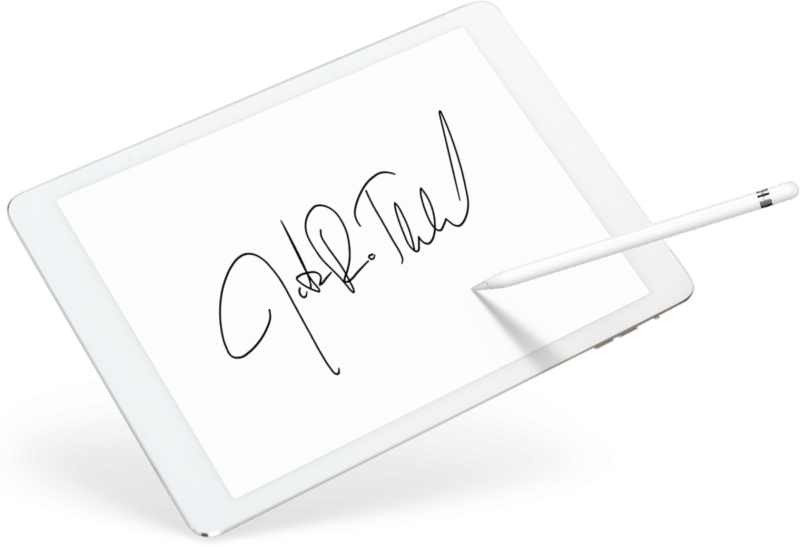 Capture Customers' Consent Electronically
Automate your signing workflows with secure, legally binding e-signatures
Eliminate all manual processing and related errors and costs by integrating electronic signatures with your digital account opening and client onboarding platforms.
OneSpan Sign balances ease of use with the highest levels of security and compliance to deliver a risk-free electronic signature solution for all your business needs.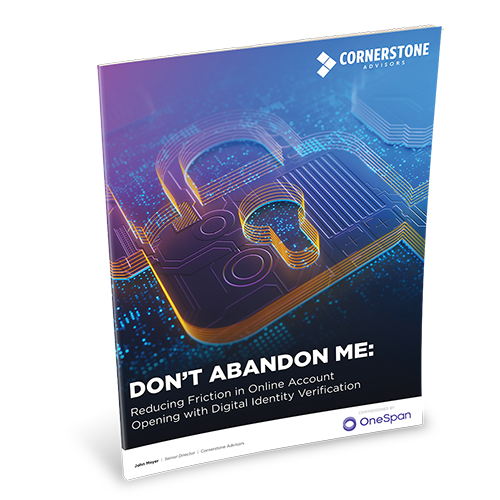 Research Report
Don't Abandon Me: Reducing Friction in Online Account Opening with Digital Identity Verification
This 2021 report features survey responses and interviews with banking leaders on the topics of digital account origination, abandonment, and identity verification. Get the latest insights into how your organization can decrease customer friction and increase funding rates.
Download Now
Leverage Digital Audit Trails
Protect your organization with comprehensive audit trails
To prove that a compliant account opening process was followed, financial institutions can capture a full audit trail of exactly what the applicant saw and did during the digital account opening process – including the identity verification and signing steps.
Digital audit trails prove that the FI carried out all necessary KYC checks and that the applicant intented to be bound by the terms of the agreement. Audit trails provide a complete record that can protect financial service providers against disputes.
Secure the Mobile Account Opening Process
Safeguard your mobile app and protect users' sensitive data from cybercriminals
Financial institutions have no control over their users' devices, and therefore, no control over the environment in which their mobile apps operate. As a result, a new applicant's sensitive information can be stolen by mobile malware or other threats that will later infiltrate or already exist on the user's device.
App shielding with runtime protection allows mobile applications to run securely during the remote account opening process and helps protect a mobile user's personal information – without interrupting the user experience.
Authenticate Applicants Once Onboarded
Use biometrics to authenticate customers across your digital channels
For new applicants, facial comparison technology extracts biometric data from a selfie and compares that against the image in an authenticated ID document. This helps institutions determine whether a remote user is who they claim to be.
After the applicant has been onboarded, biometrics capabilities such as facial and fingerprint scans can be used to authenticate customers. OneSpan also offers other authentication methods, such as delivering a one-time password (OTP) via mobile.
More than half of the world's top 100 global banks use OneSpan's digital identity & anti-fraud solutions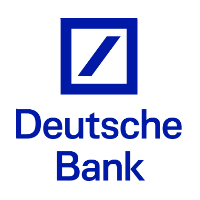 Why OneSpan
Domain Expertise
Financial institutions around the world choose OneSpan for our proven digital identity and fraud prevention technologies, paired with extensive expertise in financial digital channels.
Secure Digital Customer Journeys
We bring together best-in-class security solutions that work together to secure the digital customer journey and mitigate fraud. By establishing trust in digital identities, devices, and transactions, we help you reduce fraud, increase top-line growth, and strengthen compliance as you modernize the customer experience.
Customer Commitment and Support
We're known for taking a hands-on approach. Customers appreciate our industry leading post-launch support, where we provide ongoing help to fine-tune fraud prevention, increase efficiency, and improve adoption rates.
Flexible Solutions and Cloud-based Platform
Our solutions are designed to integrate seamlessly with third-party and in-house systems, so you can continue to leverage your existing technology investments while advancing your digital transformation with next generation technologies.
In addition, our SaaS solutions are delivered on an open, cloud-based platform that makes it easy to integrate new and existing tools and technologies to better detect fraud and improve the user experience.
Questions? We're ready with answers
OneSpan can help you enable digital channel growth and mitigate application fraud during the online and mobile account opening process