How to Digitize Your Business with Box and E-Signatures
Documents are the foundation of any company. While most organizations still operate in a paper world, today we're seeing a huge desire from business to ditch paper and go digital. With the help of cloud storage and collaboration tools like Box, businesses are able to move from paper-intensive to fully digital processes that make securely sharing files extremely easy. This is transforming the way businesses work with people both inside and outside the organization.
Is your business truly digital?
While many organizations are making strides to digitize their business processes with the help of Box and other cloud storage and collaboration platforms, their processes aren't fully digital because they fall to paper whenever a signature or approval is required. This breaks the straight-through electronic transaction, hinders the collaboration process and lets error-prone and unsecure processes back in.
But businesses need to go beyond simply automating existing workflows. They must reinvent their key business processes by selecting the right technologies to help satisfy tighter operational efficiency requirements and rising consumer expectations. This starts with eliminating paper and so-called "wet" signatures.
By adding e-signature capabilities to popular applications like Box, your business can truly go digital and help eliminate costs related to paper, boost the productivity of your workers and enhance the customer experience – all at the same time.
e-SignLive Now Available in Box
e-SignLive and Box make it easy to securely access, collaborate and manage documents that require signature. The new e-SignLive for Box app provides businesses with the ability to quickly obtain legal and compliant e-signatures – without ever leaving Box.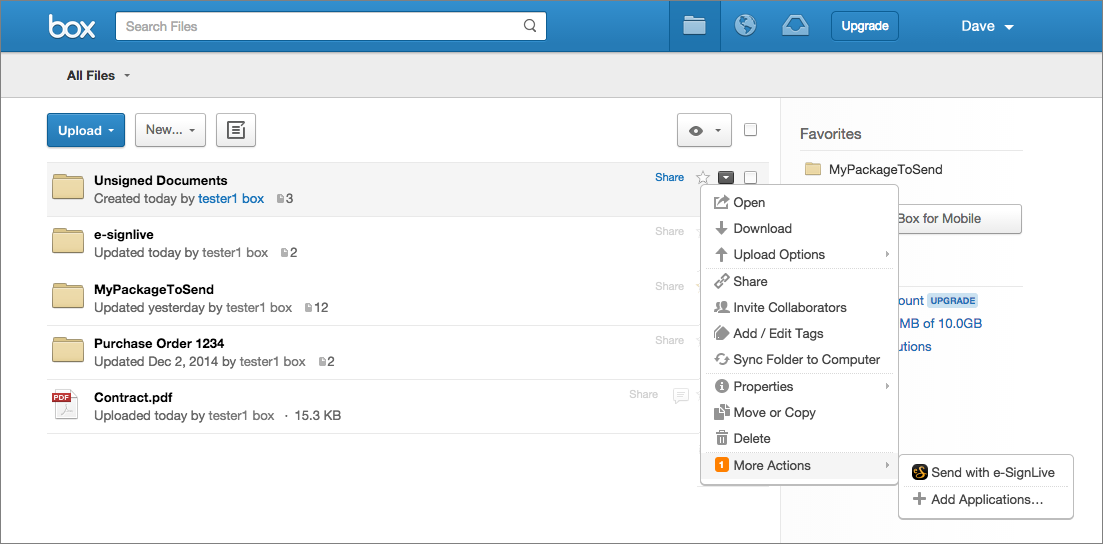 Once you've added e-SignLive to your Box account, simply right click the document (or folder containing documents that require signature) and select the "Send with e-SignLive" option to get started. Preparing and sending documents for signature takes only a few minutes. Once documents are signed, they're stored in Box for storage and archival.
And as with all documents e-signed with e-SignLive, our solution provides a comprehensive audit trail, process evidence and tamper-evident signatures. Our approach to electronic evidence sets us apart from other e-signature providers in the market. This is particularly important for customer-facing and high-value transactions, as well as in regulated industries where control over and visibility into operations is needed.
e-SignLive and Box for Financial Services
Financial services institutions require a lot of collaboration – both inside and outside the organization. This involves large amounts of content and stringent regulatory rules around sharing. Banks, for example, face intense regulatory pressure with stiff penalties if they fail to stay compliant.
Box is helping an increasing number of financial institutions share and collaborate securely between firms, as well as digitize the key processes that involve moving critical documents and data around the globe.
With a major footprint in the financial services industry, e-SignLive by Silanis was selected as the exclusive e-signature partner in the recent "Box for Financial Services" vertical launch. Our solution, along with other leading solutions for financial services including Bloomberg Vault and Capgemini, are among a select few that are being showcased as part of Box's new vertical initiative to help meet the specific needs of financial services institutions.
Are you ready?
Going digital can seem overwhelming, especially for traditional businesses that were not born in the digital era. The good news is that going digital isn't as difficult as it may sound. A quick and easy way to get started is to add e-signatures to your core business processes. Learn about our new e-SignLive for Box app to help support your digitization efforts.
If you're new to e-signatures, give our Quick Demo a try and see for yourself how easy it is to e-sign.