Tips & Tricks: How to Electronically Notarize Documents in eSignLive
Are you a Notary looking to streamline the notarization process without the hassles of paper?   eSignLive offers the eNotary feature to allow Notaries in approved jurisdictions electronically witness, sign and seal documents such as property deeds and affidavits. Once the transaction is complete, an electronic notary seal is applied to the necessary documents. [promotion id="20430"]   Let's take a closer look at how this feature works.
How to Use eNotary in eSignLive
To begin, ensure the eNotary feature is enabled in your account by contacting our support team. You'll need to provide information such as your Jurisdiction, License Number, and the license expiry date to get started.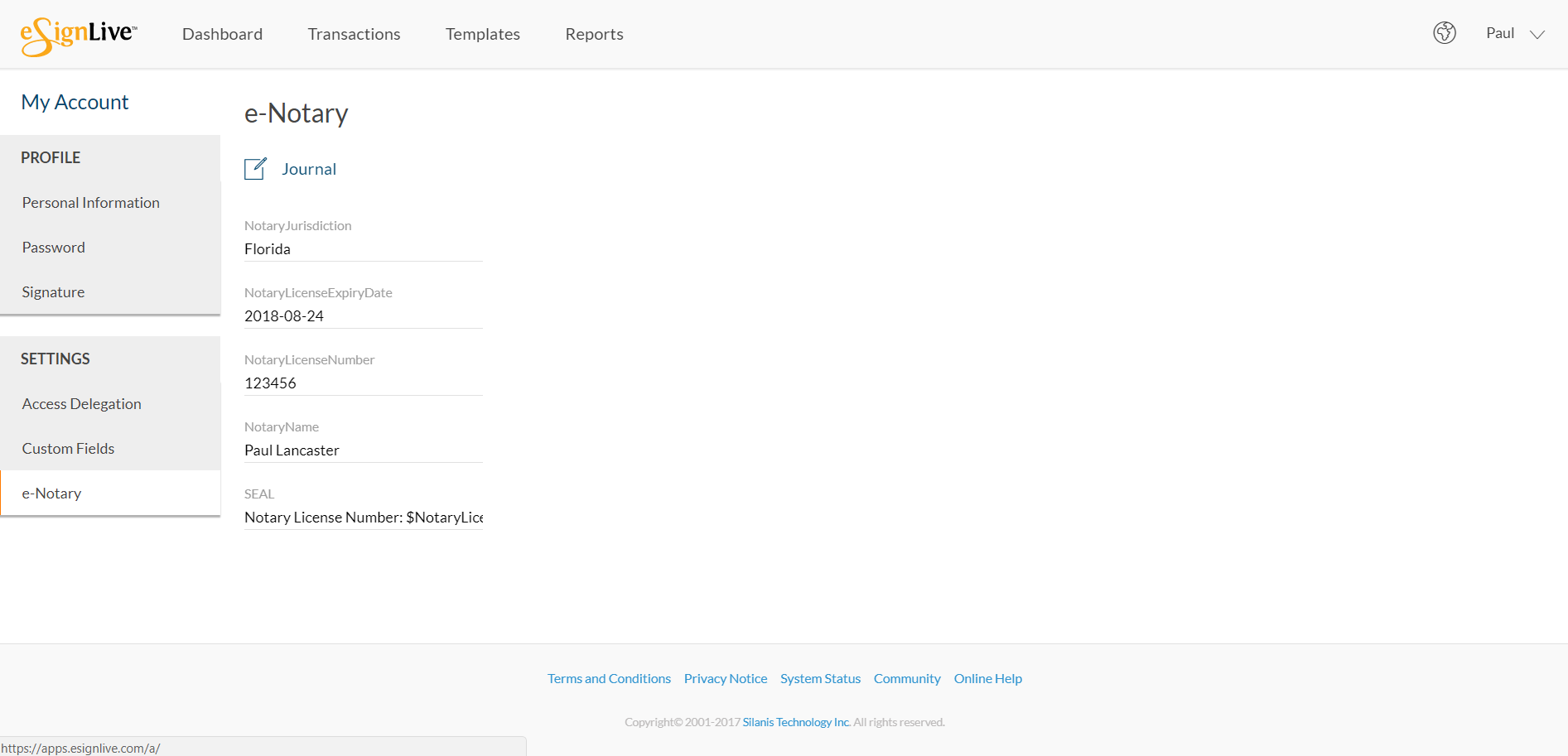 To electronically notarize documents, notaries typically meet with the intended signers in person to review and sign documents.  
First, login to your eSignLive account and select 'New Transaction'.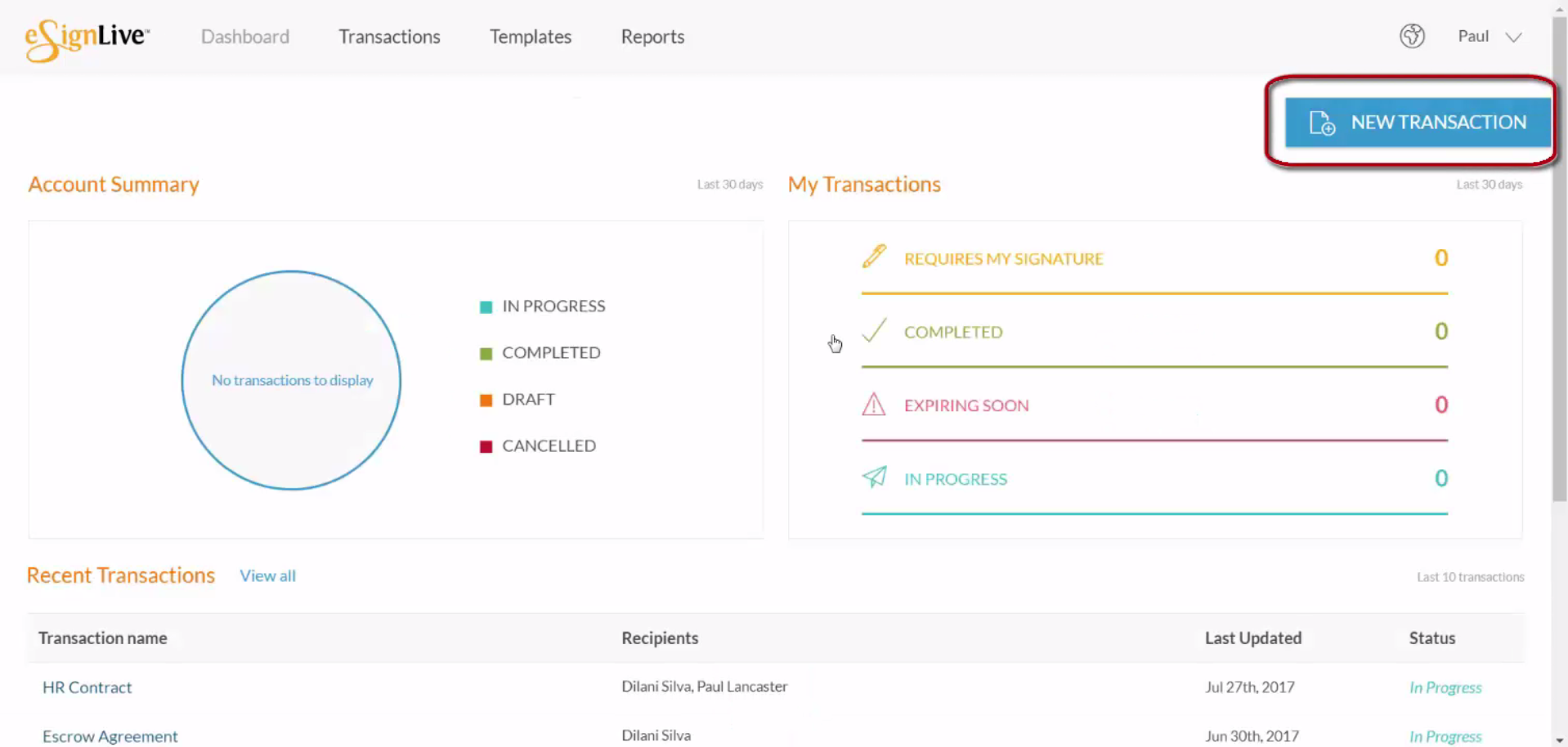 Next, enter a name and short description of your transaction.
In the Advanced Settings section, select 'Enable notarization'.
Click the Create button to proceed.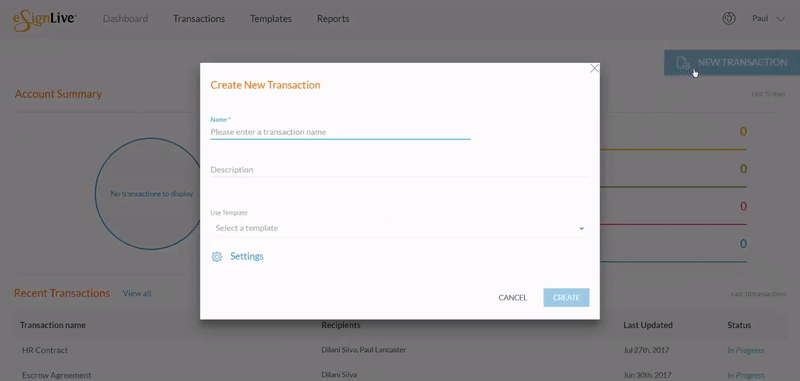 Now it's time to add documents to the transaction. Click the 'Add' button to upload a document.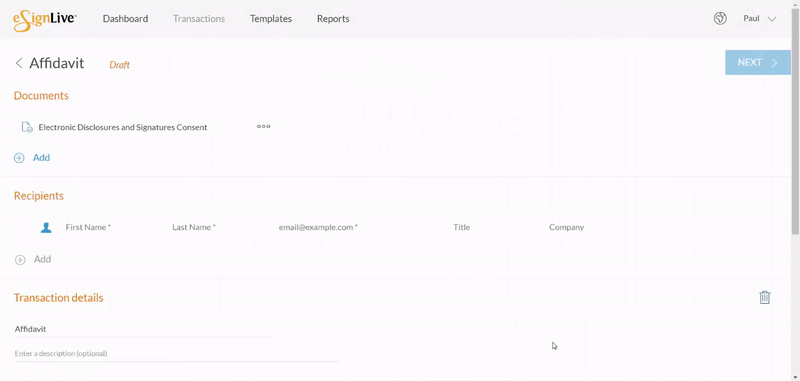 Next, add yourself to the transaction. You'll notice the notary badge next to your name, indicating that you are the Notary for the given transaction. Click the badge icon.
Add your signers to the transaction.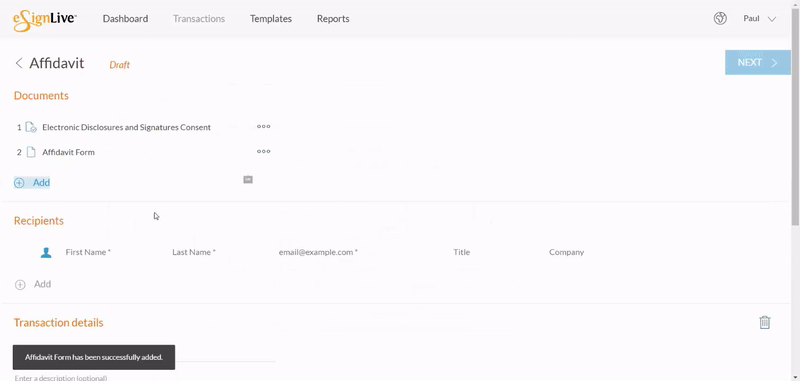 Click 'Next' to prepare the document for signing and notarization.
Now it's time to add signature fields. Simply drag and drop the signature fields into the document.
You'll notice there are additional fields designated to the Notary such as information related to the Notary's Jurisdiction, License Number, and the license expiry date. There is also a Seal field, which automatically generates the Notary's information in a single field.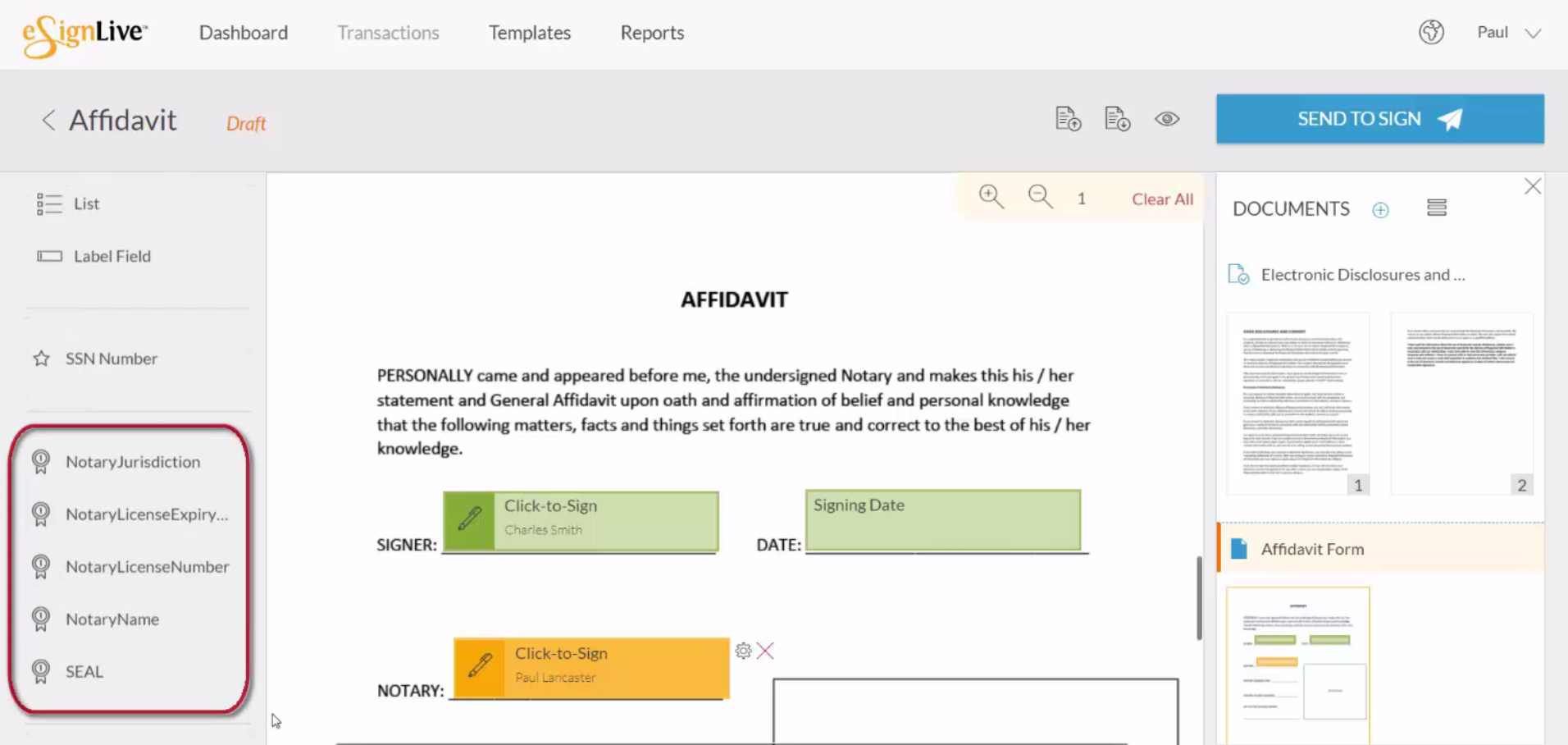 Once all signature blocks have been added, the transaction is ready to send. Click 'Send to Sign'
Since this is an in-person signing scenario, as the Notary, you will pass control to your signers who will start the signing session. Select your signer's name from the drop-down menu.
Charles, the signer, will click 'Proceed' to access the documents that need to be reviewed and require signatures.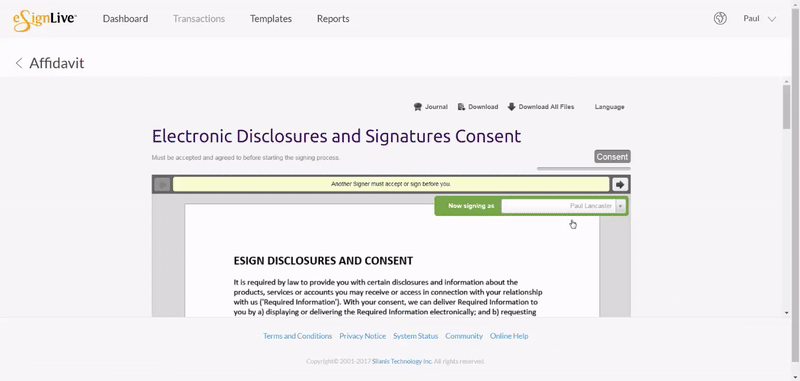 Once the signer has completed the signing process, Paul, the Notary, will take back control so he can apply his signature and notarize the document.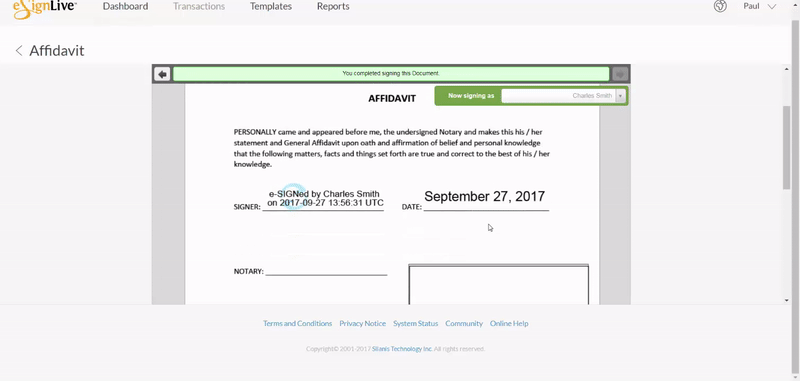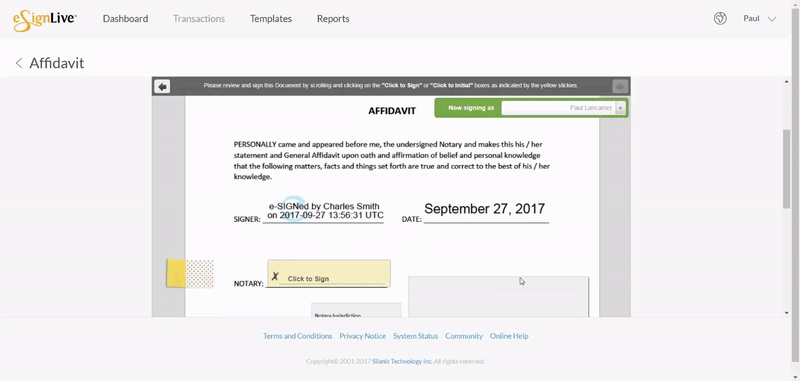 After signing is complete, a notary seal is applied to the document. The seal conveys important information about the notary such as their name, license number, license expiry date and jurisdiction.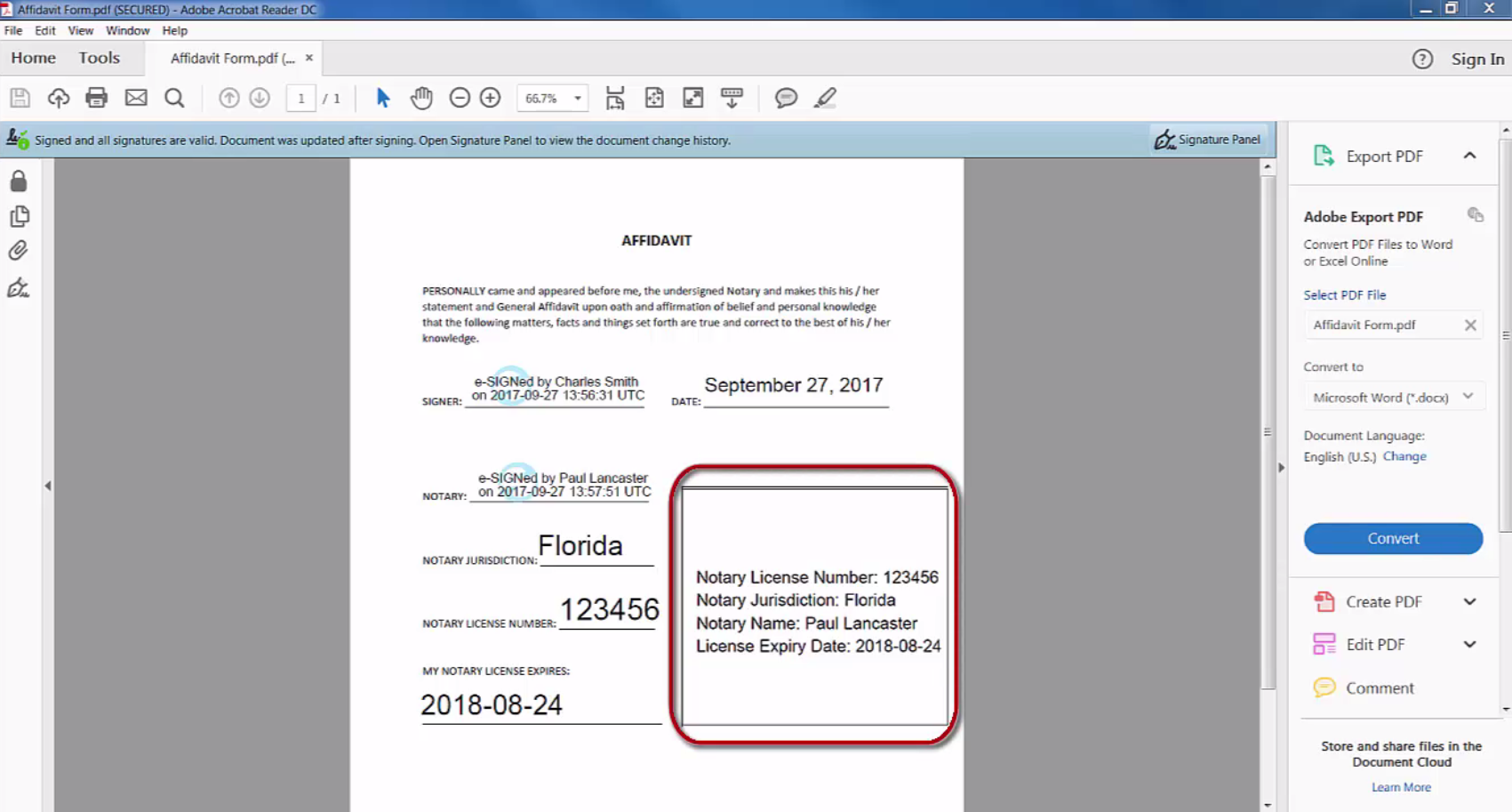 It's that easy! With eNotary, eSignLive helps you achieve a fully digital and error-free notarization process.   Check out the video tutorial below to watch how you can easily use the eNotary feature in eSignLive. Want to try the feature? Sign up for a 30-day free trial of eSignLive today.
Video: How to Electronically Notarize Documents in eSignLive