Digital Customer Onboarding and Account Opening: A Top 2019 Priority
Financial services organizations are racing to become digital businesses. The more they offer digital and mobile services, the greater the need for electronic signatures as an enabler of digital account opening and customer onboarding.
In a Forrester Research report on e-signature, analyst Craig Le Clair confirmed that, "Financial services ranks first in adoption and vendor activity for e-signature." [1]
We are seeing adoption across all sectors of financial services, including retail banking, commercial banking, wealth management, capital markets and insurance.
Most interesting are the application areas where banks and financial firms are going digital. There's no question that customer-facing processes, account opening and customer onboarding dominate – across companies of every size.
(Continue reading below)
"The trend toward fully automating customer processes is driven by the financial services industry," said Mary Ellen Power, OneSpan VP of Marketing, in an IT World Canada article. "Anyone who is not looking at digital account opening and customer onboarding for 2019 should rethink this and make it a priority."
Many are. According to Forrester, "Banks like Bank of America, Royal Bank of Canada, and U.S. Bank are now digitally verifying a customer's identity and using electronic signatures to provide an instant decision on certain retail products within minutes; they are also issuing the account number in real time. This is the future of onboarding — make sure you get on board."[2]
As further confirmation, in a Digital Account Openings webcast hosted by OneSpan and Avoka, 200 attendees were asked whether digital customer onboarding was a top 3 priority. Almost 80% said yes.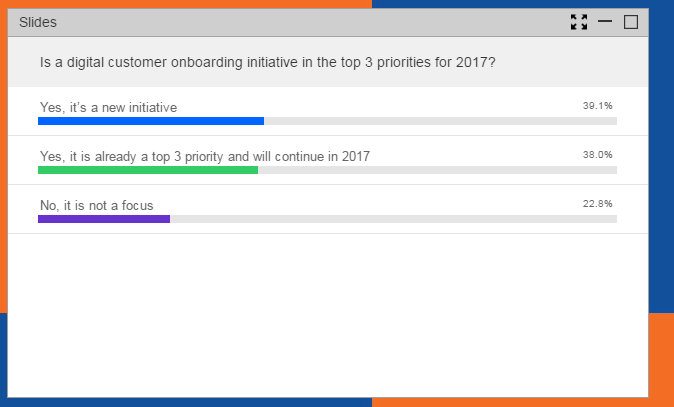 Improving customer experience begins with a fully digital experience. Why?
First, many high-value relationships evolve from transactions such as opening an account; institutions need to establish excellence at the outset. 
Second, customers expect convenience: a KPMG report[3] shows that as many as 90% of all millennials use mobile banking and expect the online experience as a given. In fact, both millennials and high net worth clients expect a mobile experience.
Finally, and perhaps most importantly, digitization of the details allows your staff to spend time engaging customers in the conversations necessary for promoting and cross-selling high-value products and services. As an example, a completely digital process makes it easier to upsell products like loan insurance, adding additional revenue.
The benefits 
The most direct way financial service providers can improve account opening and onboarding is by ensuring the process remains fully digital. It's all about speed, less manual work, fewer errors, tighter compliance, and meeting expectations for a modern experience. 
Workflow rules eliminate errors: All data and signatures are captured correctly the first time, during a single transaction session. Manual processes result in errors, such as missing signatures and empty data fields on paper forms. These Not-in-Good-Order (NIGO) documents are time consuming and expensive to correct, but financial firms have no choice – they have to be fixed. And fixing them is 3-4 times the cost of an error-free digital process, simply because of all the extra time and effort involved in going back to the customer for re-works.
E-Signatures expedite the process: Removing ink signatures compresses the process from days or weeks to a single session. Bank of Montreal recently introduced electronic signatures to expedite the onboarding process.
Mobile-first customers now have an alternative to paper: When people sign on a mobile device, the signing experience becomes easier and more convenient, more personal, and more accessible than on desktops or laptops. Giving customers the ability to e-sign using their smartphone removes barriers and gives customers the freedom to choose how they will transact with their financial institution.
Sources:
[1] Vendor Landscape: E-Signature, Q4 2016, Forrester Research
[2] Vendor Landscape: Financial Services Client On-Boarding Solutions, Forrester Research
[3] Consumer Loss Barometer Report, KPMG, August 2016 http://bit.ly/2dwXRcG