Notarizations Go Electronic in OneSpan Sign
When you sign a document, you may need to get it notarized. What does that mean and how can you get it done?
Notarizations are traditionally completed manually with paper documents and require an authorized "notary public" to witness, sign and seal documents. These transactions include pen-and-ink signatures and rubber stamp notary seals. With the advent of e-signatures however, electronic notarizations are now possible. E-notarization processes mimic the paper world, but with the added convenience and evidentiary benefits of completing transactions digitally (I explain these benefits below).
e-Notary in OneSpan Sign
Certain documents may not be legally enforceable without notarizations. As part of the OneSpan Sign Fall 2014 Release, the new e-Notary feature allows notaries to easily and electronically notarize documents without the hassles of paper. To complete the e-notarization process, authorized notaries and signers conduct signing in a face-to-face scenario. Once the transaction is complete, the notary seal is digitally applied to the documents by OneSpan Sign.
Documents that commonly require notarization include:
Property deeds
Affidavits
Power of Attorney (POA)
Prenuptial agreements
Insurance settlements
Transfer of land
And more
What's more, OneSpan Sign helps to streamline your notarization workflows by enabling you to log information pertaining to the transaction in an integrated "e-Journal". e-Journal entries are securely stored in OneSpan Sign, but you also have the ability to export records out of OneSpan Sign if needed.
How e-notarization works
Once the notary's credentials are set up in OneSpan Sign and the necessary documents are uploaded, the in-person transaction is completed in a few quick and easy steps:
The process starts with an affidavit that is presented on-screen in OneSpan Sign. The notary passes control of the device used for signing to the signer.
 
The signer e-signs the document (this process is repeated for each signing party).
 
An affidavit then appears indicating that the signer pass control back to the notary.
 
The notary e-signs the document and a notary seal is applied to the document by OneSpan Sign. The seal conveys important information about the notary such as their name, commission ID, expiry date and jurisdiction.
As with all transactions completed in OneSpan Sign, the entire process is 100% legal and secure.
Backed by electronic evidence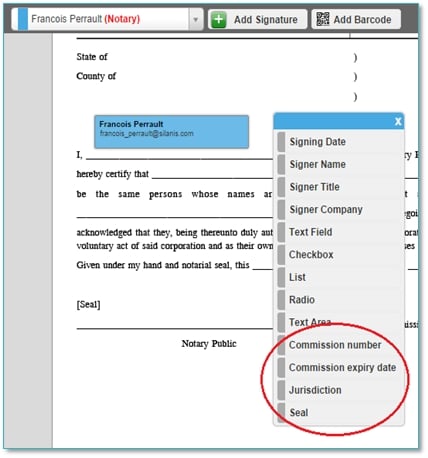 E-signed transactions have a unique advantage over the paper world – you can gather electronic evidence during the process because you maintain control over the documents throughout the transaction. Think about it – in the paper world, you can't be sure when the document was signed, in what order or whether the signer was presented with the necessary disclosures.
e-Notary is backed by the most comprehensive and secure electronic evidence in the market. Our solution provides you with the strongest legal protection because it systematically captures both document and process-level evidence. This reduces the time and cost of gathering evidence and enables you to demonstrate legal and regulatory compliance.
The new e-Notary feature now makes it possible for you to go from manual, paper-based processes to end-to-end digital workflows – providing you with the evidentiary benefits and convenience of digital transactions. Look out for e-Notary and a number of new features and enhancements in OneSpan Sign on November 1st.
Are you new to e-signatures and e-Notary? Give our Quick Demo a try and see for yourself how easy it is to e-sign.