OneSpan Sign Developers: Ad-hoc Co-Browsing – Part1
Similar to OneSpan Sign Virtual Room, if you are looking for a live document collaboration tool that allows contact agencies to simultaneously review documents with signers and address their questions in real-time but without the requirement of video conferencing and recording, the Ad-hoc Co-Browsing tool could be your go-to solution.
In this blog, we will demonstrate both the sender and signer workflow for a co-browsing transaction. Without further delay, let's get started!
Configuring a Transaction for Co-Browsing
Before you can leverage the features covered in this blog, contact your sales representative to enable Co-browsing for your account. 
In this example, we have an insurance advisor send a new policy application to a client. After signing in the sender UI portal and selecting "New Transaction", the advisor will be prompted to provide a name for the transaction along with other settings. Scrolling down to the "Settings" section, the advisor can enable "Ad-hoc Cobrowsing" and optionally allow signers to request a callback with a preferred time slot for the session ("Signer Cobrowsing").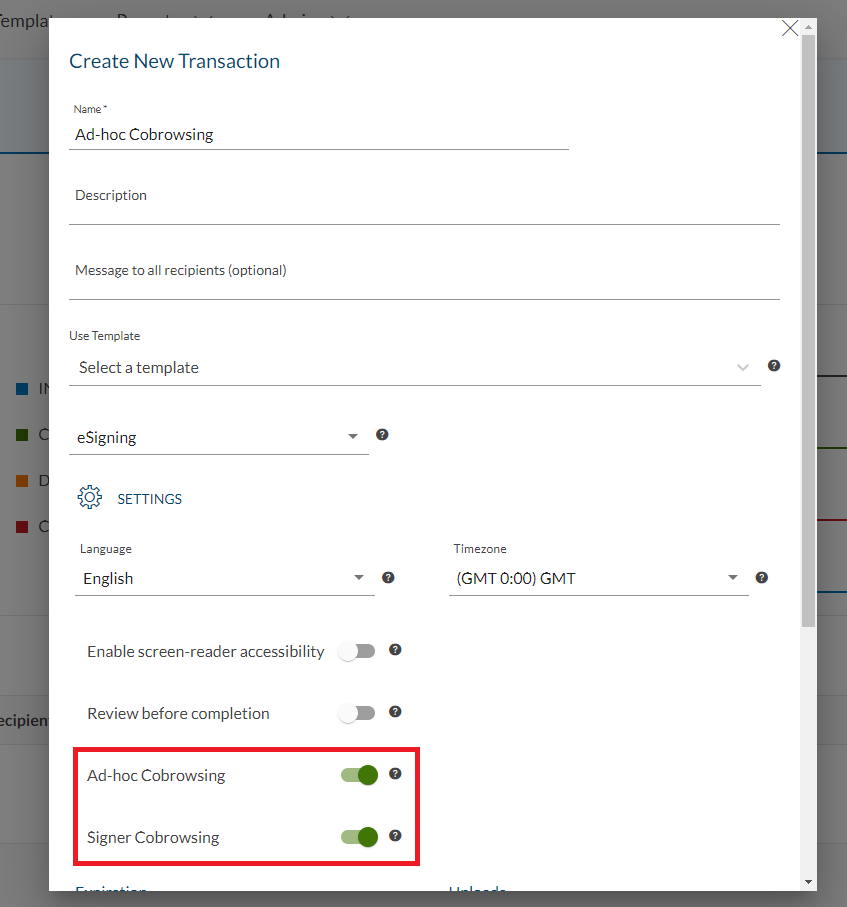 Signer Requires Help
Similar to the normal signing flow, after the advisor sends out the transaction, the recipients will receive an email notification inviting them to the signing ceremony. Because the transaction has been configured to allow co-browsing sessions, if in any case the signer was blocked due to technical issues or questions in terms of the contract wording and couldn't complete the signing process, they can reach out to the transaction sender or a support agent via phone and the agent can easily launch a co-browsing session on the fly and guide the customer through the signing flow.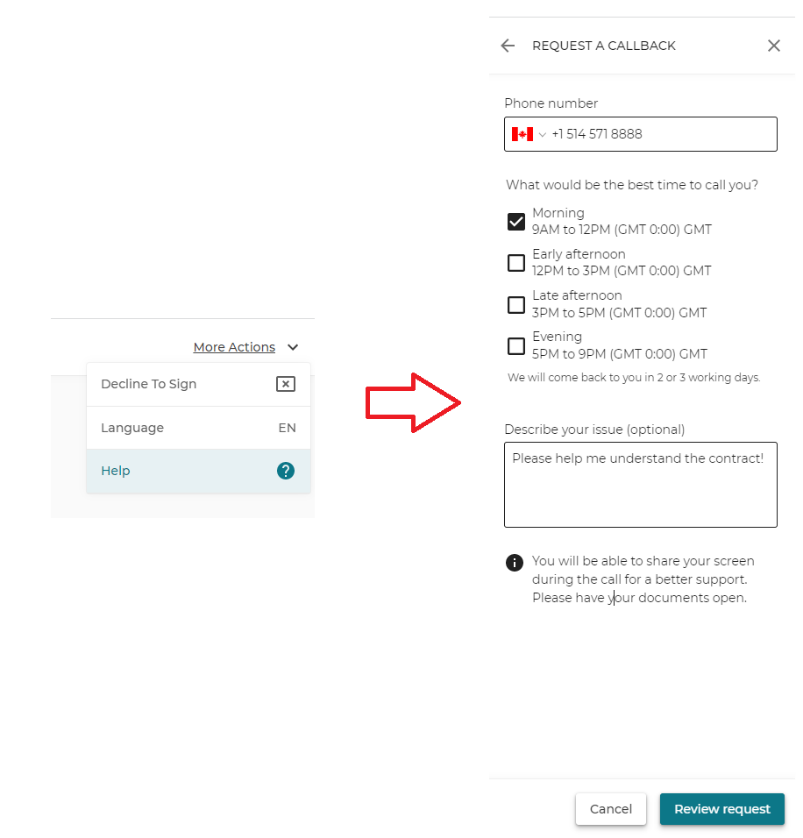 If the transaction has been configured to allow "Signer Cobrowsing", the signer also has the option to send the callback request with their availabilities and a brief description of the issue to schedule the co-browsing session. 
Launch Co-Browsing Session
Whether the customer is on call or the session is scheduled, the co-browsing session can be kicked off at any point of the signing. The advisor will simply sign in his sender portal, find the transaction, and click "Join session" in order to enter.

Using the built-in co-browsing capability, the advisor can guide customers through complex applications and respond to their questions in real-time.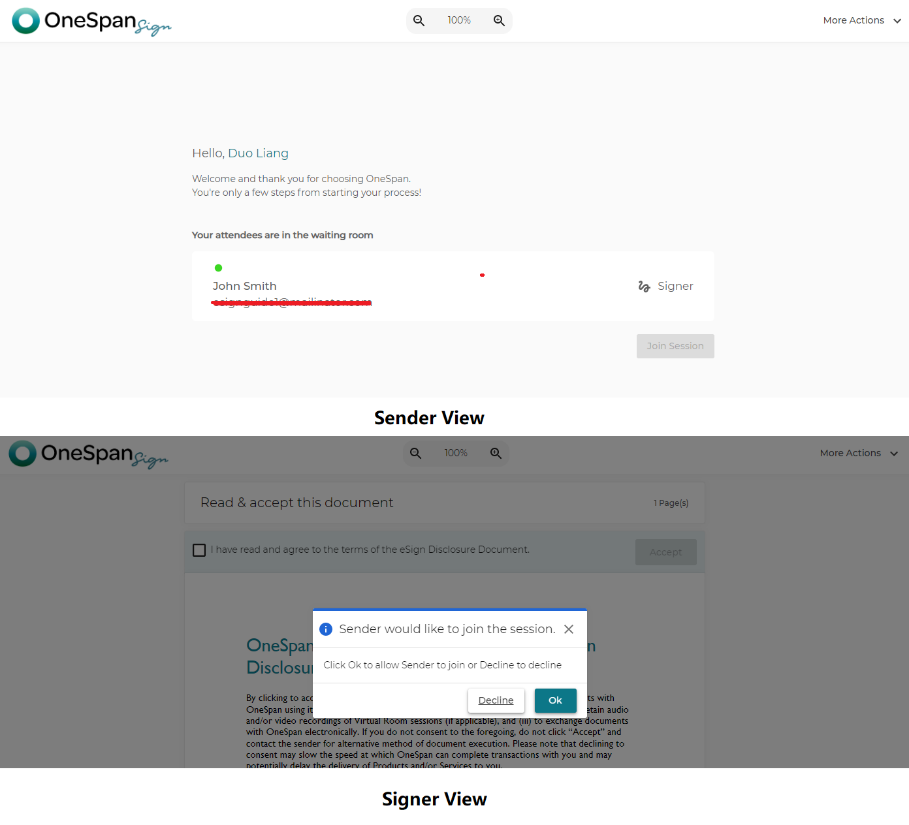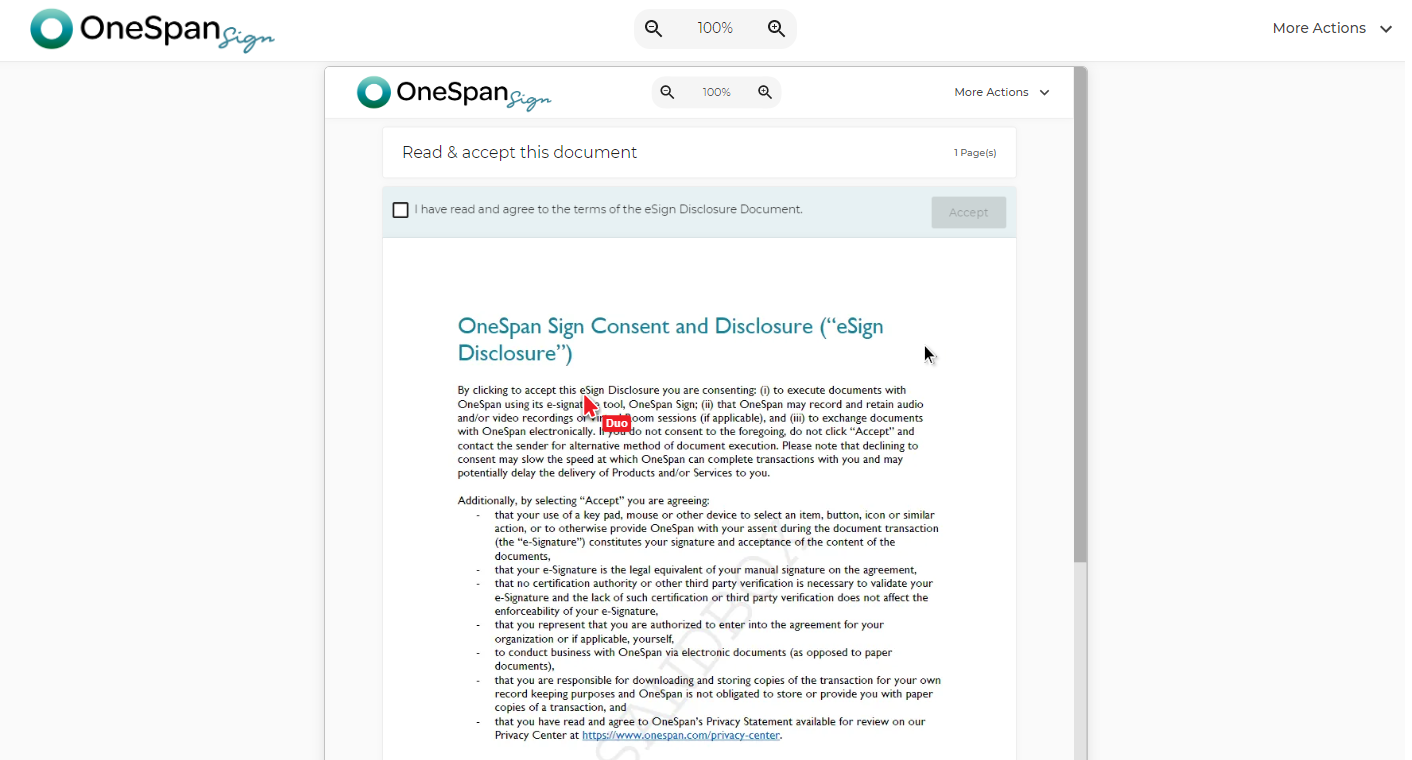 Join the OneSpan Developer's Community
This concludes today's blog. By now you should be able to configure ad-hoc cobrowsing for a transaction and understand the signer and sender workflows. In our next blog, we will dive into other technical aspects of this amazing feature. If you have any questions regarding this blog or anything else concerning the integration of OneSpan Sign into your application, visit the Developer Community Forums. Your feedback matters to us!