Meet rising demand for the shift to digital notarization with OneSpan Notary 
Today's customers are pushing businesses into the Web3 world and increasingly looking to complete agreements – even notarizations - digitally. With over 1 billion documents notarized in the U.S. each year, there is an opportunity for organizations to accelerate digital transformation for notarization to meet rising customer expectations for digital processes. 
OneSpan Notary enables organizations to accommodate both in-person and remote online notarizations (RON). Notaries can verify the identity of signers using two-factor authentication, collect electronic signatures, and notarize agreements all in a secure and trusted environment. 
Put away the pen and rubber stamps to engage with customers digitally to get agreements notarized in a fast, convenient, and secure way.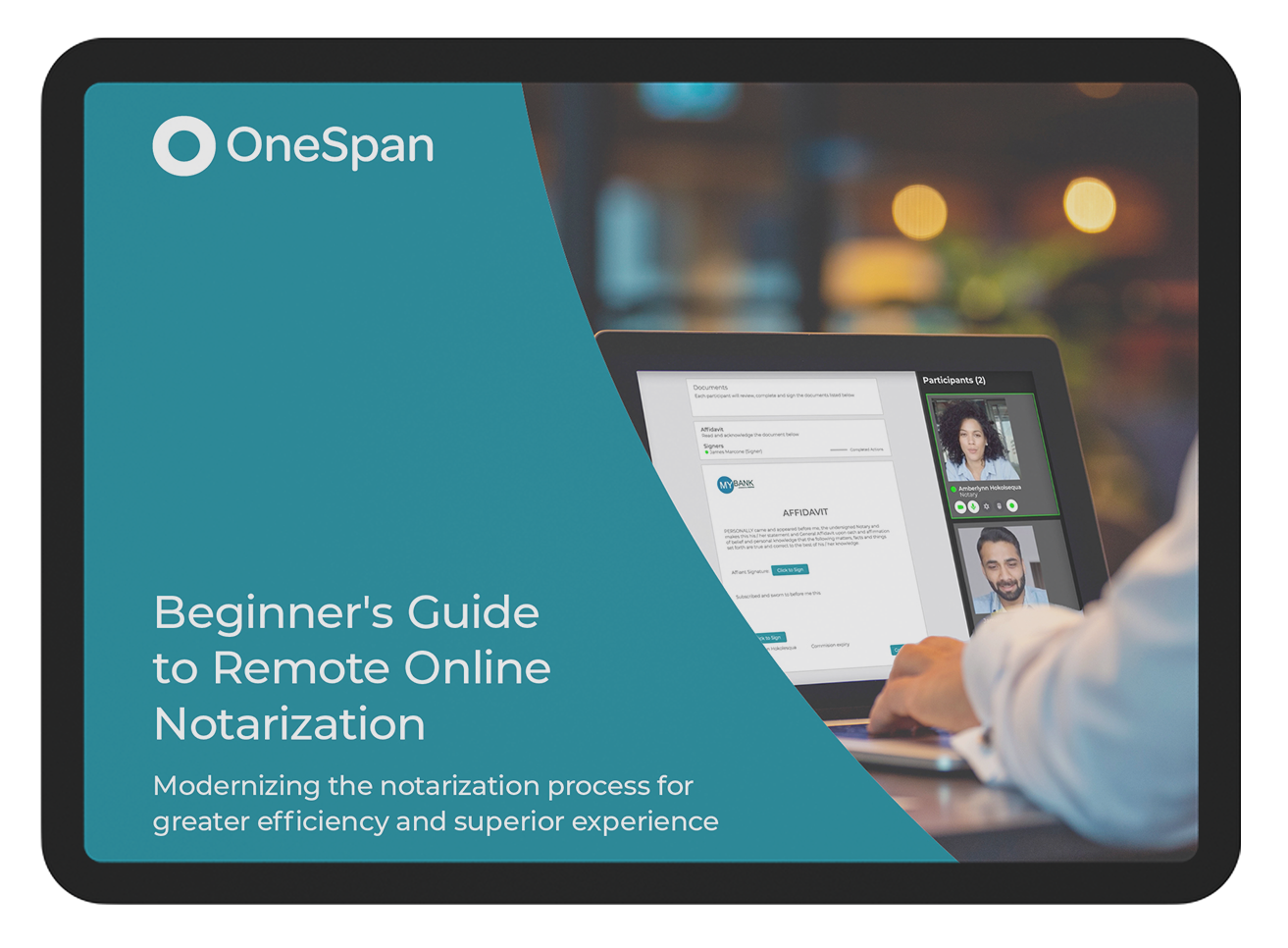 eBook
Beginner's Guide to Remote Online Notarization
Transform your notarization process for greater efficiency and superior experience. Get this essential guide to remote online notarization for industry best practices, FAQs, and tips to get you started.
Download Now
Get agreements notarized remotely in a secure and trusted environment
Common Use Cases
Wealth management: Estate planning, investment transfers, beneficiary changes, retirement distributions, trust openings
Auto finance: Car title transfers, lien releases, vehicle certificates of ownership
Insurance: Total loss claims, payment redirects, adjuster licensing
Legal: Affidavits, powers of attorney, deeds, commercial lease contracts, waivers
The information on this site is for informational purposes only and is not intended as legal advice on any subject matter. OneSpan cannot guarantee that all the information is current or correct. Should you have specific legal questions about any of the information on this site, you should consult with a licensed attorney.
How It Works
Explore the easy 5-step remote online notarization process
Secure Remote Online Notarization (RON)
Provide security and trust at every step of the remote online notarization workflow
Traditional in-person notarizations are vulnerable to security threats and fraud. With identity theft and fraud continuously on the rise, scammers are targeting high-value transactions, such as property transfers, estate documents, and powers of attorney.
OneSpan Notary assists with mitigating the risk of fraud compared to traditional notarizations by protecting notaries, signers, and underlying agreements with:
Strong identity proofing options like Identity Verification and Knowledge-based Authentication (KBA)  to positively identify signers
Access to an encrypted videoconferencing session to complete the notarization in real-time
Digital signatures applied after each signature to provide tamper-evident  documents
Built-in security controls with co-browsing that prevent participants from signing on behalf of each other
Access to completed agreements, audit trail, and recording after each remote online notarization session
Bank-grade security to secure notarized documents and data– in transit and at rest 
Capture Strong Electronic Evidence
Establish enforceability and authenticity for every notarized agreement
Each notarized agreement is accompanied by a recording of the session along with a comprehensive audit trail detailing events that took place during the notarial session. The audit trail captures:
Signing privileges passed between notary and signers
IP address and geolocation details of participants
Pass / fail identity proofing details
E-Signing events and timestamps
Remote online notaries applying their eNotary electronic seal
And more
Choose a Truly Integrated Solution
Enable notaries to conduct remote online notarizations with customers efficiently
OneSpan Notary delivers live electronic signature, secure videoconferencing, identity proofing and credential analysis options, rich collaboration features, ability to upload the eNotary Seal, eJournaling, recording, and audit trail capabilities in a single solution.
Our solution was built with notaries in-mind, providing a streamlined experience when connecting and notarizing agreements with customers.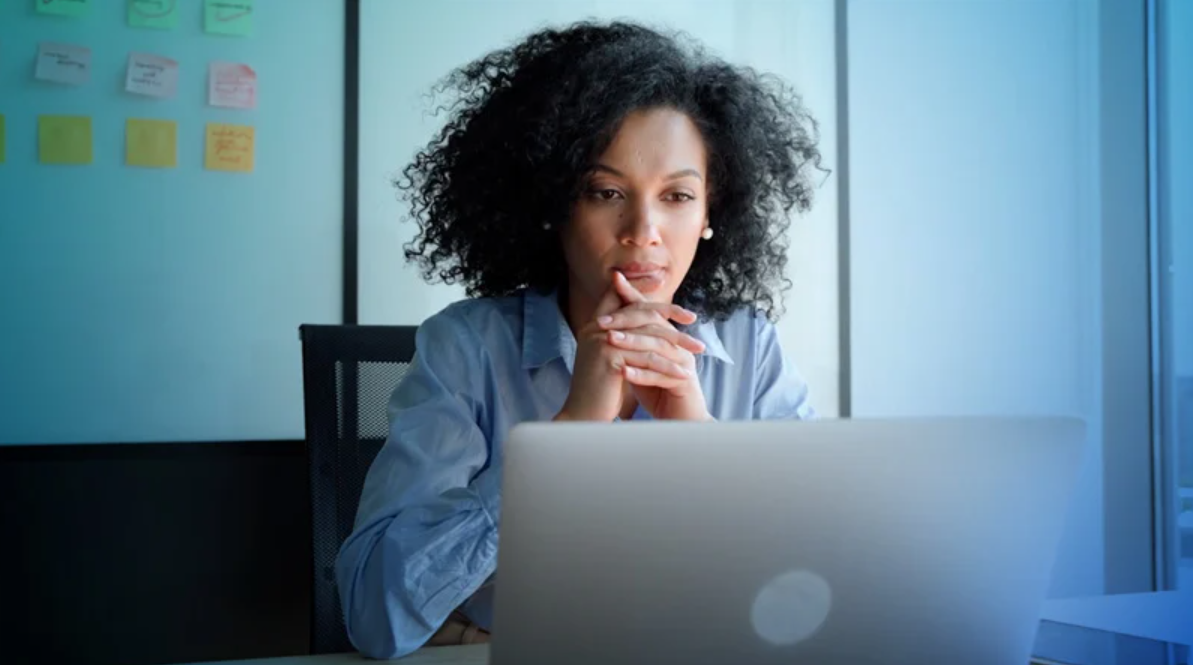 Blog
Top Requirements When Evaluating Remote Online Notarization Solutions
Learn top considerations you need to make before choosing a remote notary service as well as essential features to look for in your solution.
Read More
Make It Refreshingly Easy
Empower admins, notaries, and signers with an easy-to-use solution
The use of RON with our purpose-built solution is easy for all users:
Administrators
Onboard notaries easily from a single location within the solution 
Avoid chasing notaries to update their expired commission – notaries will be alerted directly
Built-in safeguards authorize verified notaries to initiate and notarize agreements with signers
Notaries
Manage your notary profile with ease in our intuitive self-service tool
Upload your own PKI X509 digital certificate to meet your State's requirements
Launch, schedule, and complete notarizations seamlessly with easy-to-follow guided steps
Record information of the online notary session easily in the eJournal
Signers
Join the online notary session by clicking a link in an email invitation
Complete notarizations effortlessly with guided workflows
 
What notaries are saying about our solution
The instructions are very easy to follow. Very user friendly, especially for notaries first starting out with remote online notarization.
Notary from Hood River, Oregon
The process was straightforward and easy to follow. OneSpan Notary was easy to use to complete the notarization.
Notary from Alexandria, Virginia
I think OneSpan Notary flows extremely well. I was able to follow along seamlessly. I thought it was a super good process.
Notary from Tempe, Arizona
No step was missed and I liked that the steps were thorough and precise.
Notary from Dallas, Texas
The page was pretty easy to follow with the steps. I didn't have any problems with the tasks.
Notary from Richmond, Texas
Offer Convenience and Flexibility
Eliminate the hassles and bottlenecks of meeting in-person and paper-based processes
Paper-based notarizations are plagued with errors, missing documents, missing signatures, maintaining paper journals, and more. Re-work can delay notarizations and increase the risk of agreements being rejected.
Modernizing the notarization experience allows your customers to participate in an online notary session from anywhere. In turn your organization benefits from eliminating manual errors, reducing paper costs, improving operational efficiencies, and expediting time-to-completion of notarized agreements.
Accelerate Digital Transformation
Partner with OneSpan to help you lead the digital transformation charge and get to ROI faster
OneSpan is a partner of choice to help you move your digital transformation forward by providing a new channel to serve your remote online notarization needs. We have a dedicated team of solutions consultants, technical support, and product experts with deep domain expertise that is committed to your success with our solution.
We offer training resources, so notaries can get onboarded quickly to start remotely notarizing agreements with customers.
Get started with OneSpan Notary
Remotely send, sign, and notarize agreements with customers in a trusted environment.
*All features may not be available at this time.  Speak with our sales reps for more information.