How It Works
A modern multi-factor authentication solution for fast results​
Learn how OneSpan Cloud Authentication helps businesses reduce fraud, improve the user experience and meet regulatory requirements.​



 
Improve Performance and Flexibility
Achieve the required performance, scalability, and flexibility to meet all current and future business needs
OneSpan Cloud Authentication is powered by our fully integrated Trusted Identity Platform which ensures the highest level of authentication application performance across even the largest user populations. 
Our Trusted Identity Platform is also cloud-based, so it can easily scale to quickly meet business needs and deliver industry leading security through regular platform testing and updates.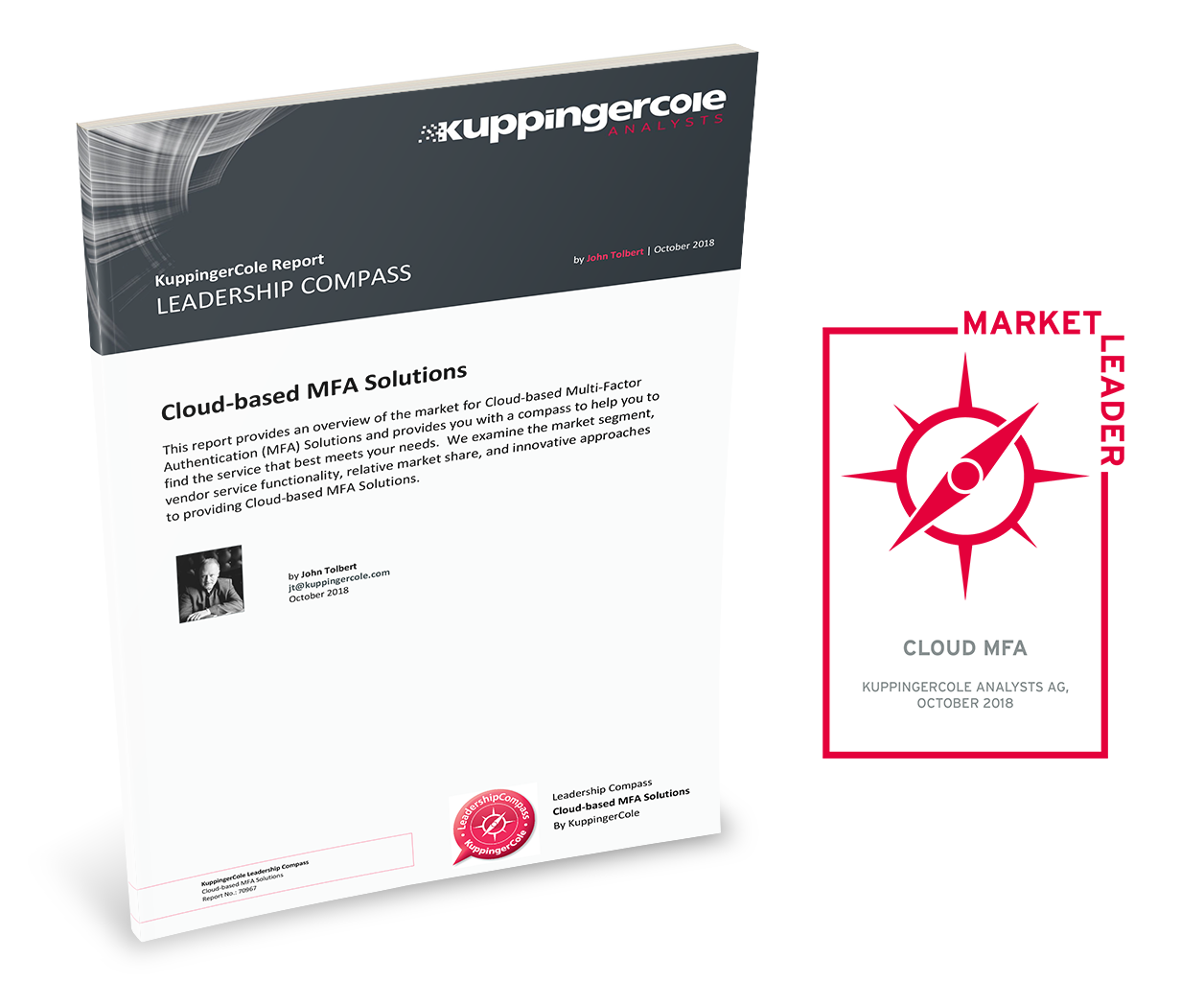 Analyst Report
KuppingerCole Leadership Compass Cloud-based MFA Solutions
Overview of the SaaS MFA market, with top requirements, insights on 12 leading vendors, and the latest innovations.
Download Now
Lower Operating Costs
Make the move from costly, on-prem authentication to a more efficient and flexible cloud-based solution
Today businesses are actively modernizing authentication with lightweight, cloud-based solutions that are quick-to-deploy, easily managed, and support extensive authentication methods.
OneSpan Cloud Authentication is designed to provide all the benefits of the cloud and support banks and other businesses' migration from costly legacy, on-prem infrastructure to a more modern, SaaS authentication platform. 
OneSpan Cloud Authentication is based on a single REST API which ensures a simple set up and quicker go live., effectively reducing operational costs.
 
Achieve Regulatory Compliance
Meet even the strictest compliance requirements, including PSD2 Strong Customer Authentication
OneSpan Cloud Authentication is a "lightweight," multi-factor authentication solution, ensuring a rapid deployment. This provides businesses the ability to meet strict compliance requirements, like PSD2 SCA, faster.
Our solution not only satisfies key criteria of Strong Customer Authentication but also provides customers the ability to deploy an extensive range of authentication options. These include out-of-band authentication methods, like push notification, as well as biometric options and a wide range of hardware tokens. This enables a secure user journey across digital channels with the best user experience.
 
Future-proof Security
Seamlessly expand solution features and capabilities at any time
OneSpan Cloud Authentication is one of several solutions powered by our Trusted Identity Platform – a fully integrated, cloud-based platform.
Our integrated platform provides customers the flexibility to easily deploy new authentication features as needed. So customers can take the first step to modernize authentication and seamlessly add other capabilities, like risk analytics, authentication orchestration, and mobile app security, in the future. 
 
Simplify Authentication Management
Easily manage all users and authenticators in your business via an intuitive, web-based interface
OneSpan Cloud Authentication makes it easy for banks and other businesses to centralize authentication management and eliminate the cost and complexity of supporting various, siloed authentication technologies. 
OneSpan Cloud Authentication simplifies management of all users and authenticators across the business through an intuitive, web-based interface that provides the extensive administration visibility and features to manage even the largest end user populations.
 
 
Activate New Users. Fast.
Quickly provision new users with a user-friendly mobile push notification
All end users are digital consumers and expect the same experience with business technology. In this case, they expect a quick and easy onboarding experience.
OneSpan Cloud Authentication provides this optimal experience to all new authentication users through our streamlined mobile provisioning feature of the mobile authenticator. New users are activated via a REST Call or mobile push notification which ensures the most user-friendly process.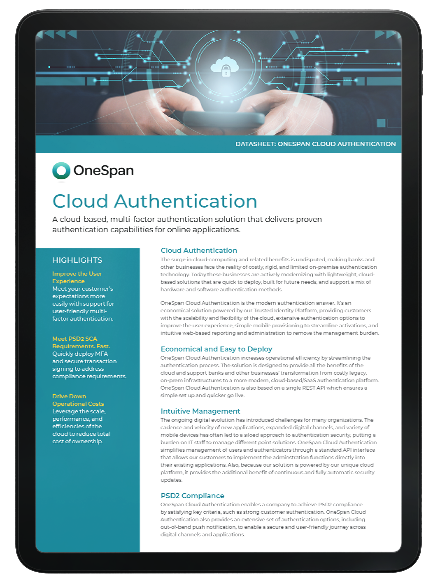 Datasheet
OneSpan Cloud Authentication
A cloud-based, multi-factor authentication solution that delivers strong authentication for online applications, supporting web and mobile channels for retail and corporate banking
Download Now