Notarization and more recently, remote online notarization (RON), create the foundation of society through the contracts, documents, and agreements we sign. In this process, commissioned notary publics perform an essential role. By witnessing the signing of these important agreements, as well as verifying the identities of the signers, and ensuring that all parties consent to the terms, notaries provide critical testaments of authenticity. 
As enterprises, financial service providers, and daily life becomes more digitized, completing the notarial act within a digital process presents an appealing prospect. In much the same way electronic signatures are improvements over traditional paper-based processes, a remote and digital notarial act is faster, lower cost, and an improved experience for signers and notaries alike. 
In this complete guide, we'll explore the concept of Remote Online Notarization (RON) including its benefits, legality, challenges, and defining characteristics. Jump straight to the answers you need using this table of contents. 
What is Remote Online Notarization (RON)?
Remote online notarization is the notarization of a document remotely using collaboration and security technology to provide the same assurance of authenticity as an in-person notarization. Technology used for remote online notarization can  include electronic signature, identity verification, online audio-video technology, and an electronic notarial journal for record keeping. 
In a paper-based traditional notarization process, the various parties in the agreement must meet in the presence of a notary, so the notary can bear witness to the signing ceremony. Remote notarization eliminates the hassle of coordinating an in-person meeting by providing a virtual space signers and notaries can meet, the identity of signers can be verified, and documents can be signed and notarized.   
Remote Online Notarization vs Electronic Notarization vs Remote Ink-signed Notarization 
It is important to be clear about the terms being used, and technology is notorious for having very similar terms to describe distinct processes. This is the case with remote online notarization and electronic notarization. The terms sound like synonyms, but they are distinct. 
Electronic notarization can be remote, but it does not have to be. Electronic notarization simply refers to the notarization of electronic documents as opposed to paper ones. If an electronic notary (e-notary) meets in person with the signing parties and notarizes a PDF contract, that is an electronic notarization, otherwise known as in-person electronic notarization (IPEN). If this same event using the same document took place in a virtual space, it would be a remote online notarization (RON). 
There is also a third style known as remote ink-signed notarization (RIN). In a RIN scenario, the notary and the signer do not need to be in the same location, and a paper document can be used. However, the notary must still observe the signing using audio-visual technology. The signer would then mail the signed paper document to the notary who would notarize and return the document once more by mail. 
These alternative notarization processes all possess some overlapping characteristics with RON while falling short of true remote online notarization and the benefits it brings. 
What Kind of Documents Can I Notarize with RON? 
The applications for RON are widespread and numerous. From financial services to real estate and HR, there are use cases for remote online notarization in many industries and sectors. Below we've included some of the most common, however any instance of a notarial act could be made more efficient and convenient with RON. 
It is also important to note that use cases will vary state by state depending on the specifics of their regulations governing the use of RON. Be sure to refer to your state laws for the most recent and accurate regulations. 
Financial services, lenders, and insurance 
Beneficiary changes and retirement distributions 
Power of attorney 
Establishing trusts 
Auto title transfers 
Beneficiary changes 
Signature witnessing 
Insurance beneficiary changes 
Retirement distributions 
Total loss claims 
Property claims 
Life and annuity claims 
Policy changes 
Payment redirects 
Adjuster licensing 

Auto-Finance 
Car title transfer / ownership of vehicle 
Lien release
Notice of lien 
Vehicle certificate of ownership 
Auto finance and refinance contracts 

Financial services, lenders, and insurance 
Affidavits and motions
Deeds
Estate planning
Commercial lease contracts 

State and local governments 
Quitclaim deeds 
Notarized child custody agreements 
Right-of-way easements for construction work 

State and local governments 
Real estate transactions 
Business services 
Internal corporate notarizations 
HR documents 
Corporate lease agreements 
Retail rental agreements 
Certificates of incumbency 
Waivers 
RON Laws and Compliance: Is RON Legal in All US States?
Notarization is a regulated process, and each US state has its own requirements and restrictions around RON and notarization generally.
Though requirements may differ, there are some broad standards, such as: 
The remote online notary must still be a registered notary public in good standing with the state. 
Audio-visual communication technology must be used, so the notary can both see and hear all participants. This is also important in verifying the ID credentials of signers. 
Further, it must be a live stream of the event as it takes place with direct interaction between the notary and signers. Recordings of the signing ceremony are insufficient. 
The signer must submit a copy of the signed document directly to the notary on the date it is signed. 
Beyond visual confirmation, RON must also utilize credential analysis technology, such as ID verification and Knowledge-based Authentication (KBA), to ensure the authenticity of a driver's license or other government-issued ID, as per state regulations. 
Recoding and electronic journaling of the event through a digital audit trail. 
Common data privacy standards also apply. 
For years, there has been a trend towards broad acceptance of remote online notarization, but the COVID-19 pandemic accelerated that acceptance in 2020. Nearly every state in the Union enacted emergency legislation or an executive order permitting the legal use of RON. Since this initial wave, 41 states have passed permanent RON legislation governing its use and legality. 
Again, regulation specifics will vary state by state. Consult your legal counsel and familiarize yourself with these regulations to ensure compliance. 
What Are the Benefits of Using RON? 
Traditional paper-based processes for agreements, whether an ink-signature or notarization, share similar limitations due to their physical nature. A digital process inherently presents several advantages, but RON also delivers key benefits you may not expect. 
Convenience and improved customer experience: Notarized documents, such as a mortgage document, are often time sensitive. By eliminating the need to assemble the signer(s) and notary in a single location for signing, the notarization process can be dramatically expedited, creating a superior, more efficient experience for the customer. Further, it allows a single notary to scale their services, as they can now engage in more notarial acts in a day. 
Another common issue in paper notarization is the frequency of document errors. Missed signatures and inaccurate information can invalidate a notarized document creating a need to reassemble the signers and notary to reattempt the signing ceremony. This inflates the process time and diminishes the quality of the customer experience. 
Sustainability: Paper-based processes are unsurprisingly paper-intensive. Multiple copies of a contract need to be printed and distributed to all parties as well as the notary, and the contracts themselves can become quite lengthy. A digital process eliminates this paper waster creating a more sustainable process for the long term. 
Security and enforceability: RON provides a level of security that is, on the one hand, essential given the remote nature of the agreement. Without the notary's physical presence, there must be some assurances that the digital documents and credentials presented are legitimate. On the other hand, however, RON solutions also provide security that goes beyond what typically occurs in an in-person signing. 
Credential analysis is performed by sophisticated identity verification tools that analyze a government-issued ID to confirm that it is both a legitimate government document and also matches the identity of the signer.  These tools help positively identify signers before accessing the online notary session. 
Before entering a signing ceremony, any would-be signer must authenticate, typically through knowledge-based authentication (KBA), which requires the signer to answer questions that only they would know the answer to. Those answers are then verified by a third-party database. 
Finally, RON technology solutions possess tools to facilitate enforceability should the terms of the contract ever come under dispute. Digital signatures are applied to each completed and notarized contract, making them "tamper-evident." This means that should any changes be made to the document after the notary seal is applied and notarial certificate created, those changes will be identifiable. This electronic seal is an explicit requirement under some state laws. 
Additionally, a robust audit trail of the event is captured and stored.  A video recording and an electronic journal document the key events and actions of the event to facilitate enforceability of the contract. 
Introducing OneSpan Notary 
OneSpan Notary delivers a refreshingly easy experience for signers and notaries alike. With secure remote online notarization, strong electronic evidence, and a streamlined experience, OneSpan Notary can transform how your organization delivers notary services. Learn more about the solution made with notaries, for notaries in the video below: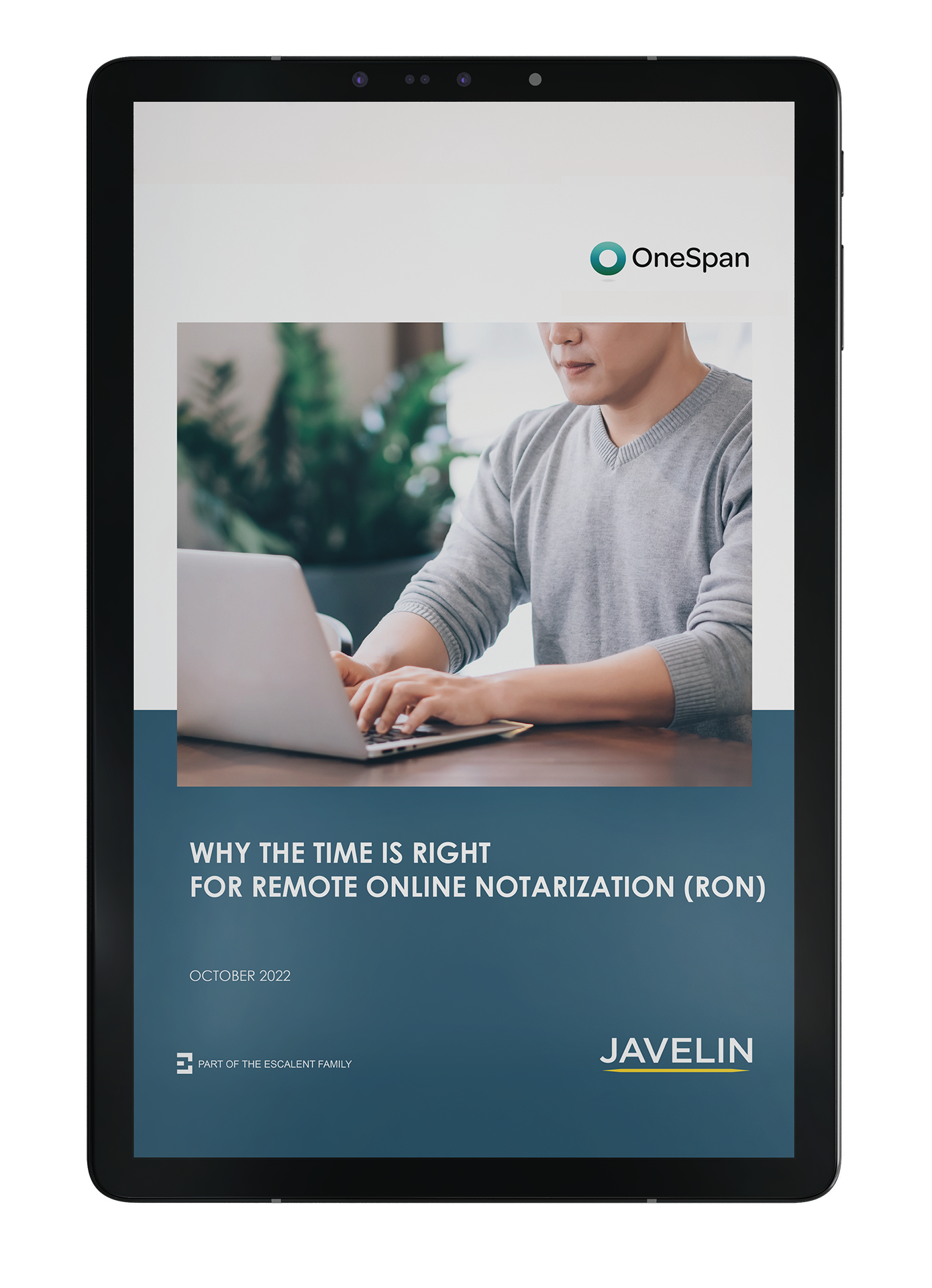 Javelin Strategy & Research
Why the Time is Right for Remote Online Notarization (RON)
Download this Javelin white paper to learn how to identify a RON provider with mature technology capabilities, and the expertise to evolve as the regulatory environment changes.
READ MORE