Introducing the OneSpan Virtual Room​
Bring the human element to high value and complex customer transactions
Virtual Room helps organizations guide customers through multi-step transactions and agreements, while verifying the identity of all parties, and collecting electronic signatures - all in a highly secure virtual space. 
Customers get the peace of mind of engaging with a real person ensuring their confidence in the interaction.
Enterprise organizations get to securely help their customers through complex agreements building trust and loyalty with enhanced customer experiences and higher completion rates.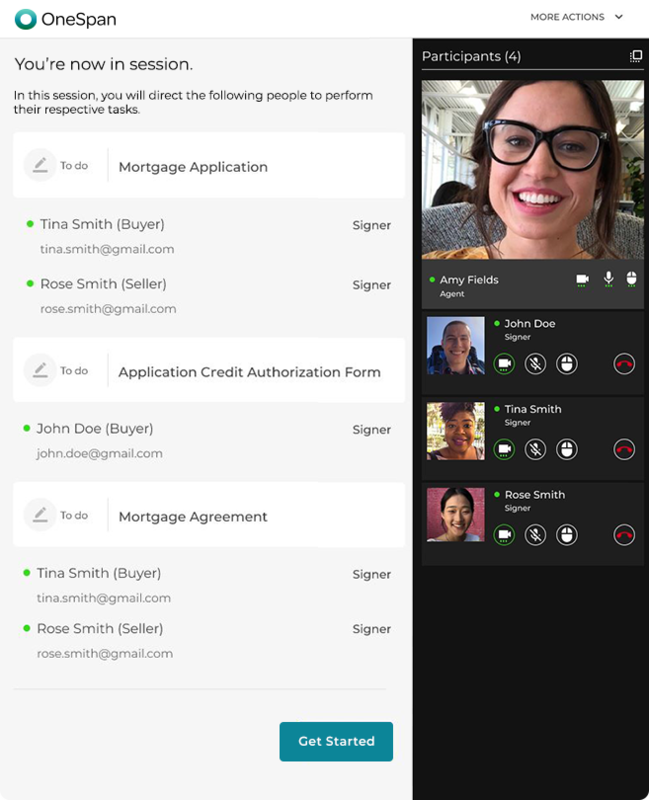 Recreate the Power of a Face-to-Face Meeting
Sample Use Cases​
Account Opening and Maintenance​
Advisors can help customers open new accounts and manage changes to existing accounts.​​
Wealth Management​
Advisors can help customers select the right products and complete investment strategy agreements.​
Insurance Policies and Claims​
Agents and brokers can help customers apply for new insurance policies and submit claims.​
Automobile Financing​
Dealers can help consumers complete vehicle financing and leasing agreements.​
Remote Online Notarization (RON)​
Commissioned notaries can facilitate the notarization of mortgage closing and lending documents. Learn more about OneSpan Notary.
How It Works
Explore the easy 5-step virtual signing process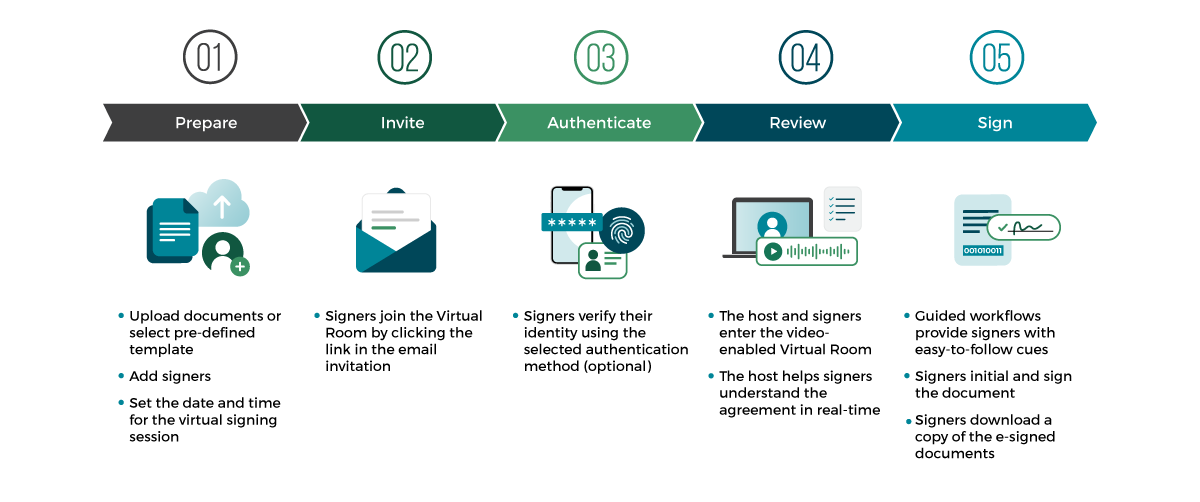 All-in-One Solution
A single vendor solution with no need to patch multiple solutions together 
The Virtual Room delivers live electronic signature, videoconferencing, identity proofing, guided workflow, recording, and audit trail capabilities in a single solution. No additional software is required. 
Once enabled, your users can log in, upload documents, and start sending invites to customers to join a virtual signing session.
Superior Customer Experience
A new digital channel to engage with customers and close deals – virtually 
Complete legally binding agreements that would otherwise require in-person contact. Review documents with your customers and clarify agreement terms and conditions in real-time to reduce missing and incorrect information in account applications and forms (i.e., eliminate Not in Good Order documents).
Remote signing with the Virtual Room is fast, convenient, and avoids unnecessary back-and-forth phone and email conversations.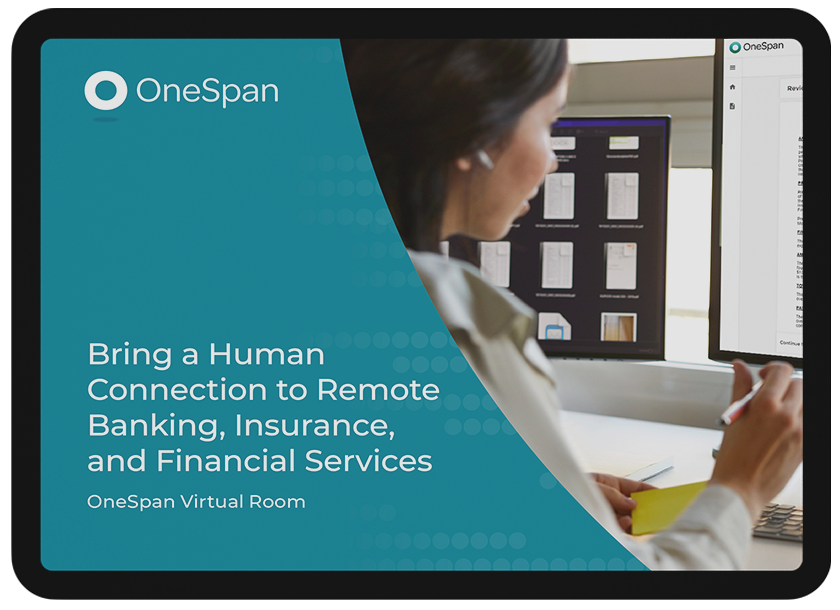 eBook
Bring a Human Connection to Remote Banking, Insurance, and Financial Services
Download this ebook to learn how the OneSpan Virtual Room solution can recreate the power of the face-to-face meeting in your to end-to-end digital processes.
Read More
Secure Agreements
Automate your remote signing and agreement processes – securely 
Bank-grade security
Protect your data and documents with a solution that is hosted on world-class cloud infrastructure and uses digital signature encryption in accordance with the ISO 32000 standard. Visit the OneSpan Trust Center for our latest security, compliance, and availability information.
Identity proofing
Reduce fraud by verifying customer identity through a range of authentication and identity verification methods.
Recording
Capture a full recording of the screen share and video feed to strengthen compliance.
Audit trails
Capture every action related to the virtual session in a vendor-independent audit trail to provide reliable proof in the event of an audit or legal case.
 
Securely drive enhanced customer experiences & completion rates with the next best thing to entering a branch or meeting in person​
Get started with the OneSpan Virtual Room.