RBC and Industrial Alliance: Why Take an Enterprise Approach to E‑Signatures
We regularly host webcasts on topics such as digital transformation, digital security, and the best practices and technologies that have made our customers successful. If you missed our latest webcast, Start the Transformation with an E-Signature, here is the 5-minute summary. The full presentation is available on-demand.
Today, more companies are recognizing the tremendous value of e-signatures and the need to shift to a more digitally transformed model. In fact, if you look at how e-signatures are used across all parts of enterprise organizations, whether it's B2C applications, B2B applications, or business-to-employee applications, there are hundreds of e-sign use cases in every organization. But often, the best way to achieve that digital transformation is far from clear.
To help companies understand how to successfully implement e-signatures as a shared service, we recently held a live virtual event titled Start the Transformation with an E-Signature.
Speakers included:
King Tam, Application Architect for BPM, RBC Royal Bank of Canada
Patrick Blanchet,  Director, Business Solutions Delivery, Industrial Alliance Financial Group
Sameer Hajarnis, Practice Leader for e-Signature and Agreement Automation, OneSpan
Here are some of the top insights discussed by the panel on how you can deploy e-signatures across your enterprise as a shared service to achieve your strategic business goals.
Creating Alignment among Business Units
For enterprise architects embarking on a platform strategy for e-signatures, the key is to "avoid overlapping, inconsistent, and redundant solutions" in your portfolio, according to Forrester Research. But this is more difficult than it sounds when you consider the way many of these initiatives unfold. Typically, most e-signature deployments start out within a certain line of business to address a specific need such as mobile account opening, remote lending, or online insurance applications. As that particular business unit works to solve their immediate problem, they demonstrate the ROI of e-signatures and the service starts expanding across the enterprise.
This is a very tactical approach to driving e-signature adoption. But as an architect, if you can't control the spread of technology across your enterprise, you tend to end up with redundant and overlapping solutions. This can also be a problem for senior managers whose key concern has always been to protect investments and lower the total cost of ownership as they start adopting e-signature technologies across the enterprise.
This was the case at the Royal Bank of Canada, where King Tam explained how some business groups would add e-signature solutions without updating IT. Tam and his team decided to modernize their approach using an API-driven strategy and routing all key decisions through a central overview process.
"We reinvented our e-sign services. We switched to an API-based solution, and we also have a very strong central administration of the e-sign shared services," Tam said. "So, we try to shut down any other kind of usage of e-sign around RBC, and they have to come through our team so that we apply common standards to it."
As you create these standardized, reusable workflow components, and those workflow components are actually used by various lines of business, you can start to see significant savings. The CIO of a large bank in North America that uses OneSpan said they realized over $15 million in cost savings just from technology reusability. So not only could you see savings from digitizing signatures, but you could also see pure savings in terms of reusability.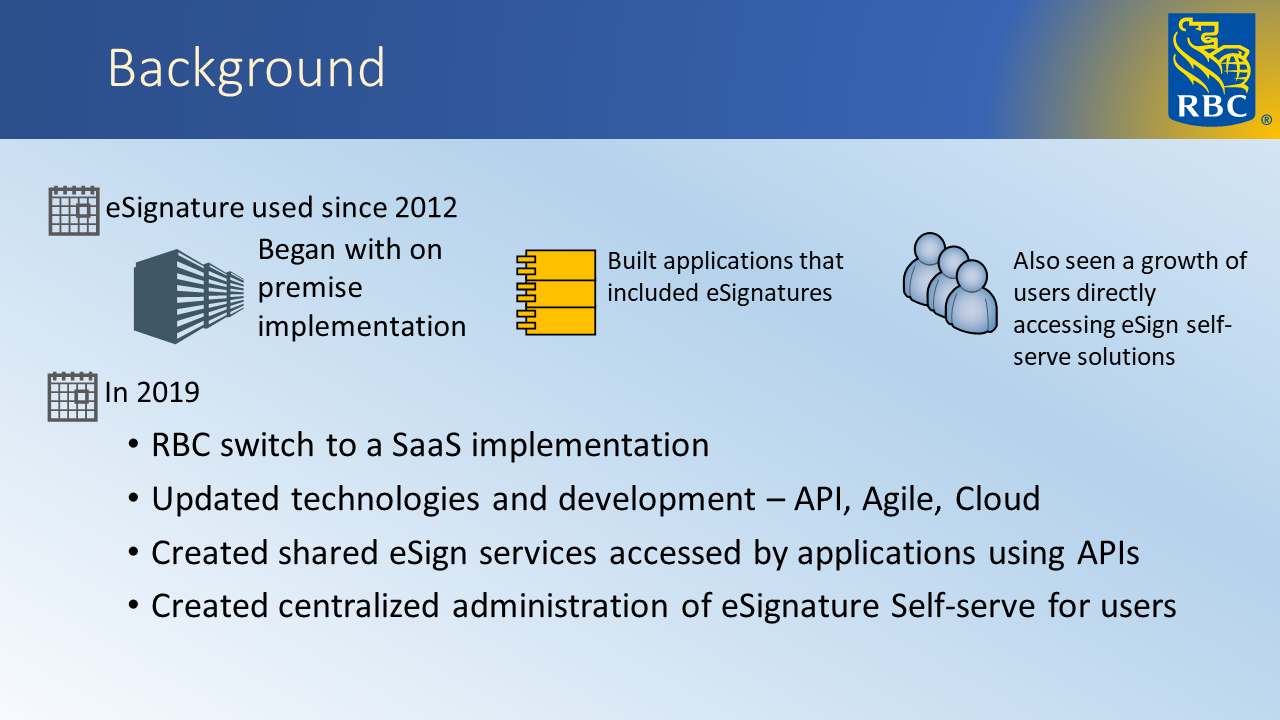 Building a Scalable Platform
When building a platform, technology executives often talk about the desire to go through a single development cycle to build one solution that can scale for multiple challenges. They don't want to create silos (e.g., one for the retail channel, one for mobile banking, one for call center issues, etc.) because taking that approach is always going to add redundancy, and redundancy disturbs the whole customer experience.
Scalability was paramount for stakeholders at Industrial Alliance Financial Group who wondered if their e-signature solution would be appropriate for their 750-person wealth management team. Patrick Blanchet said leaders were surprised and excited to learn that their OneSpan Sign system had been designed with speed and scalability in mind.
"I received a request this morning, and probably by the end of the week, they're going to be onboarded," Blanchet said. "It's a small group, but it seems to have worked well. Using the sandbox feature to make micro-changes and give access to our internal users to test the features at different releases seems to be a success story for us."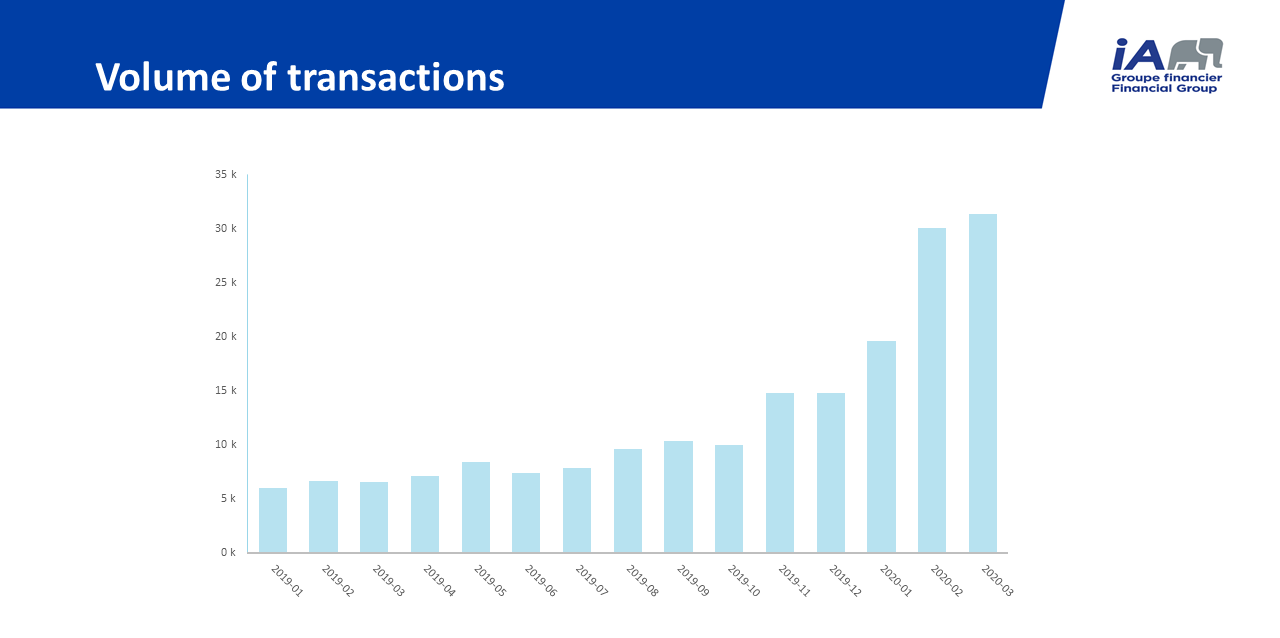 Because of COVID-19, Industrial Alliance (IA) onboarded close to 10 lines of business onto the e-signature shared service within 6 weeks. "The scalability is excellent," says Patrick Blanchet.
Blanchet said utilizing the cloud is key for building a scalable platform, because it offers built-in scalability that does not require people, but rather dollars. This is especially true during our current COVID-19 era where having a shared services model across your enterprise allows you to react quicker and maintain business continuity easier. A cloud-based system can also reduce the infrastructure your team needs to maintain.
So, if you have an enterprise-level need, Blanchet said using a cloud-based system will always be best practice.
Executing a Successful Deployment
The goal of any technology executive is always to bring down the time to digitize new cases, such that new lines of business can embark on e-signature journeys as well and be able to benefit from the larger investment that the enterprise has made. So, actually deploying your new system, gaining adoption and achieving everything quickly requires a thoughtful approach that leverages your technology assets as effectively as possible.
"It's going agile, using DevOps as much as you can," Tam said. "At RBC, we're also leveraging cloud at different levels, both internal cloud and external cloud. So, we're really using cloud-enabled agility and additional capabilities to get to where we want to be."
Tam said RBC utilized a specialized cloud services team to help guide the deployment strategy. Speaking of teams, Blanchet said you also need to make sure your support team is rock solid. At the beginning of Industrial Alliance's initiative, most team members were analysts who understood what APIs were doing and tried to only conduct analysis of their needs. But they quickly realized that approach left gaps in being able to quickly address and resolve issues within individual applications.
"Now we understand that they need to be aware of what support is and what the service level agreement is," Blanchet said.
Both Blanchet and Tam also discussed the need to manage integrations for various business segments, create strong teams, and test service layers in your system to make sure it can handle all of the demands. They also said IT teams need to understand that deployment is really only a first step in the process, and leaders should continually look for ways to improve their e-signature services as business needs change over time.
"Nothing I'm doing right now, I consider done," Tam said. "Everything is still a journey."
Any company looking to drive e-signature adoption should consider an enterprise approach. This will help ensure that your platform is not only scalable, but that the actions you take today will help drive long-term business benefits with a focus on speed, efficiency, and cost savings.
To learn more about how an enterprise approach to e-signatures could transform your business, download our white paper, Fast Track Your Enterprise Digitization: Best Practices for Deploying E-Signatures as a Shared Service. Then contact OneSpan to get started on your own digital transformation.