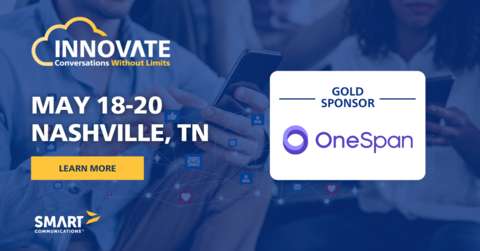 INNOVATE 2022 brings together the Smart Communications community to learn from customers, partners, experts, and exciting guest speakers about the latest product features as well as how to leverage the right tools to overcome today's greatest digital customer experience challenges.
As a proud Gold Sponsor, OneSpan will host a 30-minute live mainstage presentation (details below). Register now and be sure to visit the OneSpan booth at INNOVATE 2022 in Nashville, TN from May 18th to May 20th!
Humans - The Next Frontier in Digital Transformation (OneSpan Live Session)
This 30-minute live session will be focused on how to build a more human-centric digital customer experience. Explore the important touchpoints and how customer expectations have changed at each – from initial customer interaction with your organization, to transacting, and maintaining a digital relationship.