news_VASCO DIGIPASS for Mobile available for iPhone™ and iPod Touch™
Oakbrook Terrace, Illinois, Zurich, Switzerland, September 05, 2009 - VASCO Data Security Inc. (Nasdaq: VDSI; www.vasco.com ), a leading software security company specializing in authentication products today announced that DIGIPASS® for Mobile is available for iPhone™ and iPod Touch™. With DIGIPASS for Mobile running on iPhone™, authentication using the mobile phone is available to an additional 20 million users worldwide. DIGIPASS for Mobile can be downloaded through the App Store™. For corporate users the deployment is very straightforward, considering that with DIGIPASS® for Mobile Enterprise Security Edition VASCO offers the provisioning services. For use in banking, the solution is extremely easy to integrate into existing e-banking and m-banking applications.
DIGIPASS for Mobile is VASCO's authentication solution that leverages the internet enabled mobile phone for authentication and signature purposes in m-banking, e-banking, e-commerce and enterprise security. The application supports multiple profiles (retail banking, cash management, remote access, application security, gaming, …). Menus, messages, logos, colours, font can be fully adapted to the service provider's branding, supporting the brand recognition for the end-user. The menus also contribute to the mobile experience offering additional services such as ATM/branch locator, information services, etc.
IT departments will integrate VASCO server technology (VACMAN® Controller, VACMAN® Middleware IDENTIKEY® or aXsGUARD™) and will assign for which applications (e-banking, brokerage, VPN, application security, webmail access …) DIGIPASS for Mobile will be used. For the native integration into existing applications, VASCO has a software development kit available (DIGIPASS® API). For the roll-out of DIGIPASS for Mobile on iPhone™, the end-user will connect to the App Store™ to download the authentication application.
When users log on to the e-banking application on PC, an SMS will be send to the iPhone™ by the server at the bank. The user will then launch the authentication application on the iPhone™ by inserting a PIN-code. The authentication application will generate an OTP on the iPhone™. To sign the transaction the user will validate the OTP on the iPhone™. The solution is well suited to protect banks and users from Man-in-the-Middle attacks, considering two separate channels, the PC and the iPhone™, are used to sign transactions.
The VASCO DIGIPASS for Mobile application can easily be found on App Store™. Users need to launch the App Store™ on their iPhone™. In the search function they type DIGIPASS and the search engine will direct them to the VASCO authentication application. 
"Over the years VASCO has built an extensive experience in large-scale deployments of authentication to end-users. Ease-of-use and smooth provisioning are key components in large deployments. With the iPhone™ version of DIGIPASS for Mobile, VASCO combines its experience in provisioning with the easy-of-use of the Apple platform already adopted by millions of users worldwide," says Jan Valcke, President and COO at VASCO Data Security.
For a demo of DIGIPASS for Mobile available for iPhone™, please visit: http://dp4mobile.demo.VASCO.com
 
VASCO is a leading supplier of strong authentication and e-signature solutions and services specializing in Internet Security applications and transactions. VASCO has positioned itself as global software company for Internet Security serving a customer base of over 9,000 companies in more than 100 countries, including almost 1,350 international financial institutions. VASCO's prime markets are the financial sector, enterprise security, e-commerce and e-government.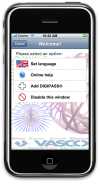 Statements made in this news release that relate to future plans, events or performances are forward-looking statements. Any statement containing words such as "believes," "anticipates," "plans," "expects," "intend," "mean," and similar words, is forward-looking, and these statements involve risks and uncertainties and are based on current expectations. Consequently, actual results could differ materially from the expectations expressed in these forward-looking statements.

Reference is made to the VASCO's public filings with the U.S. Securities and Exchange Commission for further information regarding VASCO and its operations.

This document may contain trademarks of VASCO Data Security International, Inc. and its subsidiaries, including VASCO, the VASCO "V" design, DIGIPASS, VACMAN, aXsGUARD and IDENTIKEY.
For more information contact:
Jochem Binst, +32 2 609 97 00, [email protected]