HIGHLIGHTS
OneSpan Authentication Server Appliance is a comprehensive, centralized and flexible authentication appliance designed to deliver complete authentication lifecycle management via a single, integrated system.
It offers secure and seamless access to a variety of corporate resources and web-based business applications, from SSL VPNs to cloud-based apps. It supports OneSpan's entire range of authentication solutions, and simplifies authentication management for both administrators and end users.
Strong, two factor authentication
OneSpan Authentication Server Appliance is a comprehensive, centralized and flexible authentication platform offering strong user authentication for local and remote access to the corporate network and to web-based business applications. The solution is highly suited for enterprises looking to acquire a dedicated appliance for their authentication needs, avoiding the hassles and cost of installing and maintaining a software-based solution.
The combination of OneSpan Authentication Server Appliance and Digipass provides strong user authentication that offers a higher security compared to reusable static passwords.
User convenience first
OneSpan Authentication Server Appliance streamlines the costliest and most time-consuming tasks associated with managing an authentication solution through a web-based user interface. Complex configuration tasks such as repliaction between multiple appliances can be completed within a few clicks. Software pdates are automatically implemented with a complete fail safe mechanism. Optional remote support can be offered as part of the maintenance agreement.
Easy to deploy
OneSpan Authentication Server Appliance comes as a standard appliance with preloaded OneSpan Authentication Server software and a seperate administration interface including automatic upgrade and backup features. It can be easily implemented in any IT environment and provides a turnkey solution that can be operational in a very short time. Deployment is as simple as installing the appliance in your infrastructure, configuring the front-end and back-end interfaces and importing the user data and authenticators.
Ensure business continuity
Every model allows server failover and database replication towards any other OneSpan Authentication Server Appliance, ensuring the highest availability and adjusted performance at remote sites, resulting in zero downtime and permitting the setup of a back-up site and global deployment of the authentication system.
SPECIFICATIONS AUTHENTICATION SERVER APPLIANCE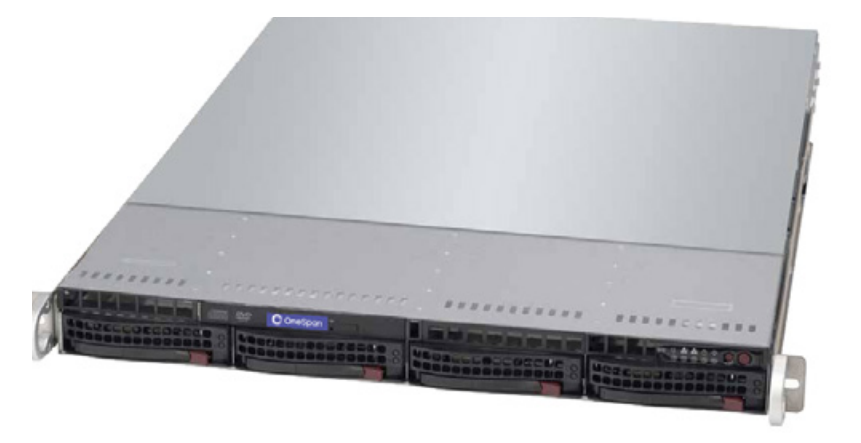 OneSpan Authentication Server 3.x
Intel® Xeon® Processor E3-1275 v6 (8M Cache, 3.80 GHz) FC-LGA14C
16 GB DDR4-2133 ECC UDIMM
2 x 500W high-efficiency (94+%) power supply w/ PMBus
437mm x 43mm x 650mm
17.2" x 1.7" x 25.6"
Safety UL, C-UL, CE
EMC FCC, CE
Environment RoHS
Horizontal orientation, 19" Rack, 1 U
8% to 90% (non-condensing)
-40 to +70 °C, -40 to 158 °F
5% to 95% (non-condensing)