HIGHLIGHTS
The small and lightweight DIGIPASS 270 offers secure remote access and authentication features in a compact form factor. It's the ideal password-protected personal identification device for banks, enterprises and organizations needing an effective and cost-efficient, high-volume solution
Looking to build a flexible security infrastructure that is easily accessible by customers and employees from anywhere and at any time? Digipass 270 opens the door. The small and lightweight Digipass 270 offers the same secure remote access and authentication features of Digipass 250/260-but is extremely compact. Its streamlined design can be customized according to your marketing needs. It's the ideal password-protected personal identification device for banks, enterprises and organizations needing an effective and cost-efficient, high-volume solution. In addition, Digipass 270 enables digital signatures for transactions.
Strong two-factor authentication
The Digipass 270 solution is based on strong two-factor authentication. To gain access to applications and services you must:
Know your Personal Identification Number (PIN), and
Possess a hand-held Digipass 270.
The PIN code is entered into the Digipass 270 which generates a dynamic password. This one-time password (OTP) enables secure authorized access to the network.
Intuitive user interface and advanced design
With an expected battery life of five years, Digipass 270 is a reliable part of any total enterprise security solution. Its keypad and simple graphic interface are so easy to use, no technical training or user guide is ever needed. Universally recognizable display icons walk you through simple steps that always provide an option to go back one step or restart from the beginning.
Maximum flexibility
Digipass 270 can be customized for your specific applications. Security parameters such as PIN length, number of PIN trials, length of challenge and response are all programmable features. The end result is an optimum balance of user-friendliness, cost efficiency and security.
Customization
The Digipass 270 keyboard can be customized with specific colors and logos based on your individual branding. Your company image is prominently displayed each time Digipass 270 is used.
Providing Safe Internet Transactions
Digipass 270 technology enhances the security of your web-based services. Whether it is using Digipass 270 dynamic passwords to log-on to a restricted web site or creating digital signatures to sign a financial transaction, you have greater control over who is trying to perform each activity.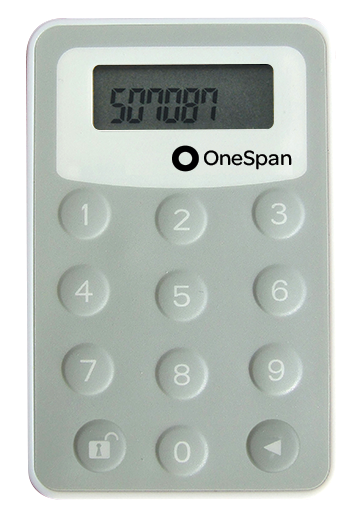 Compact size with an attractive design
Expected battery life up to five years. Intelligent battery management conserves battery life
Memory for three applications (Response Only, Challenge/ Response and Signature)
After a programmable number of invalid PIN attempts, device locks automatically
Remote unlocking or PUK unlocking
Dual function on-off/erase button
PIN is user-changeable (weak PIN protection)
System Operator defines usage and length of the PIN (up to eight digits)
One-time passwords (OTP): Time, event, challenge-response
Conforms to Advanced Encryption Standard (AES)
Supports programmable number (three maximum) of applications (each application has different parameters)
Up to 16 digits of challenge input can be keyed in
Responses are shown on the display in decimal or hexadecimal format (maximum length, 16 digits)
A single check digit (according to ISO 7064-6) can be applied on the challenge and/or response
Different functions can be assigned to each application
Product can optionally be delivered with an OSCCA certified processor and support for the GM/T 0021-2012 standard using the SM3 algorithm (Digipass 276)
CERTIFICATION AND COMPLIANCE
Short storage temperature
10°C to 50°C;
90% RH non condensing
IEC 60068-2-78 (damp heat)
IEC 60068-2-1 (cold)
0°C to 45°C;
85% RH non condensing
IEC 60068-2-78 (damp heat)
IEC 60068-2-1 (cold)
Waterproof IPx7 (1 meter during 30 min)
ISO 60068-2-18 or
IEC 60529
4 kV contact discharges
8 kV air discharges
3 V/m from 80 to 1000 MHz
Compliant with European directives
CE: 89/336/EEC or 2004/108/EC
RoHS: 2002/95/EC
WEEE: 2002/96/EC