HIGHLIGHTS
Digipass 840 Comfort Voice is a user friendly solution for people with disabilities that combines OneSpan Class 1 stand-alone smart card reader functions such as e-signature with EMVCAP (Europay-Mastercard-Visa Chip Authentication Program) compliance. Digipass 840 Comfort Voice satisfies the Disability Discrimination Act and the APACS standard.
Proven Solution for People with Disabilities
Digipass 840 Comfort Voice is designed to address the needs of the elderly and those with various disabilities, including visual limitations.
Digipass 840 Comfort Voice s a desktop-size reader with large keys and an oversize high contrast display to make reading and data input easy. An internal speaker and optional headphone provide the following functions:
Voice based user interface;
Voice based signature and one-time password;
Acoustic feedback on PIN, reference, challenge and amount fields.
The vertical card insert feature is extremely user friendly and makes secure two factor authentication possible for everyone.
Factory to Field
Digipass 840 Comfort Voice initializes itself and becomes unique the moment a user inserts their smart card and enters their PIN. All secrets are permanently erased when the card is removed. Digipass 840 Comfort Voice is platform independent and only requires voice message personalization prior to customer delivery; each reader is identical. Therefore production and distribution are efficient and very cost-effective.
EMV CAP Compliant
Cardholders simply insert their standard EMV chip card into Digipass 840 CV, and type their PIN for two-factor authentication (something they know, something they have.) Each time a user enters their PIN, a one-time password (OTP) is generated, displayed and announced.
The user can type this secure password to become authenticated over the bank's network. This dynamic password cannot be used more than once and can only be verified by the issuing bank. The verification of the OTP demonstrates the cardholder's identity and allows access to the network from any terminal, on any platform.
Digipass 840 Comfort Voice can be used in conjunction with Vasco's VACMAN controller authentication platform. For electronic payments, Digipass 840 Comfort Voice can also be integrated into the 3D-Secure architecture, allowing the cardholder to sign specific account data to complete the transaction.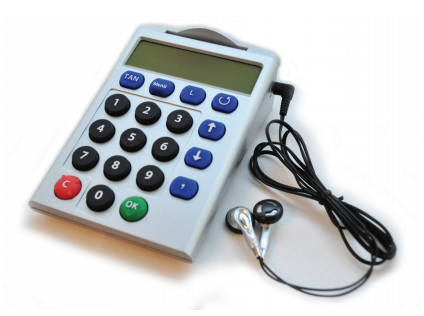 The reader does not require a connection to the terminal or PC, nor any client software or drivers. Digipass 840 Comfort Voice may be deployed simultaneously with other OneSpan readers sharing the same application.
DIGIPASS 840 COMFORT VOICE FEATURES
Digipass 840 Comfort Voice
Stand-alone PIN pad reader with a vertical card insert for individuals with special needs
High contrast, extra large 2-line LCD (1 line 60x7 dot matrix line and 1 line of 7-segment characters)
50.1 mm/15.5 mm x 97.2 mm x 145.5 mm
181 grams (excluding replaceable batteries)
10 numeric and 9 function oversized (15mm) tactile keys
2 replaceable AA batteries and 1 non replaceable CR2032 back-up battery
Mastercard CAP (2004, 2007)
VISA dynamic passcode authentication version 1.1
German [email protected] TAN
Belgian eID Card
Banksys Unconnected reader specification (BKS M.010 version 1.3)
Digipass 840 Comfort Voice (including keyboard) color and vocal messages can be customized
Short Term Storage Temperature*
-10 °C to 50 °C;
90 %RH noncondensing
IEC 60068-2-78 (Damp heat)
IEC 60068-2-1 (Cold)
0 °C to 45 °C;
85 %RH non-condensing
IEC 60068-2-78 (Damp heat)
IEC 60068-2-1 (Cold)
4 kV contact discharges
8 kV air discharges
3 V/m from 80 to 1000 MHz
EN 61000-4-2
EN 61000-4-3
Compliance to European directives (CE marking)
2004/108/EC (EMC directives)
2002/95/EC (RoHS directive)
2002/96/EC (WEEE directive)
Download PDF