Digipass 905 is suitable for a wide range of applications, such as electronic banking, Internet security, network security, loyalty and PKI applications. In normal PC environments driver installation is not needed. Digipass 905 meets all today's (de-facto) market standards and requirements.
The product
Digipass 905 can be used as desk-top device or as 'add-on' device, attached to a note-book or a monitor/display.
Digipass 905 is delivered with a separate support (see pictures). When used in combination with the support, the reader is extremely stable and card insertion/retraction can be done through a one-hand operation. The device can be customized through a customer specific color scheme and company logos can be added.
LED indication is provided for card insertion, card communication and device status.
The application interface is based on the PC/SC interface standard. Leveraging the CCID standard, separate driver installation for normal PC environments (amongst others Microsoft Windows) is not needed.
Functions & features
Ergonomic design
Customizing options: colors and company logos
USB bus powered, no need for batteries or external power supply
Convenient installation leveraging CCID class drivers (no separate driver installation)
EMV 2000 Level 1 and PC/SC compliant
Compliant with all ISO 7816 smart cards
High performance communication speed
Support of all relevant (de-facto) standards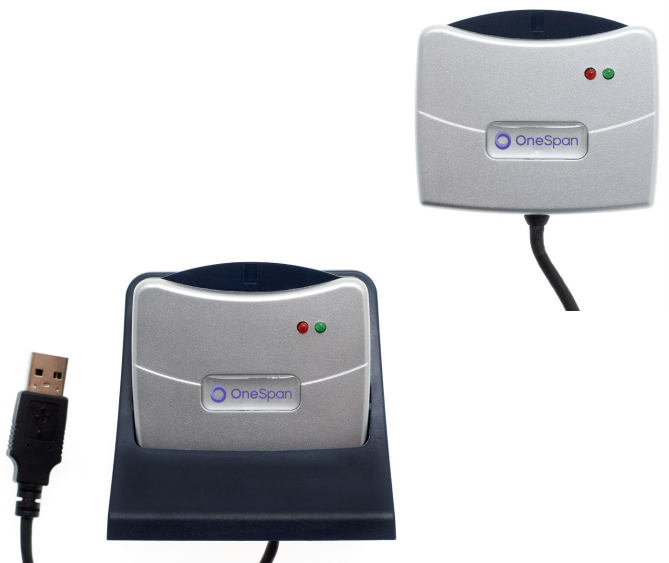 USB 2.0 full speed (12Mbps)
Bus powered device
CCID compliant
T=1, T=0 protocol support, extended ADigipassU support
Communication speed up to 320 kbps
Frequency up to 4 Mhz
Supports ISO 7816 Class A and AB smart cards
8 contacts - ISO location
100,000 insertions
Gold plated, sliding contact
Two LEDs to indicate card insertion, card communication and device status
0° to 50° Celsius, 85% RH non condensing
Storage temperature -20° to 60° Celsius, 85% RH non condensing
Cable: 1.5 meter long with USB type A connector
Power through USB bus
Dimensions & weight reader (LWH): 69 x 58 x 13 mm, weight 68 grams
Stand (LWH) 80 x 72 x 55 mm, weight 243 grams
Windows 2000, XP, Vista, Windows 7 and Windows 8, Server 2003/2008; MAC OS X 10.4 to 10. 8; Linux
Certifications and compliances
USB compliant
Microsoft WHQL 2000, XP, Server 2003 compliant
EMV 2000 Level 1 compliant
ISO 7816 compliant
CE and FCC Class B part 15 certified
CULus compliant
4 kV contact discharges
8 kV air discharges
3 V/m from 80 to 1000 MHz
EN 61000-4-2 and
EN 61000-4-3
Safety and environmental Compliance to European directives (CE marking)
2004/108/EC (EMC directives)
2002/95/EC (RoHS directive)
2002/96/EC (WEEE directive)