HIGHLIGHTS
Benefits
Strong security with one-time password technology
Ultra-portable: can easily be stored in a wallet (0.9 mm)
Enhanced user acceptance thanks to credit card size
Fully customizable with corporate logo, branding and custom colors
Easy to deploy
Low total cost of ownership
Designed for mass deployment
Digipass GO 100 series display cards offer strong authentication boosting security while providing unmatched user acceptance. With its credit card size form factor, Digipass GO display cards are robust, user-friendly and easy to deploy.
Digipass GO 100 series display cards are 'one-button' authenticators, which banks and other organizations can use to effectively combat Internet fraud by replacing static or paper-based password systems with strong two-factor authentication.
How it works
Each time a user wants to log on remotely to an application, website or network, he simply pushes the button on the card and a dynamic one-time password (OTP) is displayed.
This password can be easiliyt entered in combination with user name and optional PIN, to gain access to the application, site or network.
Easy to deploy
Static passwords or existing TAN lists (pre-printed lists of TransAction Numbers) can instantly be replaced with the more secure Digipass GO 100 seies display cards.
The GO 100 series display card portfolio is extremely well suited for massdeployments. Thanks to its slim design, Digipass GO 100 series display cards comply with standard postal regulations across several countries ensuring a swift and simple distribution.
Security to suit your needs
Digipass GO display cards are fully interoperable with all members of the Digipass family and work seamlessly with OneSpan Authentication Server Framework and OneSpan Authentication Server products. OneSpan's offers a full portfolio of authentication solutions and options for deployment. We can help banks and other organizations to find the right fit and deploy an extremely user-friendly two-factor authentication solution for secure Internet banking and network access.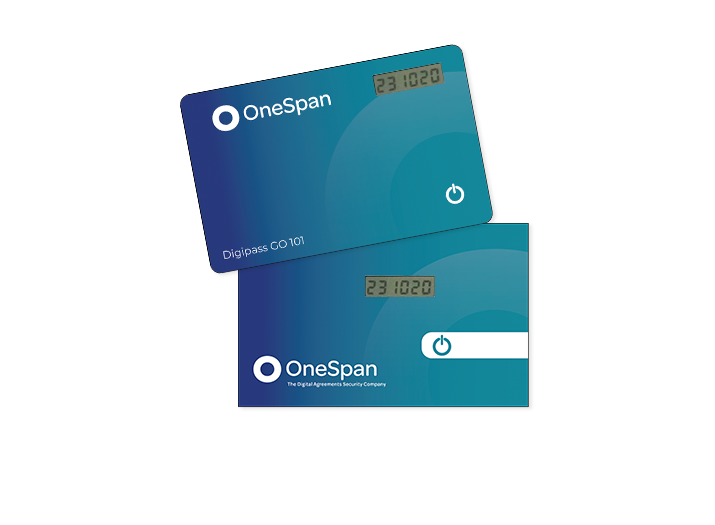 FEATURES DIGIPASS GO 100
FEATURES DIGIPASS GO 101
Credit card size form factor with OTP technology
Credit card size form factor with OTP technology
Strong two-factor authentication
Strong two-factor authentication
OATH event (HOTP) or time (TOTP) based algorithm
OATH event (HOTP) or time (TOTP) based algorithm
Easily customized with corporate logos, branding & company colors
Easily customized with corporate logos, branding & company colors
1 year warranty (can be extended to 2 or 3 years)
1 year warranty (can be extended to 2 or 3 years)
TECHNICAL SPECIFICATIONS DIGIPASS GO 100
TECHNICAL SPECIFICATIONS DIGIPASS GO 101
Real-time clock for time-based cards
Real-time clock for time-based cards
CERTIFICATION AND COMPLIANCE DIGIPASS GO 100
85.60 x 53.98 x 0.9 mm ISO/IEC 7810
Tabor Abrasion, Web Abrasion and Impact
Safety Standard for Information Technology Ecquipment
Electromagnetic Compatibility
Compliant with European directives
CE: 89/336/EEC
RoHS: 2002/95/EC
EMC: 2004/108/EC
CERTIFICATION AND COMPLIANCE DIGIPASS GO 101
Tabor Abrasion, Web Abrasion and Impact
Safety Standard for Information Technology Equipment
Electromagnetic Compatibility
Compliant with European directives
CE: 89/336/EEC
RoHS: 2002/95/EC
EMC: 2004/108/EC
PRODUCT LIFETIME DIGIPASS GO 100
Digipass GO 100 can be configured to have a lifetime between 5000 - 15.000 clicks
PRODUCT LIFETIME DIGIPASS GO 101