10 E-Signature Resources for the Financial Industry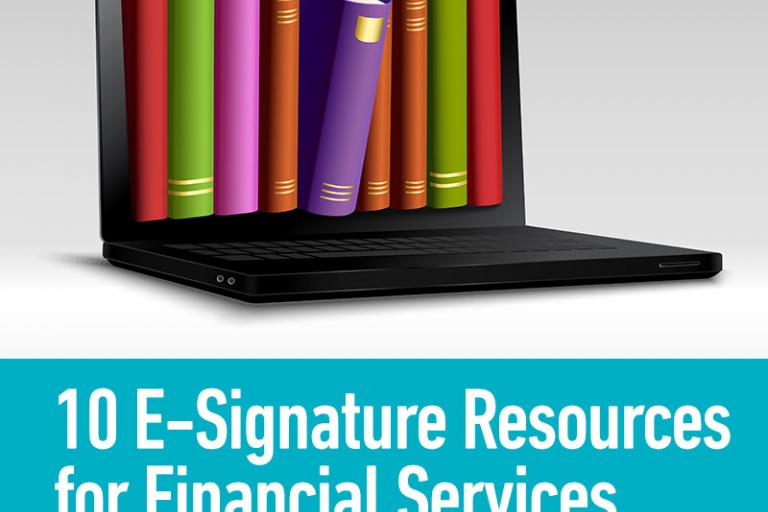 Interest in e-signatures has exploded in the last 18 months. So has the number of e-signature reports published by analysts, industry magazines, software review sites and vendors. This blog is a round-up of some of the most popular educational resources for the financial industry, with links to both third-party and e-SignLive content.
This 60-minute presentation is ideal for those just starting to investigate e-signature and digital signature technology. Besides learning key terms and definitions, you will gain an understanding of the legal aspects of e-signatures, security measures and what types of transactions and processes financial companies are digitizing. To help you visualize how your customers would interact with e-signatures, the webinar ends with a demonstration of two spouses e-signing a loan application.
This e-Book will equip you with insights from peers and other subject matter experts across the industry. See what Wells Fargo, Royal Bank of Canada, David Whitaker of BuckleySandler LLP, Fannie Mae, U.S. Bank, ARGO and others are saying – and doing – about digitizing banking operations through e-signatures. This guide is formatted like a slide deck, making it easy to copy and paste pages into a presentation for colleagues.
Credit unions are known for having close relationships with their members, and many are adopting e-signatures to enhance those relationships even further. In fact, 77 percent of credit unions use the software for loans, account openings and other processes both online and in-branch, according to a recent study by CUNA Strategic Services. What do credit unions know about the e-signature experience and how are they using this knowledge to appeal to their member base? Get all the details in this e-Book. It's formatted like a slide deck, making it easy to copy and paste pages into a presentation for colleagues.
4. E-Signature Webcast for Financial Services Legal Counsel
This webcast is an opportunity to quickly get up to speed on e-signature legal issues, best practices and recommended strategies. Two top e-commerce legal experts, Margo Tank and David Whitaker, begin with a deep dive into ESIGN & UETA, the Federal and state laws that enable e-transactions. They then take a practical look at e-signatures from an implementation perspective. A valuable educational resource to forward to your legal team.
The title is a dead giveaway on U.S. Bank's success in using electronic signatures on 460,000+ documents a week. Paperless consumer loans have enabled the bank to improve customer service, save on labor costs and strengthen regulatory compliance. Includes an infographic. 
In a December 2014 report entitled, "E-Signatures: A Few Simple Best Practices Drive Adoption", analyst Craig Le Clair states, "The business technology (BT) agenda for financial services is shaped by the need to rapidly digitize the business to cope with disruption threats and improve controls for compliance. Over half of the inquiries Forrester receives on e-signature are from financial services companies. These include retail and commercial banking, investment management, brokerage, and wealth management as well as four insurance segments. Indeed, financial service enterprises have thousands of transactions that can use e-signature." Get deeper insight into the analyst's top 5 best practices for e-signature here.
Watch this brief video clip to find out why Bob Catlin, CEO of Signature Mortgage, is fired up about e-signatures and the reasons for his belief that, "the sky is the limit!" This small regional mortgage provider is using e-signatures to go head-to-head with large national lenders. Nearly all of their loans are completed electronically and since they began using the e-SignLive cloud service, this company has expanded their reach beyond traditional geographic boundaries to boost revenue 100 percent. Signature Mortgage has completely transformed the customer's mortgage experience and the proof is in the unsolicited testimonials their customers are sharing with friends and family.
Cloud e-signatures are transforming credit unions. This article reports that credit unions are using e-signatures to increase loan revenues, improve operations and cut costs associated with printing, scanning, shipping and processing documents. Learn how remote signing technology helps credit unions:
Clear regulatory and risk management hurdles.
Compete against large banks by extending service without building new branches.
Attract a younger demographic drawn to mobile transactions.
9. Article: E-Signatures Deliver Savings and Efficiency for Royal Bank of Canada
Bank Systems & Technology reports that the Royal Bank of Canada's wealth management investment sales force was losing more than 80,000 hours yearly by chasing documents and fixing mistakes such as missing signatures. With hundreds of mobile investment advisors across the country handling millions of paper documents while on the road, the potential for human error was great. To correct errors, the advisor would have to go back to the customer to collect missing signatures, for example, or re-work documents. Scanners didn't solve the not-in-good-order (NIGO) problem.  In 2012, the bank deployed e-signatures. Get a deeper look into the ROI achieved, including:
Thousands of hours saved in sales administration, liberating advisors to focus on sales and relationship building activities.
75 percent fewer document errors.
$8,000,000 in annual administrative savings.
BS&T also reports that, "The bank is also looking into capturing e-signatures remotely for its online account opening process."
This article explores a paradox. Why are other banks slow to adopt the paperless signing technology that U.S. Bank has found so helpful? One of the reasons cited is "...the legal and compliance aspects of using electronic signatures and documents. According to Ron Eddy, an associate vice president for technology and operations at U.S. Bank., no problems have materialized on this front for U.S. Bank." Learn more about the 9th largest banking company's paperless loan process and how e-signature is helping U.S. Bank "retool its branches and free up staff to focus less on transactions and more on sales and advice."