5 Ways E-Signatures Benefit Banks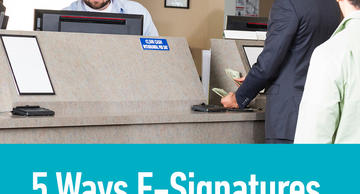 Banks and financial services providers are digitizing their business processes to provide a better customer experience and at the same time, improve compliance.  Fortunately, an electronic signature solution that is built on digital signature technology provides a secure and compliant means to automate transactions that require the customer's signature. But these are not the only way that e-signatures benefit banks. Here are five additional areas where banks can capture ROI:
Cost savings
Bank Systems & Technology reported that, "Manual and paper-based processes during a typical customer onboarding process can cost up to 20 times more than electronic document processing."  Part of this is due to NIGO errors and document re-work. According to industry estimates, banks collectively spend hundreds of millions annually to correct documents across all lines of business. With e-signatures, financial institutions can eliminate errors such as missing signatures and data by using e-signatures that incorporate workflow rules into the automated process. They can cut costs even more by getting rid of paper-heavy processes involving large volumes of manual processing, data re-keying and paper storage.
Another example of a process that is time consuming and expensive is creating, managing, storing and retrieving paper signature cards. Replacing them with a secure e-signature card allows banks to reduce paper consumption, administrative overhead and archiving real estate.
Productivity
With e-signatures, staff and advisors can spend more time building relationships with customers and less time trudging through administrative chores. So much time is spent printing forms, keying in information, photocopying and then scanning or imaging to get documents back into digital format. E-signatures free bankers and staff to have higher value conversations with customers.
Speed
E-Signatures cut document workflow cycles from weeks to days – or even minutes. With a web or mobile browser, workflows can be completed much more quickly without compromising security or compliance.
That's the case for Signature Mortgage. Today, within minutes of the customer and representative speaking on the phone, the company's loan origination system generates a mortgage application complete with all the required upfront disclosures. From there, an employee sends the applicant an email inviting them to login to a secure website, where they can review, accept and sign up to 45 pages of documents – all through a web browser. Applications are now completed within 24 to 48 hours versus 7 to 10 days, which means loans can be closed in less than 25 days compared to the national average of 45 to 60 days.
Expanded reach
With e-signature technology, there are multiple ways of gathering signatures, including click-to-sign and scripted signatures drawn on a mobile touchscreen. Mobile capabilities are a game changer when it comes to geographic boundaries. E-signatures extend a financial institution's reach, without the cost of opening and staffing new branches.
Customer loyalty
Giving customers the freedom to choose how and where they will transact with a financial institution could be considered priceless. According to Javelin Strategy & Research, "Financial institutions must prepare for a customer who researches an account online, starts an application online (or on a mobile device), initiates a chat session, transmits supporting documents with a smartphone, and still might opt to visit a branch to seal the deal. The key is to enable the customer to decide."
The use of electronic signatures provides this with an easy, convenient, personal and accessible experience.  These are all qualities that build lasting connections.
To learn more about the features and benefits provided by e-signatures in banking, download Beyond the Branch: How Electronic Signatures Enable Remote Account Openings.