E-Signatures Streamline Healthcare Workflows for Better Patient Care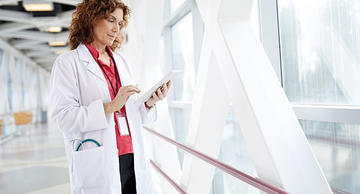 We regularly host webcasts on topics such as business digitization, authentication, and mobile security best practices. If you missed our recent webcast, How Digital Automation and eSignatures Improve Patient Experiences in Healthcare hosted by HIMSS, here is the 5 minute summary. The full presentation is available on-demand.
In January of last year, only 24 percent of US organizations in the healthcare industry had an existing virtual care program in place according to Forrester Research. Now well into 2021, the adoption of digital services is here to stay. As the comfort level of patients normalizes for seeking and receiving care virtually, the patient experience will remain critical when considering the delivery of services through the pandemic and beyond.
During a time when patients needed access to their healthcare practitioners more than ever, COVID-19 fostered an environment where people avoided healthcare institutions out of fear. In a pre-registration poll, over 45% of healthcare providers in attendance indicated that improving the patient experience was the top driver of their digitization efforts. Notably, 25% of respondents also highlighted that improving efficiencies was the overarching priority for the digital transformation initiatives in their clinics and institutions. Easing the burden of stress on patients by making simple and accessible solutions available via remote channels not only restores confidence in the care being received, but also reduces the workload of front and back office clinic staff in terms of documentation and processing times. As a result, building this digital foundation for more efficient and expedited paperless processes returns resources to clinicians to be actively spent delivering patient care, a fact that will be even more greatly felt when returning to full caseloads as the pandemic subsides.
Where Can Improvements Be Made In Existing Workflows?
Agreements are everywhere in healthcare organizations and are notoriously paper-heavy and lengthy to process. With staff in clinics reduced due to social distancing measures and an increase in workload with the addition of COVID-19 health questionnaires, digitizing workflows with e-signatures can have massive benefits across a number of applications, including:
Patient registration and enrolment forms, consent forms
HR onboarding, physician credentialing
Vendor contracts, SOWs, NDAs
Provider agreements, health insurance claims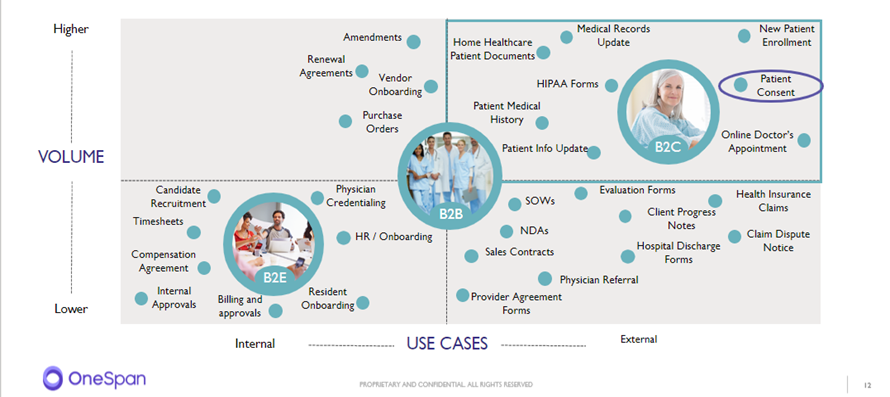 Digital Patient Onboarding
Patient onboarding is a prominent use case — one that can see immediate gains from the adoption of e-signatures. A streamlined and digitized system for new patient enrollment can remove unnecessary steps from a lengthy manual process, eliminating the need for printing and scanning, data entry, and archiving and storage. Reducing the frequency of errors, work-backs, and misfiled or lost paper documents saves time, costs, and boosts the efficiency of the clinics and hospitals. Easy access to digitally archived medical documents is also an added benefit for nurses and practitioners who have increased the volume of home care visits during the pandemic. It provides them quick access to electronic health records and the ability to offer consent forms on the go. Administrators can further complete pre-registration tasks before patients even step foot in the door to drastically reduce wait times and risk of transmission within waiting rooms.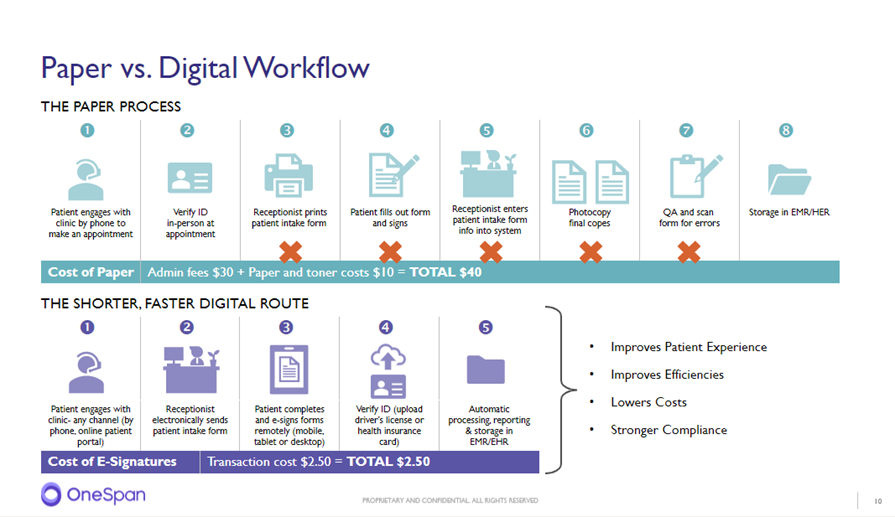 Enhanced Patient Experience
Giving patients the ability to read and sign documents before their appointment means they are ready to be evaluated by a practitioner immediately upon arrival. The flexibility to complete paperwork remotely — from their mobile device or desktop, at any time, at their own pace — results in improved patient experiences. Be it a web self-service patient portal, a clinic's mobile app, or a telemedicine platform, electronic documents can be accessed through a variety of remote channels. This transforms workflows such as providing consent forms, filling out new patient packets, and completing health questionnaires into an intuitive and straightforward process.
From a user standpoint, replacing the handwritten signature with an electronic signature using click-to-sign can make a lengthy documentation process more manageable. Combined with the ability to white-label all communications and forms sent for e-signing with a hospital or clinic's own logo and branding instills confidence that sensitive medical records and personal patient data will be received in a secure manner by a familiar and trusted source. This reduces the danger of patients falling victim to phishing schemes and maintains the highest levels of trust in the quality of service and care being received.
Key Takeaways
The pandemic has accelerated the number of digital interactions we take part in daily, including the wide adoption of telehealth and telemedicine. A robust e-signature solution should be an essential part of any healthcare provider's digital technology stack. By moving towards digitized workflows and automated processes, the gains in efficiency and improvements to overall patient experience assure providers are delivering the best care for patients with a broadened level of access to clinical services.
To learn more about digital healthcare use cases, please watch the recording of our joint webinar, "How Digital Automation and eSignatures Improve Patient Experiences in Healthcare." For more on how OneSpan Sign can be deployed to support healthcare digitization projects, read  our Healthcare Datasheet.