How Banks Can Grab Hold Of The Digital Onboarding Opportunity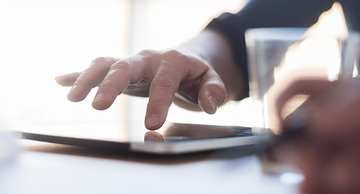 Digital banking has soared in popularity over the last few years, and it is showing no signs of slowing down. A report looking at the UK finance landscape in 2020 found that only 7.7% of UK banking customers prefer in-branch visits, with the vast majority preferring to use online or mobile channels.
Given this, it's no surprise that digitisation programmes have been a top priority for financial services organizations for a long time. However, the global Coronavirus pandemic has accelerated this transition, particularly when it comes to digital account opening, which has become a fairly urgent requirement, and a key competitive differentiator at the very least.
As banks look to digitise the account opening process, they have to overcome friction points with identity verification, and ensure that they mitigate security threats, meet compliance requirements and enhance the user experience.
The acceleration of contactless banking
Face to face banking has already been on the decline in the UK, indicated by the decline in physical and bank branches: more than 3,500 branches have closed since January 2015, at a rate of 55 each month. Furthermore, the rise in digital only challenger banks, such as Monzo and Revolut, alongside increased familiarity with mobile and web channels, means digital banking has become a natural preferred choice for many customers.
However, with much of the world experiencing different degrees of social distancing measures, the Coronavirus pandemic has changed the way we interact with businesses, and being able to access banking services without stepping into branch has become a key expectation for many. Crucially, these services aren't limited to paying a bill or making a transfer, but now extend to more complex interactions, such as opening a new bank account, or taking out other financial products.
Adding to the challenge, is that it's no longer enough for banks to be able to offer digital services, they also need to make sure they aren't compromising customer experience, security or compliance in the process.
Digital account opening
The good news, is that the majority of financial institutions are well on their way to digitizing the account opening process, with 85% of financial institutions providing some form of digital account opening. We also know that prior to the current pandemic, budgets assigned to digital account opening programs has almost doubled in size. So the desire to digitize already existed, along with the financial backing.
However, prior to the pandemic, many of these processes were only partially digital. For example, a customer might start a loan application online, and then finalise the application with an in-person branch visit to present their ID documents. Today, financial institutions that want to win new customers must figure out how to fully onboard a customer in a physically distanced way. For many, this means adopting digital identity verification methods.
Combatting security threats
While digital onboarding is essential for banks looking to remain competitive and offer an enhanced customer experience, it can also pose security risks if the right measures aren't in place. One of the key threats is identity fraud, as banks face challenges in verifying identities securely, without being able to rely on face to face interactions.
Identity fraud has become easier to perpetrate than ever. Various factors, such as the shift to online banking, social media profiles laden with personal information, and regular data breaches, mean that personal data is strewn all over the internet. As a result, criminals have easy access to information required to hack accounts or make fraudulent applications, making identity theft easier to perpetrate.
So, any adoption of digital identity verification needs to include a careful consideration of all security, anti-fraud, data privacy and compliance requirements, with the safety of the customers' data and account of paramount concern.
The best approach is one that combines traditional identity verification methods with advanced analytics, to achieve context-aware identity verification. This will allow banks and financial institutions to make security decisions based on real-time customer information. This technique leverages a variety of checks, including real-time data-points, ID document capture, and biometric verification, including the ability to verify a remote identity using a selfie and liveness detection technology. These digital identity verification methods will ensure banks and FIs can protect customers, without compromising customer experience or compliance.
Opening the door to new opportunities
While there are security risks associated with digital banking, there's a huge opportunity for the banks who get it right. Banks and financial institutions who already had mature digital onboarding services before the coronavirus pandemic were able to continue offering high quality, secure experiences, without any disruption to customers. Others have faced more urgency in removing manual steps or physical touch-points in the onboarding process.
Finally, not only will they be able to onboard customers digitally without compromising security or the user experience, but they will also be in a position to add additional digital services for customers, such as mortgages or loans.
Rules, behaviors, and actions that consumers will tolerate have changed dramatically. Contactless has now become the new and safest norm, and banks need to ensure their offerings are in line with these changes. Banks and financial institutions that can fully digitse their account opening, loan application and financial product sign-up processes solutions quickly will be most likely to succeed in this time of crisis and beyond.
This article, authored by Conor Hickey, Solution Engineer Manager, North EMEA OneSpan, first appeared November 12, 2020 on financederivative.com.