Introducing the eSignLive Android SDK
Today, Google's Play Store is the largest app store with over 2.2 million apps. From business productivity tools to banking apps, there's an app for almost everything these days. But what differentiates your mobile app from the competition? As a developer, you're faced with stiff competition. That's why it's more important than ever to ensure your app stands out from the sea of mobile brands out there.
We're happy to announce that eSignLive's Android SDK is now available! Like our iOS SDK, it enables you to tightly integrate e-signing capabilities into your mobile apps. Your users can now sign and complete any document-based transaction within seconds – directly from your mobile app.
eSignLive was the first e-signature provider to release a mobile SDK for iOS and now we're pleased to add the Android SDK to our portfolio of development tools to support Android app developers.
E-sign here, there and everywhere
According to Forrester Research, by 2020, the majority of electronic signature transactions will be launched from mobile devices. But is your mobile app ready? Are you able to capture legally binding signatures from within your app? Adding features such as e-signatures not only drives your consumer's interest in using your app, but also facilitates the buying experience of your products and services.
Let me share two common mobile signing examples:
In banking and insurance, adding e-signatures to mobile apps enables your consumers to remotely open accounts and apply for additional products (such as credit cards and individual insurance).
In eContracting, providing your mobile workforce with a corporate app that allows them to initiate the signing of contracts, NDAs and forms can help streamline face-to-face meetings with clients.
What's included?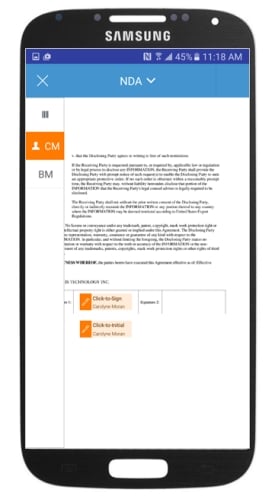 The eSignLive Android SDK – along with our other fully supported SDKs – were designed to help developers build better user experiences across both web and mobile channels.
This initial release provides all of the necessary capabilities to create Android smartphone- and tablet-optimized signing experiences, including:
Capturing forms data and signatures
Facilitating remote, in-person and offline signing scenarios
Designing complex workflows with multiple signers and documents
And more
The SDK also supports a variety of signature capture options, including tap-to-sign and applying a handwritten signature (i.e., with your fingertip or stylus).  
Are you ready to turbocharge your app?
To get started, join the eSignLive Developer Community for access to a free sandbox account, code snippets and online documentation and we'll help you quickly add e-signatures to your Android app.