Modern Risk Analytics: Why Financial Institutions Need to Strengthen Existing Fraud Detection Solutions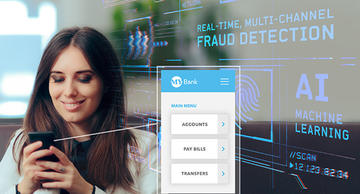 While we begin 2019 with fresh optimism, we can't ignore the hard reality that continues to plague the financial industry. Cybercriminals remain focused on account takeover (ATO), new account fraud, and card-not-present fraud. Results of the 2018 Identity Fraud report by Javelin Strategy & Research revealed significant growth in account takeover, with the number of attacks tripling in the past year alone to reach a four-year high. Losses from account takeover accounted for $5.1 billion, a 120% increase from 2016. As fraudsters get more aggressive, they continue to leverage phishing, spear phishing, and identity theft to further perpetrate new account fraud. In fact, 1.5 million consumers of existing account fraud had an intermediary account opened in their name – a 200% increase as directly compared to the previous year.
As financial institutions (FIs) battle fraudsters, they still face enormous pressures to grow the business, deliver innovative services, and comply with strict regulatory requirements, such as PSD2, PCI DSS, the NY DFS Cybersecurity Regulation, and many others. In an effort to get ahead of cybercriminals and meet compliance goals, FIs have continued to rely on traditional fraud management solutions to help them reduce fraud. Unfortunately, these institutions are finding that traditional tools and technologies are no longer good enough, and they require a modern risk analytics solution.
Traditional Fraud Solutions
The ability to meaningfully reduce fraud losses has been one of the primary challenges facing FIs over the past decade. Whether it's to mitigate account takeover, new account fraud, or emerging fraud, FIs have used traditional fraud management solutions to combat these attacks. These solutions provide a wide variety of basic fraud reduction capabilities, including:
Known fraud detection
Digital channel monitoring (i.e. online)
Mobile device identification
Static fraud rule-set creation
Manual case reviews
Manual customer transaction verification
Fraud reporting and auditing
Traditional fraud solutions have done a good job in helping FIs fight fraud, but very little to actually reduce fraud rates. According to Forrester's Fraud Management Solutions Forecast, 2017 To 2023 (Global), spending related to fraud management solutions is expected to double in the next five years. The reason for this increase is simple: traditional fraud management solutions cannot keep up with agile fraudsters and their ever-changing tactics.
While legacy fraud management solutions provide near-time fraud detection, online/web digital channel monitoring, basic device identification, static fraud rules creation, manual case reviews, and basic fraud reporting, they simply cannot address the speed and scale of new fraud. Combined with new business challenges, such as new and expanding digital channels, mobile banking, and regulatory requirements, traditional fraud solutions are becoming less effective.
A New, Modern Approach to Risk Analytics
What FIs require today is a more sophisticated approach to fraud management that will help lower fraud rates, comply with regulatory requirements, and reduce operational costs. A modern fraud management solution should supplement traditional fraud solution capabilities with:
Real-time detection of new and existing fraud schemes
Omnichannel support (i.e. online and mobile)
Trusted mobile devices/channels
Ability to detect new fraud faster with self-learning models
Pre-configured compliance policies and rule sets
Regulatory compliance checks across digital channels
Comprehensive multi-channel reporting
Interactive fraud relationship visualization tools
By combining traditional fraud prevention systems with newer fraud detection and prevention capabilities, FIs get the best of both worlds. A modern fraud solution provides real-time fraud detection of new and existing fraud across digital channels – as well as the ability to meet strict regulatory requirements ahead of fast approaching deadlines. Through pre-defined compliance policies and rules, a modern fraud solution allows FIs to get up and running faster and perform compliance checks across channels, while also providing reporting for auditors.
A modern fraud solution not only addresses traditional fraud challenges (i.e., fraud reduction), it also helps:
Identify emerging fraud methods
Perform omnichannel monitoring
Secure mobile transactions
Meet strict regulatory compliance requirements
Increase the efficiency of the fraud team
How OneSpan Can Help
While no fraud prevention system is bulletproof, constantly updating existing fraud tools and staying sharp with modern capabilities has become a way of life for financial institutions. OneSpan Risk Analytics helps FIs protect against attacks happening in the online and mobile channels using machine learning-based risk analysis to identify risk at critical steps, predicting risk levels, and taking instant action when suspicious activities are identified.
Risk Analytics works in the background, scoring activities in real time based on a detailed analysis of user behavior, transaction details, and other key contextual data collected from multiple channels. The solution then scores the user, device, and transaction data, and determines the risk associated with that transaction. Risk Analytics is able to take immediate action to either allow, review, or block the transaction, based on intelligent workflows coupled with pre-determined and FI-defined security policies and rules. The use of machine learning enables risk scoring to streamline processes, reduce operational costs tied to manual reviews, and ultimately improve the user experience through fewer false positives.
To learn how OneSpan Risk Analytics can help your organization reduce fraud, strengthen compliance, and drive growth, go to: https://www.onespan.com/security-products/risk-analytics