Online and Mobile Banking vs. Brick-and-mortar [Infographic]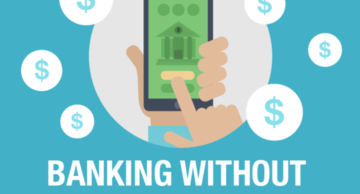 We live in a multi-channel, multi-device world where people can accomplish many of their everyday banking transactions remotely through online and mobile banking. In fact, 90% of smartphone users participate in some type of online banking. Online and mobile banking capabilities have expanded beyond simply checking balances and transferring money between accounts. As bank customers migrate to online and mobile channels, the paper-based processes that traditionally took place in the branch are moving to online portals and mobile apps. To achieve this, banks and financial services providers of all kinds are turning to e-signature technology to digitize processes that require signatures, such as onboarding and lending. When banking customers e-sign transactions such as loans on a mobile device, the experience becomes easier and more convenient. Giving customers the ability to e-sign on a smartphone gives them the freedom to choose how they will transact with their bank.  
Online and mobile onboarding
The ability to onboard customers from anywhere, at any time, has become a competitive advantage. And the most direct way financial service providers can improve onboarding is by ensuring the process remains fully digital. It's all about speed, less manual work, fewer errors, tighter compliance and meeting expectations for a modern experience. In 2017, Celent Research published a report on the mobile e-signature deployment at BMO Bank of Montreal. BMO's mobile customer onboarding has been in production since 2016. According to Celent, "BMO customers can quickly search, select and open an account on their smartphones in under eight minutes." Remote mobile e-signing is possible even when online account openings require a hand-scripted signature. In 2015, top banks and financial services firms began testing mobile signature capture in the field. One global bank launched a pilot to test mobile account openings at airport kiosks. The bank developed a dedicated iPad app, with e-signatures integrated directly into the app so the entire process remains digital. The bank had been using the same trusted deposit account opening process for many years, but when it came time to adapt the paper process to the iPad, the bank used the opportunity to eliminate unnecessary steps and build a streamlined mobile experience.
Lending & mortgage move to online and mobile channels
Online banking now makes it possible to do essential tasks with the tap of a finger, like applying for a loan or buying insurance. Here are two examples:
Consumer loans: E-Signatures, e-forms and digital processes are being used to automate loan applications and finance contracts, as well as for electronically delivering the many consumer disclosures at the heart of these processes. According to OneMain Financial, "If we did not have e-signatures, we could miss out on a large segment of customers who want to do everything online. The online lending experience has allowed us to be able to very quickly capture the customer, make the underwriting process very streamlined and straightforward, and get the loan closed and funded quickly."
Mortgage: Beyond regulatory pressures, one of the main drivers to digitize mortgage is customer experience. Customers are rewarding financial services providers who offer them the ability to use a mobile device or web portal to communicate with their loan officer, upload documents, electronically accept disclosures and e-sign forms. In May 2014, for example, Wells Fargo extended eDelivery of disclosures to all residential home mortgage applications. In addition, the bank delivered residential mortgage disclosures to mobile phones.
Strong security for online and mobile banking
As banks offer more products and services online and on mobile devices, security safeguards like multi-factor authentication, mobile app security and fraud prevention are critical to protecting online banking customers and their data. When it comes to security for online e-signature transactions, one of the top questions we hear is on the topic of authentication. People always want to know, "How can a bank, credit union or non-bank lender be sure that a remote customer is who they say they are?" eSignLive supports many authentication methods to verify a consumer's identity. When it comes to authentication, different factors of authentication can be combined to adjust the security of the e-sign process to the risk level of a particular transaction. In other words, the level of security needed to authenticate an employee e-signing an expense report will be different from the security needed to authenticate a remote customer e-signing a $100,000 loan. Two-factor authentication is the authentication process where two of the three possible factors of authentication are combined (the term multi-factor authentication means two or more). These are:
something you know (e.g. a password, PIN code, or answer to secret question)
something you have (e.g. a token, a mobile phone)
something you are (e.g. face or voice recognition, behavioral biometrics, fingerprint, retina or iris scan)
For example, when a customer signs into their account, the bank prompts them to enter their username and password. This is the first authentication factor (something the customer knows). For the second authentication factor, the bank could ask the customer to enter a one-time password from a software authentication app or the SMS PIN code sent to their mobile phone (something only the customer has). When combined with the username and password, the result is a stronger layer of security.
Digital banking is the future
Online and mobile banking features are a smart offering for banks that want to retain their customers in a changing marketplace. While opening new branches is expensive, moving into the digital space is a smart way to improve anytime, anywhere access.