HIGHLIGHTS
Scalable
Select the best check types for your demographic to optimize adoption rates. Add new check types as they come to market.
Low Risk
Avoid vendor lock-in. Access multiple verification providers through a single hub.
Auditable & Enforceable
Capture a single and complete audit trail tied to the entire transaction - from verification to signature.
Single Company
Reap the benefits of a single API integration, SLA and vendor.
Digital account opening is a clear priority for financial institutions to enable new channel growth opportunities and to respond to changing consumer preferences. It however presents a two-fold challenge: achieving adequate risk and compliance objectives while ensuring a frictionless customer experience.
A "Hub" Mentality
The OneSpan Verification Hub gives you access to a wide range of third-party identity and verification services – all through a single API integration. Select the best check types for your use case and channel to maximize pass rates and minimize risk. This enables you to balance the need to provide a great customer experience, with one that mitigates the exposure to fraud.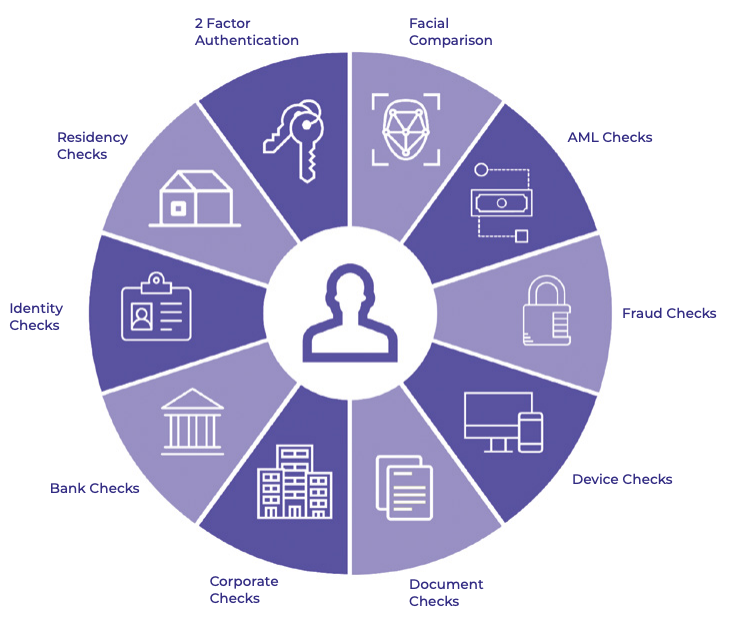 The Verification Hub integrates with multiple global and local third-party providers so that you don't have to. Our partners have been sourced to cover a wide range of check types and geographies and new partners are continuously being added.
How Verification Hub Works
Financial institutions have to follow stringent procedures to verify the customer's identity to comply with Know Your Customer (KYC) and Anti-Money Laundering (AML) requirements. Legal requirements of acceptable practices vary by country, but they typically involve a number of ID and identity verification checks.
The OneSpan Verification Hub can run a 360° profile on an identity and aligns with recommended standards for customer verification. The "one-to-many" integration approach results in higher pass rates and enables failover in the event of a check failure or provider unavailability. This in turn eliminates the need for manual intervention and reduces customer abandonment.

ID document verification
Checks that the ID (e.g., driver's license) is legitimate

Biometric verification
Uses "selfies" to establish that the person presenting the ID is the same individual whose portrait appears on the ID

Knowledge-based authentication (KBA)
Generates "out of wallet" questions based on information in the applicant's personal credit file

Fraud and anti-money laundering (AML) screening
Integrates with multiple credit bureaus to access a comprehensive set of fraud and AML checks

One-time passcode (OTP) verification
Transmits a single-use passcode via SMS or email to the applicant during the verification and/or signing process

Device ID and geolocation
Creates a fraud score based on the physical device profile and location and compares it against a known database of fraudulent profiles
WHY CHOOSE VERIFICATION HUB
Access multiple checks via a single API integration
White-label the experience to ensure trust across the transaction
Maximize adoption rates by selecting the optimal check types
Capture end-to-end ID and e-signature audit trails
Pre-integrated with OneSpan Sign
Download PDF