More than a simple signature maker, electronic signature platforms are a key pillar of the digitization strategies of organizations across many industries. By replacing paper processes dependent on handwritten signatures with a digital process using electronic signatures, organizations can streamline processes, create efficiencies, and build a better customer experience.
Business Continuity: Why You Need an Electronic or Online Signature
Many industries are moving towards digitization as a competitive strategy to create efficiencies and meet customer preferences and demands, but the COVID-19 pandemic revealed the importance of electronic signatures and remote processes in terms of business continuity. When government mandates in response to the pandemic enforced social distancing protocols, traditional channels of business became immediately unavailable. To maintain business continuity, an ad-hoc deployment of electronic signature software like OneSpan Sign allowed businesses to continue safely serving their customers.
How Do I E-Sign a Document with My Signature
In this video tutorial above, we explain how insurance agencies, financial institutions, government agencies, enterprises, and small businesses can create signatures using the OneSpan Sign (formerly eSignLive) electronic signature solution. The included instructions assume that the signer is receiving their invitation to e-sign documents through email:
1. As the signer, you will receive an email notification sent to your address whether Outlook, Gmail, or other email client.
2. Within the email invitation, access the document to be signed by clicking the link
3. At the next stage, depending on the document in question, you may be required to sign an e-signature disclosures and consent form. Simply click the checkbox to confirm that you understand the document and then move your cursor to click the Accept button.
4. This will take you to the documents(s) that require your signature. You will also notice a document preview displayed in the left hand toolbar. This toolbar will show all the documents that need to be signed in this transaction.
5. In this step, you or your signers will apply a signature to the document. Click on the signature field, which functions like a "sign button". Then complete any remaining form fields and click Confirm. You can also tap to sign on a mobile device using your finger or stylus. This will apply your own signature to the document. Alternatively, you may also upload an image of your signature to be used in this step by the online signature generator. OneSpan Sign will apply your new signature image if it has been defined in your account settings.
6. Repeat step 5 for any remaining transactions.
7. Success! You've now signed the document!
Browse more video tutorials about creating electronic signatures for all your Microsoft Word documents, PDF files, and other important documents in the OneSpan Resource Center:
Benefits of Document Signing with OneSpan Sign
Superior Experience: Get higher completion rates with custom branding and provide your customers with the flexibility to sign wherever and whenever they like on their preferred device or mobile device. 
Easy to Integrate: With our open APIs and fully supported SDKs, you can expedite the integration process and roll out e-signatures quickly.
Advanced Security: OneSpan Sign leverages digital signature encryption and meets the highest cloud security standards in the world.
Strong Identity Assurance: Leverage identity verification and authentication methods to ensure your signers are who they say they are before they interact with your documents.
Enhanced Compliance: OneSpan Sign meets the standards for simple, advanced, and qualified e-signatures in countries that have enacted laws that define types of signatures.
Process Efficiency: Create efficiency in your organization with reusable templates, workflow rules, an intuitive drag and drop document builder, and digital processes.
FAQ: What Documents Can Benefit from E-Signatures?
Electronic signatures and signature creators are used across many industries and organizations, including financial institutions, insurance companies, credit unions, government agencies, and enterprise and small businesses. Organizations have digitized their signing processes to sign PDFs and other electronic documents. Common digital documents signed with e-signatures include:
Legal documents
Account opening agreements
Employment applications
Expense reports
Contracts
Customer agreements
Purchase orders
Tax filings
And more docs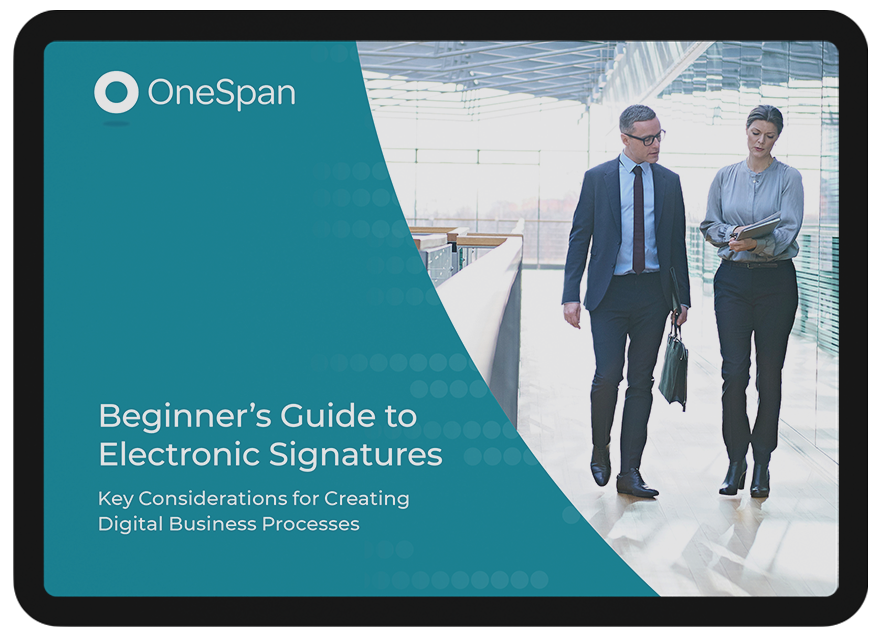 The Beginner's Guide to Electronic Signatures
This essential briefing introduces important legal concepts and key considerations when creating digital business processes with e-signatures.
Download Now