The 21st Century IDEA Act: A Catalyst for Digital Government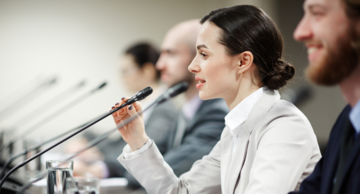 According to Forrester Research, saving money and improving the citizen experience are the top priorities for government sector technology spending. Rising citizen expectations are motivating governments at all levels to do better for their citizens. The new bipartisan bill in the U.S. dubbed the "21st Century IDEA Act" will do just that: transition away from paper-based forms and create a modernized, digital experience for the government's online services.
On December 20, 2018, the 21st Century Integrated Digital Experience Act (IDEA) became law. It creates a set of minimum functionality and security standards that all federal agency websites and digital services must meet. For example, it requires agencies to offer digital versions of all paper-based services and to accept electronic signatures from citizens.
Eight Standards of the 21st Century IDEA Act
Under the 21st Century IDEA Act (H.R. 5759), agencies have 180 days to ensure their websites and services conform to the following eight standards:
Is accessible to individuals with disabilities
 
Has a consistent appearance
 
Does not duplicate any legacy websites
 
Has a search function
 
Uses an industry standard secure connection
 
"Is designed around user needs with data-driven analysis influencing management and development decisions, using qualitative and quantitative data to determine user goals, needs, and behaviors, and continually test the website, web-based form, web-based application, or digital service to ensure that user needs are addressed."
 
Allows for user customization
 
Is mobile-friendly
Deadlines for Compliance with the 21st Century IDEA Act 
June 2019: Federal agencies report to Congress and the Office of Management and Budget (OMB) with a plan to accelerate their use of electronic signatures. 
December 2019: Agencies provide Congress a prioritized list of websites and digital services for modernization. They will need to include the estimated cost and schedule for doing so.
December 2020: Public-facing forms are required to have a digital option.
The value of electronic signatures in government is paramount in promoting paperless processes. OneSpan has been supporting government organizations in their digitization efforts for over 20 years. In fact, government was one of the first industries that led the digital charge and adopted e-signature at a time when the technology was still unfamiliar.
Today, the use of e-signature has skyrocketed with the rise of the cloud and mobile offerings, and it is recognized as a core technology that enables the creation and delivery of digital transactions. Our very first government customer, the US Joint Chiefs of Staff (JCS) in 1997, is still a OneSpan customer today. We're proud of our track record in providing the longest-standing implementation of e-signatures and digital signatures in U.S. government. 
Identity & Authentication Challenges in the Digital World
Historically, citizens would need to take their ID documents to a government office and apply a "wet" signature before getting access to government services. Transacting in the digital world however comes with a new set of challenges.
We continue to partner with government as its needs have evolved over the years – including providing support for robust authentication methods such as signing with government-issued Common Access Cards (CAC), PIV smart cards, and derived credentials (watch video).
We also offer a new government ID authentication option that takes the pain out of verifying a citizen's identity. Signers simply snap a photo of their physical, government-issued ID card (e.g., a driver's license or passport) and then a "selfie" that adds an additional layer of identity verification. This method evaluates the ID document's patterns, fonts, holograms, and other security features in seconds and then compares the selfie against the image extracted from the ID document to validate the signer's identity. Government ID verification provides a new, innovative way to verify the ID of remote signers in a way that delivers a great citizen experience while reducing identity fraud.

 
Since the first implementation of e-signatures in U.S. government in 1997, OneSpan has helped hundreds of government agencies across the Department of Defense (DoD), federal government, and state and local government digitize and automate their manual, paper-based processes in support of their digital transformation strategies.
Today, our proven OneSpan Sign FedRAMP-authorized solution meets the highest cloud security requirements and is in use by government organizations such as the U.S. Census Bureau, U.S. Small Business Administration (SBA), USDA Natural Resources Conservation Service (NRCS), and GSA. These agencies selected OneSpan because of our close partnership with the U.S. government - as well as our robust audit trail, security, and authentication features. 
OneSpan is proud to be a long-standing partner of the U.S. government, and we applaud the 21st Century IDEA Act as an important enabler to support the quest for a fully digital and paperless government. Learn more about our solutions for government.