Biometric Authentication: Get a Head Start on Your Vendor Evaluation with Javelin's Scorecard
According to Javelin Research, biometric authentication is the most desired authentication method for online and mobile banking. As banks and financial institutions (FIs) increasingly prioritize biometrics, the business and security teams tasked with selecting the right platform will have to evaluate a growing list of requirements – from impact on customer experience, through to time and cost to integrate.
Life just got a little easier for FIs evaluating biometric authentication vendors. Last week, Javelin Research published their 2018 Mobile Biometrics Platform Scorecard report. In the report, the analyst firm compares the functionality, innovation, and flexibility of mobile biometrics platforms from 12 vendors, including OneSpan, Gemalto, and Transmit Security.
As part of their research, Javelin did a market survey, determined the key evaluation criteria, and ranked 12 vendors across three critical categories – giving evaluation teams a head start in their decision process.
Biometric Authentication Challenges
In banking, the popularity of biometric authentication outpaces all other authentication methods. In a 2017 survey, Javelin asked 5,000 consumers about their favorite authentication method for online and mobile banking. More than 60% of respondents chose fingerprint scanning as their "most preferred or second-most preferred authentication method when logging in to their financial accounts". Facial recognition, one-time password, and eye scanning round out the top four authentication methods.
Today, most financial institutions (FIs) offer fingerprint scanning as a frictionless, convenient way for customers to securely access their accounts. In the case of facial recognition, however, use cases are largely limited to Apple devices with Face ID. The challenge for FIs is that as mobile biometrics technology becomes more easily available, people are increasingly demanding biometrics as part of their mobile and online banking experience. But according to Javelin, financial institutions are not delivering on customer expectations for more choice in biometric modalities.
"Moving beyond fingerprint and Face ID to support other modalities such as Face on non-iOS devices, eye, and voice, give users the ability to choose the authentication method that is easiest for them in a given circumstance or that they feel to be the most secure," says the analyst firm.
Top Criteria for Evaluating Mobile Biometrics Platforms
To determine the top requirements and evaluation criteria, Javelin started by establishing the three key questions FIs have to answer:
How well does the biometrics solution solve my business problem?
Does the solution provide long-term value?
How difficult and expensive will it be to integrate?
Building on these questions, Javelin evaluated vendors based on the firm's Functional, Innovative, and Tailored (FIT) model. The model examines how well the vendor supports a range of biometric modalities across channels; whether the vendor provides emerging biometric modalities and advanced fraud analytics tools; and each platform's flexibility in terms of configuration and implementation options. Functional: Customers Want More Choice
In this category, Javelin looks at biometric modalities supported, ability to assess risk around authentication events, and any additional ID verification features that enhance security at key points in the customer lifecycle, such as enrollment and account openings. Javelin recommends that FIs:
Expand support for biometrics – specifically, deploying facial recognition beyond iOS devices and using biometrics for adaptive authentication use cases
Look for a provider who offers a broad array of biometric modalities across multiple channels, because more choice has a positive effect on customer experience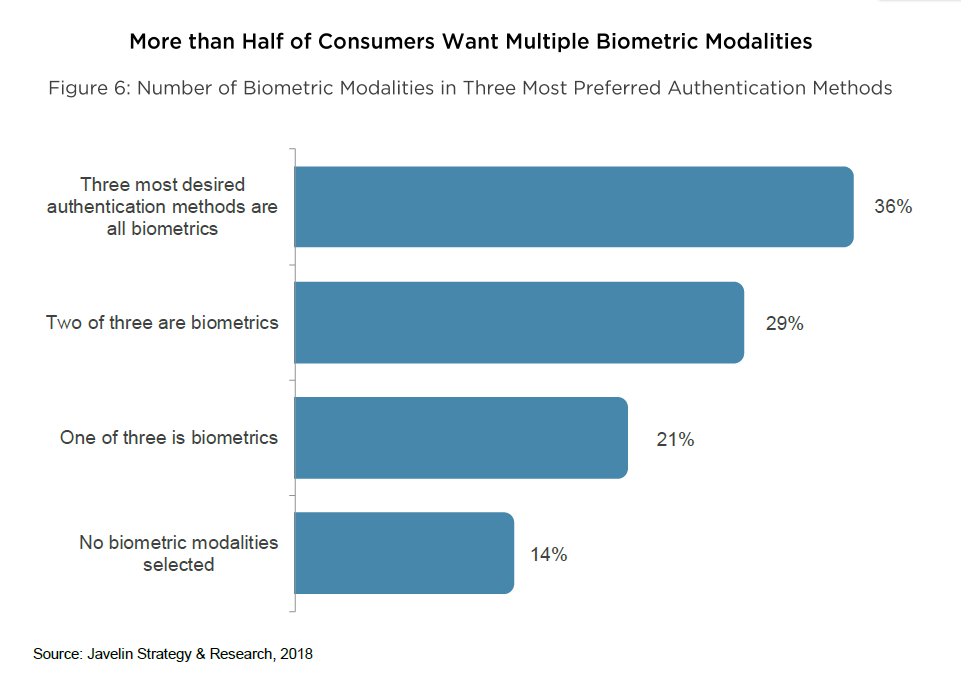 Innovative: Anticipate the Future
According to Javelin, "As customer expectations and fraud tactics continue to evolve within financial services, authentication platforms must incorporate cutting-edge features to retain relevance."
Authentication via fingerprint is nearly ubiquitous for mobile financial services, and it's possible facial recognition will follow the same trajectory. But innovation in biometric authentication doesn't stop there. There's voice, palm, gait, behavioral biometrics, wearables, and more that could influence customer demand in the future. Javelin recommends considering a provider who anticipates the future and makes it easy to introduce emerging modalities into the user journey as they become available.
Another criterion to consider when comparing and evaluating mobile biometrics platforms is their application of artificial intelligence (AI) with machine learning (ML) to identify emerging fraud schemes and adjust authentication scenarios accordingly. AI and ML also help detect the spoofing of an account holder's biometrics, enhance liveness detection, and tune user profiles or templates to reduce false positives.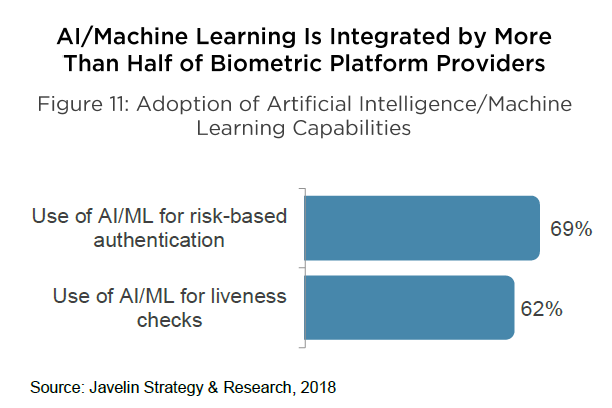 Tailored: How Well Does the Solution Meet Your Needs?
Of course, total cost of ownership is critical when selecting the right mobile biometrics platform. Javelin provides a valuable ranking of each platform's flexibility in terms of configuration and implementation options to meet clients' and users' needs.
Another key item in this category is whether or not the sensitivity of the biometric algorithm that powers the authentication process can be tuned in relation to an FI's unique needs. For example, simply implementing Touch ID or Face ID (technology native to iOS devices) doesn't allow for the tuning of the algorithm that matches users to their biometric profile. This could affect customer satisfaction with a biometric modality.
See How Vendors Rank
If you are evaluating biometrics for mobile and online banking, this report provides a strong starting point. It's a 20-minute read that could save hours of research down the road, considering that Javelin has done a lot of the due diligence for you – and ranked a dozen top vendors, making it easier to narrow your shortlist.
To see how OneSpan ranks against other vendors and why Javelin recognized OneSpan with the 2018 Best in Class Mobile Biometrics Platform award, download the report.