Clarien Bank: Digital Transformation in Banking Starts with a Digital-first Culture
Digital transformation in banking has been a hot topic for many years, but since the onset of the pandemic, the banking industry has had to accelerate adoption of new digital technologies that enable remote customer experiences. However, it's not just customers who need to adapt to these changes. Corporate cultures also need to embrace a digital-first mindset.
That was one of the key learnings for Clarien Bank, as they digitized their account opening processes with electronic signature and digital identity verification technologies. Clarien Bank is one of Bermuda's largest independent integrated financial services organizations with assets of US$1.36 billion. The bank provides retail banking, corporate and private banking, as well as wealth management and investment services.
In discussing the bank's digital transformation initiatives, Michael Decouto, Chief Digital & Marketing Officer at Clarien Bank, explains that, "Digital account opening and ID verification is our primary focus. We have a significant roadmap to digitize all account opening, whether that be traditional savings or checking accounts, straight through to applying for a loan or a mortgage or prepping for an investment account."
The bank shared their best practices and insights from the project in a webinar on Digital Banking Ambitions in the Remote-first Era. In that session, I spoke with Michael about his tips for developing a customer- and employee-centric digital culture – and how to set the foundation for successful digitization and modernization initiatives.
Below is a 5-minute summary of the key points we discussed. You can hear the full version of our presentation in this on-demand webinar.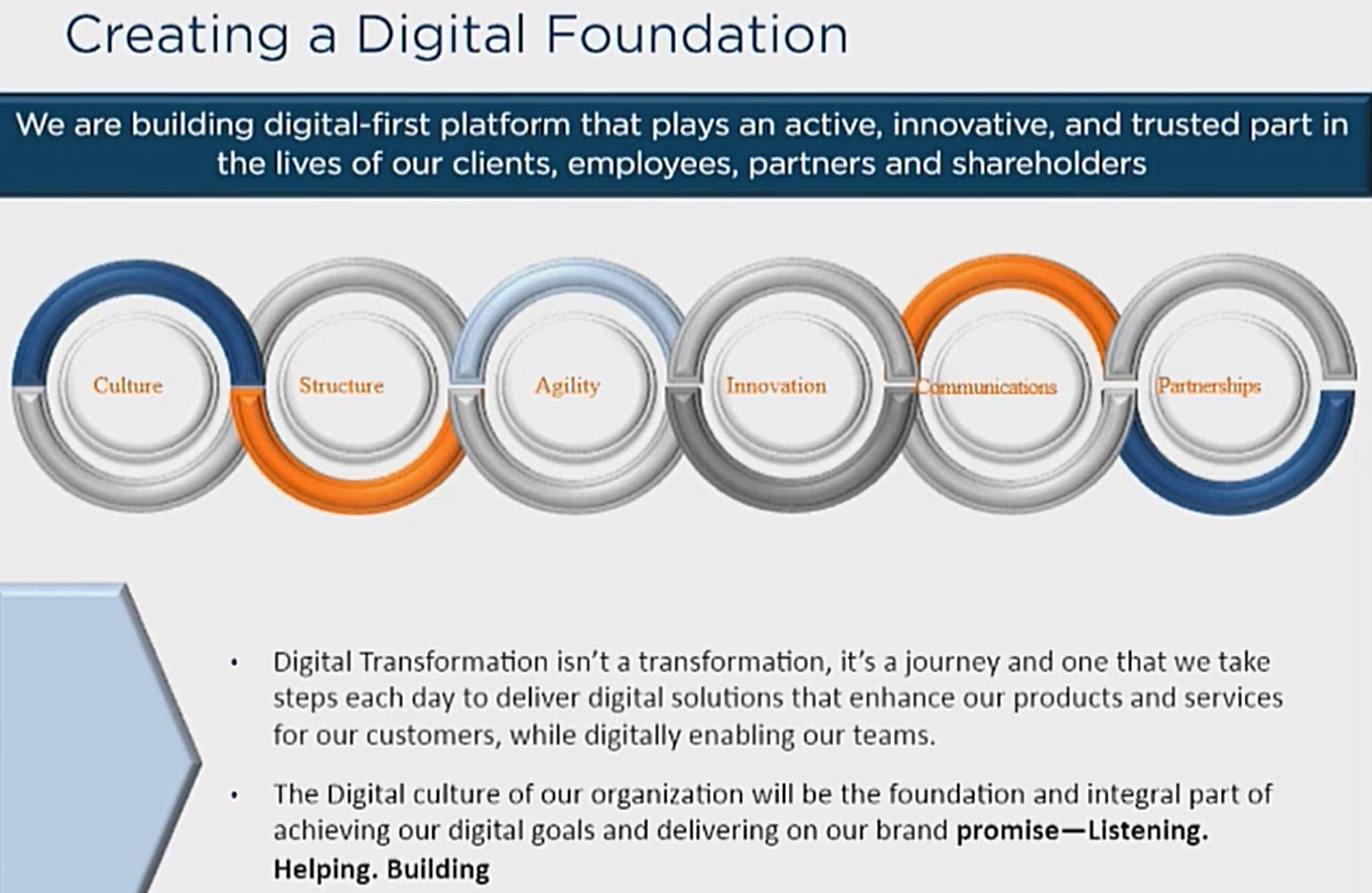 Establishing a Digital Mindset as Part of Company Culture
"The digital culture of our organization
is an integral part of achieving our digital goals
and delivering on our brand promise."
– Michael Decouto, Chief Digital & Marketing Officer, Clarien Bank
When it comes to creating digital-first customer experiences, Michael emphasizes how important it is to start from within the organizational culture to establish digital-centric thinking. Engaging your customers means empowering your employees with the proper training and investments that build their digital skills and knowledge. To understand what your employees need to set them up for success, they have to be involved in developing the new digital experiences. This way, they will understand how to mitigate friction points and look at ways to optimize client interactions.
To create the best digital journey for customers, the financial services industry needs to put employees first. It's critical to develop digitized internal operations and processes for employees to follow so that they can service digital customers successfully.
Another consideration is when digital technologies are introduced into legacy systems and processes, employees can become concerned about their job security, especially those who do manual tasks. That's why it's crucial to involve employees in your digitization projects. They are key to helping define the end-to-end customer journeys. In addition, people with traditionally in-person operational tasks can be upskilled and/or reskilled to fit higher value, higher-touch, customer supporting roles. For example, Clarien Bank created digital concierge roles, where employees help customers through any hurdles they experience during their digital journey.
Key Considerations to Make Remote Banking Easier & More Secure 
Based on Clarien's experience when creating and implementing digital user experiences and workflows, addressing the following areas will set up an organization for success.
Leverage data: It's difficult to set up the right processes and improve services without the right data. This includes data about customers, like demographics and the types of services and products they use. Leveraging data is not only about using information to implement digital solutions, but understanding which solutions best meet the needs of your customers. There are many types of interactions that customers experience during their digital journeys, and data analytics will help you understand any points of friction they might go through.
Understand customer friction points: New digital services are being implemented across almost every industry as the need for digitization increases. With a high rate of change taking place over a short period of time, it's understandable that customers are experiencing higher degrees of frustration. It's essential to identify and develop solutions that address these points of friction in order to create better digital experiences for customers, meet their expectations and foster loyalty. Below are a few of the most common points of friction customers experience when interacting with financial institutions:
 

Removing paper, from the front office to the back office: Financial institutions have traditionally offered mainly paper-based banking services to customers. Although regulatory compliance is mandatory, there are ways to simplify and digitize paper processes. For Clarien Bank, the core issues included:

The number of forms that customers had to fill out and sign as part of an account opening
The need for customers to visit physical branches multiple times to conduct their business
Barriers to opening accounts in a single sitting

Clarien Bank wanted to streamline their process so customers could open an account digitally in one sitting. To do so, they integrated their online banking portal and mobile app with OneSpan Sign electronic signature technology so that customers were able to complete their sign-up and onboarding online. This allowed documents to be pre-populated using data submitted by the customer during the earlier stages of application.
Digitizing the identity verification step: As part of the original paper process, the customer would have to bring in a passport or a valid driver's license or another acceptable form of identification, and it would need to be handed over to the banker who then had to photocopy it and then verify the ID. Then it was placed into a paper trail, which went to the bank's operations department or compliance team for further verification. Ultimately, this meant accounts were unable to be opened in real time.

"There was a delay in opening the account, in fulfilling a personal goal of that customer to start a savings plan or to make a purchase – because it was such a burdensome exercise in terms of having to collect the data, capture their identity, and verify it. There were many different opportunities for risk and failure," Michael explains.

To solve this issue, Clarien Bank turned to the ID verification option in OneSpan Sign to run identity checks in real time. This capability validates the identity of the user and then allows them to sign documents with their e-signature. Not only did this reduce the number of steps in the remote account opening process, it also removed touchpoints where customers could potentially struggle and drop off. On top of that, customers can now do everything using their mobile device.

In the webinar, we also talked about the benefits of automation and how customer-friendly it is to do ID verification in an automated manner. From a customer experience perspective, going through the identity proofing process on your phone is relatively easy to do. And the result for the bank is a high level of identity assurance.

The process is simple. The customer takes a photo of their ID, which could be a driver's license or passport. OneSpan's digital identity verification technology uses artificial intelligence and runs a number of forensic checks in real time to ensure it's an authentic ID. Then, for additional security, the financial institution can layer on facial biometrics to compare the photo on the government-issued ID with a selfie of the customer.
Lack of human help during the application process: Consumers are already used to doing many of their regular financial activities via computer or mobile device. They pay bills, check their account balance, send money to their families, etc. However, it becomes an issue when more complex tasks are required. For more complicated activities where customers need support, information, or have questions, self-service channels are not enough.

Instead of creating a divided experience between digital and physical/in-person journeys, OneSpan offers the ability to do a human-digital "blended experience" to bring together the best of both worlds. Banks can enrich the digital experience with face-to-face interaction in a digital environment. This way, customers can reach out to account representatives and customer service people through a bank's digital platforms and talk face-to-face via camera, share documents, collaborate on documents, review financial records, and get human help in a digital environment.
Digital Transformation in Banking: Best Practices
Using the digital solutions mentioned above to reduce points of friction helps financial institutions understand, engage, and transition customers to digital channels. A few best practices to consider when pursuing digitization include:
Be specific when identifying the business processes you want to tackle
Determine measurable outcomes that define success
Actively listen to customers' needs and identify points of friction
Analyze the data you gather to ensure you can quantify and address customer needs
Get your whole team to collaborate on developing solutions
Use lessons learned from other successful organizations with mature digital banking models
Use results from research and marketing studies that have already been conducted
Find a reliable digital solution from providers like OneSpan
The Power of Integrating with OneSpan
By integrating with OneSpan's digital solution, Clarien Bank has been able to digitally transform its account opening process and create a better, more personalized experience for clients. It all started with adopting a digital-first culture that incorporates and empowers its employees at every stage of the digitization journey. A lot of advancements have been made in the market and banking institutions like Clarien Bank have demonstrated how easy, quick, and secure it can be to achieve your digital transformation strategy through new technologies, cloud computing, and the right technology partner.
Editor's note: At the 2022 Tech Innovation Awards hosted by the Bermuda government's Economic Development Department, Clarien Bank was named the winner of the Mobile App of the Year for its Digital Account Opening. Learn more about OneSpan's partnership with Clarien Bank and solutions like e-signature for use cases and business models that are being used across the financial services industry, by watching this on-demand webinar.