E-Signature Adoption on the Rise in Credit Unions
The Credit Union National Association (CUNA) recently surveyed credit unions to understand e-signature usage trends and adoption. The results showed that e-signature use is on the rise, with 77% of credit unions currently using e-signatures to streamline the way they do business with members.
When asked "What is the biggest benefit of e-signatures?" nearly 80% of the credit unions using e-signatures answered "member convenience" (see Figure 1).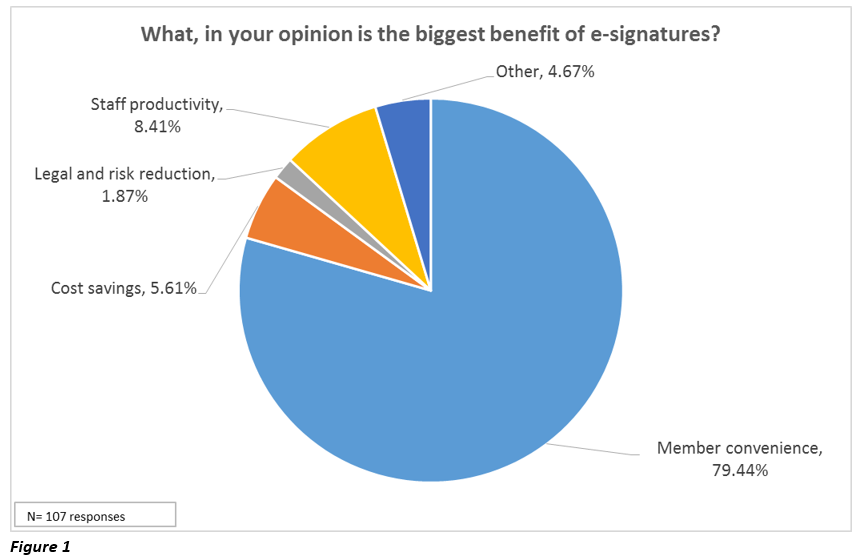 Another interesting piece of information uncovered in the survey is that the majority of credit unions are using e-signatures for personal loan applications (95%) and account opening/membership applications (56%) (see Figure 2).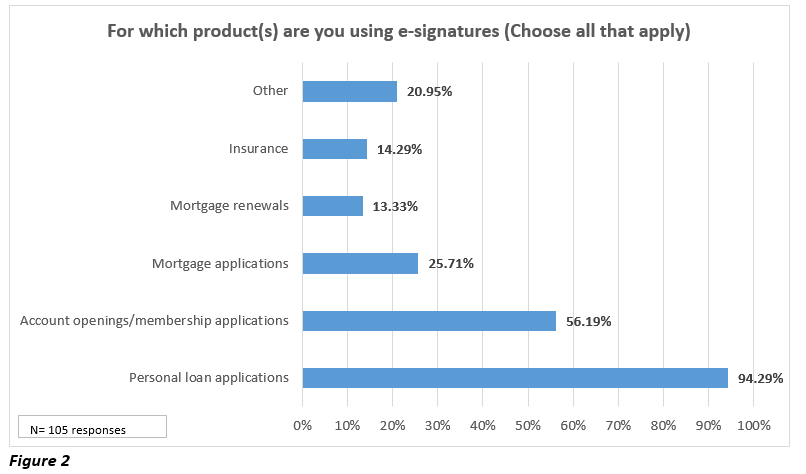 In recent years, more credit unions have made the leap to digitize their operations by going paperless. E-signatures play a critical role in the digitization process by giving members the flexibility to do their everyday banking, open accounts and apply for loans − from anywhere, at any time, on any device. Credit unions also recognize that the benefits of going digital include:
Cost savings
Staff efficiency and productivity
Stronger compliance
Revenue growth through remote and virtual member engagement – without opening new branches
How e-SignLive has helped credit unions e-SignLive has helped credit unions realize the benefits of using e-signatures to streamline their business processes. Here's how:
Deliver a better member experience: Located in Pomona California, Cal Poly Federal Credit Union serves employees, alumni, students and other members of the California State Polytechnic College. They are using e-SignLive to automate member-facing and internal processes including loans, board approvals and human resource documents for new hires. The CEO was thrilled by how easy and cost effective it was to get started with e-signatures. "With e-SignLive, distance and busy schedules no longer impede securing a loan. Our members love the convenience and think we're rock stars," says Barbara Bean, President and CEO of Cal Poly Federal Credit Union
Save time and money: North Peace Savings and Credit Union, a community credit union serving 11,500 members in British Columbia, Canada, is using e-signatures for retail and commercial lending applications and then expanding to account openings using the click-to-sign method. With an average of 100 loan applications a month, the credit union expects to save both time and costs, while offering members improved service, including the ability to electronically sign using an iPad.
Increase efficiency and productivity: Interior Savings Credit Union has nearly 82,000 members, 21 branches and assets exceeding $1.9 billion. The credit union is currently using e-signatures for mortgage renewals. "Mortgage renewals are a relatively low risk process as the paperwork and documentation is really just the member accepting the new terms and not the debt itself," says Tess Rose, Business Process Improvement Specialist at Interior Savings. By accelerating the mortgage renewals process with their remote members with e-signatures, Interior Savings Credit Union have shortened the time spent on this process from days to minutes.
Improve compliance: With over 140,000 members and $2.1 billion in assets, Spokane Teachers Credit Union turned to e-SignLive e-signatures to streamline their consumer lending and other business processes. One of Spokane's priorities is to be compliant during the e-signature process. e-SignLive's Evidence Summary gave Spokane the extra layer of protection they were looking for to confidently automate the e-signature process in their organization.
As CUNA Strategic Service's Exclusive E-signature Partner, we have helped many credit unions achieve a paperless process with e-signatures. Learn more about how e-SignLive can help your credit union go digital with e-signatures, download our e-book.