e-SignLive's Zero Moment of Truth: Highest Customer Satisfaction Rating in G2 Crowd'S Dreamforce Grid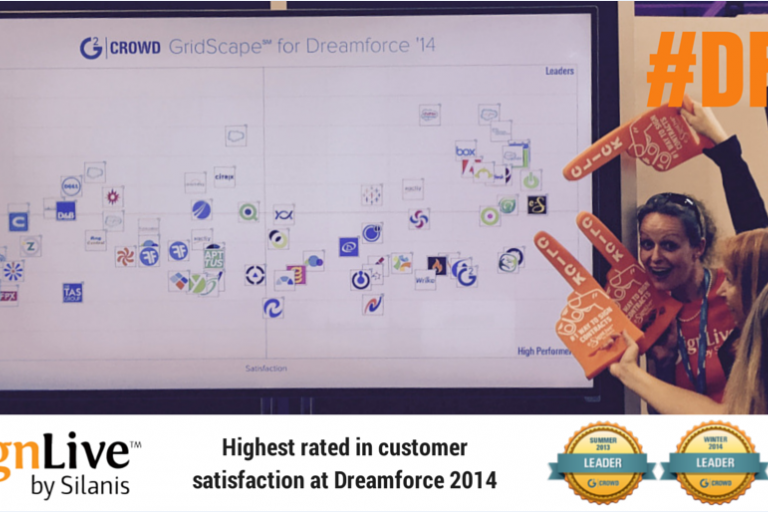 If Dreamforce is the Super Bowl of cloud computing as coined by Salesforce CMO Lynn Vojvodich, then receiving G2 Crowd's highest ranking among more than 70 exhibitors is like winning MVP. So when G2 Crowd's Mark Myers, co-founder of the peer-to-peer software review site that has created a real-time channel for the voice of the customer, told us that OneSpan Sign was the top ranked cloud solution in the G2 Crowd GridscapeSM for Dreamforce 14, I had to walk over and see it for myself.
Praise For OneSpan from G2 Crowd
Our customer base had already recognized us with three back-to-back G2 Crowd awards for the highest customer satisfaction in the electronic signature category. But having our e-signature service stacked up against so many products and exhibitors at Dreamforce 2014 based on user satisfaction and market presence, is proof that our technology and our entire company from stem to stern is creating the best customer experience ever. G2 Crowd has manifested these "shared customer experiences", in the words of digital analyst and guru Brian Solis, and created the "zero moment of truth."
When thousands of customers collectively voice their opinions based on real usage of a technology – posted in real time – this creates a moment of truth. And for OneSpan, our customers have confirmed we are listening to them, whether they are a small insurance agency like CNR First Insurance Services in Maryland; Wells Fargo, one of the largest banks in the world; or the entirfS Army with 1.6 million personnel. G2 Crowd is doing more than disrupting traditional business software review models. They are making the customer's voice loud and clear (read the reviews here). This is a great channel for us to listen to our user community and gather real-time feedback. It's also a great way for our customers to help us help them. To learn more about the Dreamforce launch of our new app, OneSpan for Salesforce®, watch Salesforce MVP Geraldine Gray's interview with OneSpan CEO Tommy Petrogiannis.