Highlights from SunTrust Panel at Information Interchange 2016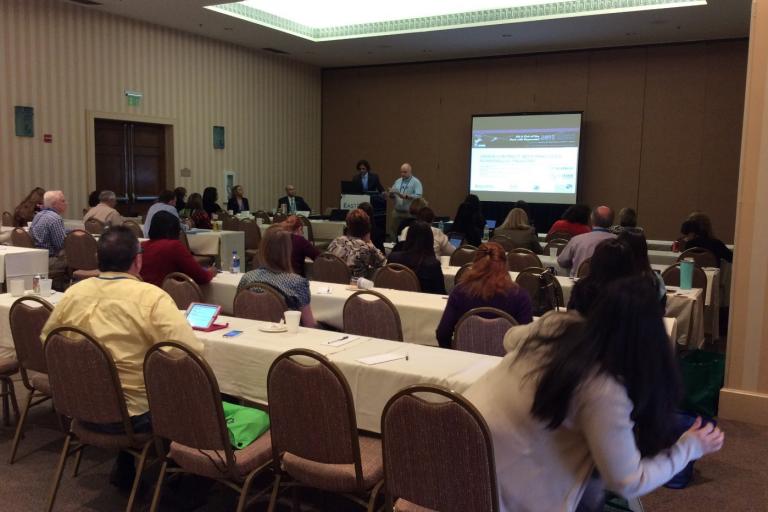 Hosted by EastPay, the Information Interchange conference for Florida banks and credit unions offered progressive strategies for the treasury management and payments sector – among them, a breakout session with SunTrust Bank on paperless treasury. From Same-Day ACH to Bitcoin, Blockchain, Apple Pay, Google Wallet, fraud, and e-signatures, the keynotes and break-outs were all about changes in regulations, technology and customer/member behavior. Through all these changes, the key is to identify innovations that deliver real value to your clients. As an example, what do you do when one of your treasury clients is sitting on a plane but needs to get a service agreement signed right here, right now on their mobile device? (For the answer, see "The Flight is About to Take Off" below.) [promotion id="15354"]
Event Keynote
Information Interchange is attended by 250 treasury management and payments professionals. From the show-of-hands, roughly 90 percent Boomers, 10 percent Millennials. I'm a Gen Xer. So I could laugh at keynote presenter David Peterson's jokes on both sides. All fun aside, his point was loud and clear: Millennials will become your best, most profitable customers over the next 5-10 years. Banks and credit unions need to make a connection with Millennials (those born in 1983 on). Peterson's message about Millennials and how they want instant gratification resonated. He gave an example of how banks and credit unions need to offer clients and members the ability to do things like take a pic of their ID, and send it in to the bank through their phone. "If we are not providing instant gratification, they are not going to take the additional steps to get something done with your bank or credit union," he explained. Clearly, keeping pace with clients' changing expectations and preferred way of doing business – digitally and on mobile devices – is accelerating a shift in treasury management and payments operations.
Breakout Session: SunTrust Bank - Paperless Treasury
In a panel featuring SunTrust Bank, the "Under Contract: Best Practices in Paperless Treasury" session gave attendees a firsthand view of how peers are transforming the treasury services client experience. Moderated by Berkeley Goodloe of EastPay, the e-signature panel included:
Marc Fabre, Head of Support Services for Treasury Client On-boarding and Technical Support, SunTrust Bank
Venissa Whitmore, Business Project Manager, Image & Document Service - Transaction Operations, SunTrust Bank
Amr Maud, Strategic Customer Success Manager, eSignLive
Headquartered in Atlanta, SunTrust operates approximately 1,400 bank branches and 2,160 ATMs across the Southern and Mid-Atlantic states. In 2011, SunTrust started a Digital Enterprise initiative. One of their projects was e-signature. The bank's Operations group got started with e-signatures by laying the groundwork at the enterprise level – the goal being a uniform, consistent approach to e-signing. The bank knew the world is going digital and mobile. At the same time, they wanted to reduce paper overall at the bank and in doing so, improve customer experience, streamline their processes and gain efficiencies. So Operations did the research and engaged with corporate legal counsel and associations such as ESRA, to get the legal buy-in. Once that was done, they went through an RFP process and selected eSignLive as their preferred e-signature vendor. The next step was to begin demoing e-signature to the various business lines. The first to step forward was Treasury. Marc Fabre shared how he needed to make it easy for clients to sign the Service Agreement Acceptance and other treasury forms. He identified e-signature as a way to improve the client experience and accelerate the process, by giving clients the ability to sign in a few clicks. He said:
"I tell people: Let me email you a link, so you can e-sign it. And then you just open it up on your phone or your iPad or your desktop, and click to sign. I promise you, it'll be a much better experience."
In response to client acceptance, SunTrust has since e-signature enabled ACH payments, wire transfer agreements, security administrator agreements, ancillary implementation agreements and approximately 60 other treasury forms/documents. (As an aside, written statements of unauthorized debit were another application area suggested by the audience during the panel.) In fact, there are many other areas literally across the bank that are a good fit for e-signatures, with SunTrust's client contact center, private wealth team, account openings team and others currently looking into e-signature capability just because their processes are paper-intensive, with lots of documents faxed and sent to customers by postal mail.
The Flight is About to Take Off
So, what do you do when the owner of a well-known restaurant group is sitting on a plane – and needs to get a document signed right here, right now, in order to move forward with treasury services? Marc told session attendees how one day, he got a call from one of the bank's sales officers. She hadn't used e-sign yet, but needed immediate help getting e-signatures to the client before the flight took off. So Marc went online, showed her how to quickly add the client's name and email, and place a signature box in the document. In minutes, she got the document to the client. The owner tapped and signed it on the phone and texted back a single word: "Fantastic!" It simply doesn't get better than that. There was no way the client would have been able to do that if SunTrust was still doing business the conventional way, with pen-and-paper. Changes in client behavior and the ubiquity of mobile requires that financial services providers adapt.
Advice for Those Looking at E-Signatures
When asked what advice he had for anyone looking at e-signatures, Marc's answer was simple:
Get top-down buy-in from leadership. That way, as you roll out you won't encounter obstacles, and it'll just be so much easier to do.
Once you go forward, pull the right project team together (legal, IT, operations, etc.). That way you'll be able to move forward quickly.
Spend time to educate yourself and understand the requirements. There are a lot of people in the bank looking at e-signature, and you need a solution with the flexibility to adapt to all needs.
To try eSignLive e-signatures for yourself, sign up for a 30-day free trial.