How Your HR Department Can Achieve Organizational Success with E-Signatures
Originally published on the G2 Crowd Blog.  
Human Resources (HR) is at the center of all employee activity: recruitment, performance appraisals, onboarding, payroll and career development. Traditionally, HR departments have been administrative in nature, serving process-oriented functions of an organization's executive management team.  
More recently, HR leaders are taking the reins to revolutionize the employee experience and shift organizations towards a digital mindset. This new approach drives organizational competitiveness and success. 
HR AND THE PAPER PROBLEM
The paper problem is no stranger to HR departments. The volume of documents an HR department manages can be overwhelming. From NDAs, new hire forms, employee policy distribution, to performance appraisals and employee insurance forms - the amount of paperwork that comes out of HR delivering services to its stakeholders is massive.  
Manual-based processes can lead to HR departments drowning in a sea of printouts. The need for streamlining paper-based processes is more important than ever - not just to reduce time spent on manual processes, but to eliminate costly errors in compliance and inefficiencies. Going digital helps HR become more productive, and improves auditability and regulatory compliance.
More HR departments are adopting technology to help automate manual and repetitive administrative activities and accelerate operations. As a result, HR can focus on value-added activities such as attracting talent, onboarding new hires faster and revolutionizing their employee experience.  
HOW E-SIGNATURES CAN ADD VALUE TO ORGANIZATIONS
Has your HR department embraced digital transformation? If your HR department is planning to transform, e-signature technology should be considered as a key component to achieving true end-to-end digitalization.  
The first step in this journey is turning hard-copy documents into digital files that can be easily stored, accessed and shared with others. Think of it, most of us already do this - we create much of our content on our computers such as Word docs, spreadsheets and presentations, and we can save these documents on our computer. We can easily share them via email or even upload them to the cloud.  
Some organizations are taking digital initiatives a step further by adopting sophisticated platforms such as Workflow and Content Automation systems (WCA) to streamline collaboration. To complete digital workflows without having to fall back to paper, organizations are adding e-signatures to their document processes - eliminating the need to print digital documents and do the run-around to obtain wet signatures. E-Signatures are a small yet important piece to help organizations achieve full digital transformation.  
From recruiting and onboarding to performance management, HR is using e-signatures at every step of the employee lifecycle to achieve increased productivity, convenience and cost-efficiency. E-Signatures can be a game-changing technology and can help provide value to your organization in the following ways:  
Elevate the employee experience:

HR leaders strongly believe that creating a memorable employee experience mirrors their best customer experience. Leading HR organizations are equipping employees with the latest tech tools, mobile apps enabling digital workflows
Enable remote workforces:

An electronic process breaks through borders, creating streamlined workflows regardless of device or location. Many organizations are turning to mobile technologies to create a culture of empowerment, where employees can make decisions and move projects forward from anywhere.
Improve productivity:

E-signatures reduce processing times, freeing employees from unnecessary administrative tasks so they can apply their expertise where it matters - boosting morale and productivity.
Ensure compliance:

Automated processes can enforce workflow rules so common errors like missing documents, pages or signatures disappear. In addition, digital processes provide visibility into the status of the signing process, with a full audit trail of each signer's actions to demonstrate compliance.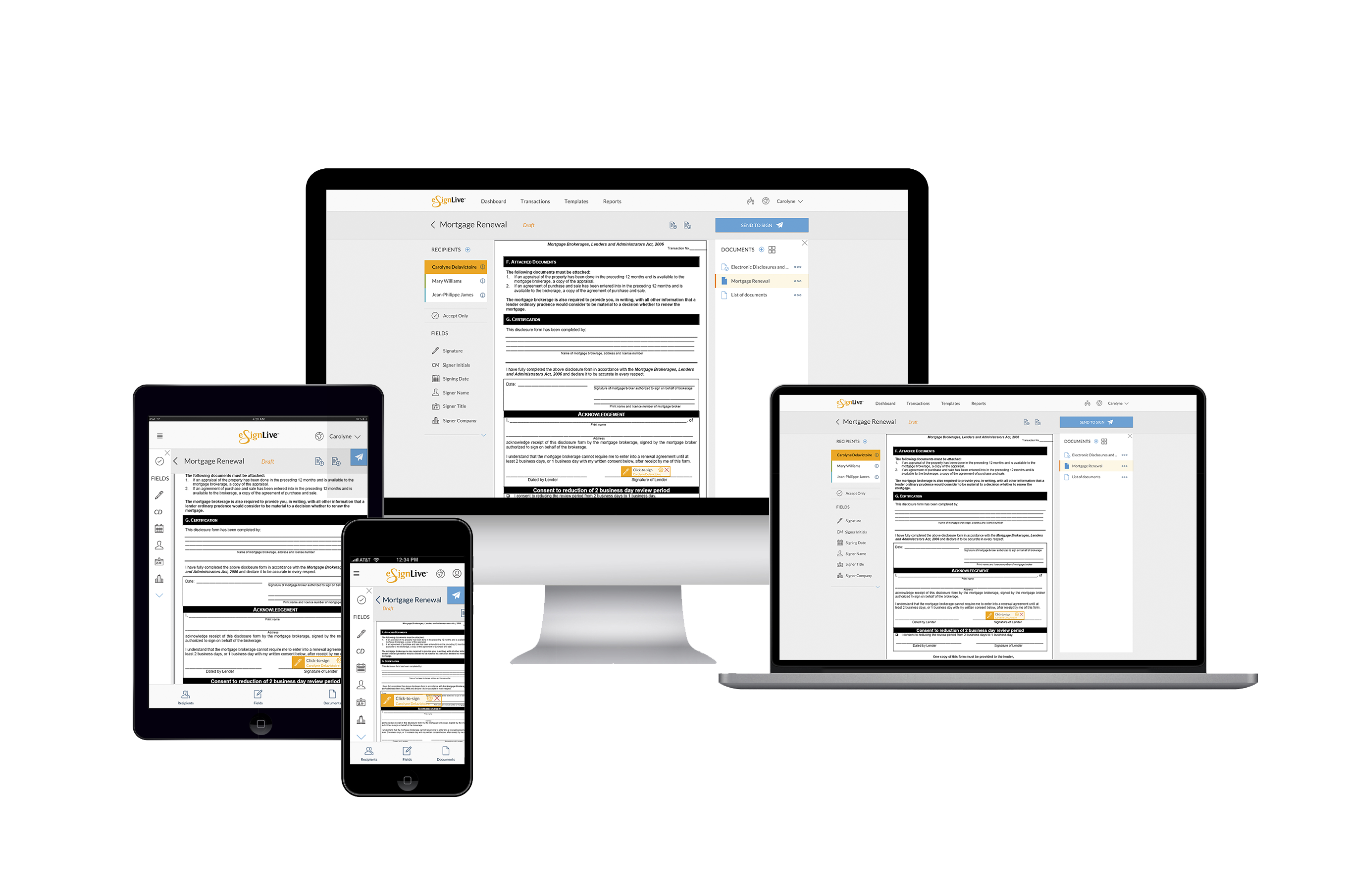 E-SIGNATURE USE CASES FOR HR
Many organizations are reaping the benefits of using e-signatures across their company. Here are a few use cases demonstrating how HR departments have transformed their business using e-signatures with eSignLive:  
US Air Force accelerates its recruiting process with e-signatures: 

Before e-signatures, recruiting officers spent an average of 70 – 80% of their workdays processing paperwork that required signatures from different parties. The average paper-based onboarding expense for the US Air Force was $27,200 per recruit. US Air Force turned to eSignLive to help them create an end-to-end digital process that integrates e-signatures with Salesforce, Drawloop and Mercury SMS. Going digital with e-signatures helped US Air Force reduce delays and errors incurred by paper and in turn helped them accelerate the recruitment process.
Lifesprk streamlines its hiring and onboarding for highly distributed workforce: 

Lifesprk, a US homecare services provider is facing 30% growth that has strained its hiring capacity. Lifesprk's HR department of three would hire 12 people per month and the process took an average of two weeks. New employees were required to sign hundreds of pages of documentation in the company's office. eSignLive helped Lifesprk implement an e-signature solution in just one hour. Since using eSignLive, Lifesprk has taken advantage of authentication options, remote e-signatures with mobile devices, and fully met compliance requirements with comprehensive audit trails. What's more, Lifesprk has shrunk its onboarding process from 2 weeks to 3 days.
E-Signatures help US Census Bureau save cost and time: 

US Census Bureau initiated a Cloud-First Digital Performance Management Solution and needed an e-signature vendor that was FedRAMP compliant. eSignLive helped US Census Bureau drop turn-around times for review cycles by 70%, reducing processing times from three months to an average of 27 days. The Bureau anticipates saving $5 per signature, or $1.2 million annually in printing, postage, storage and handling costs.
The time is now for your HR department to go digital with e-signatures. eSignLive helps improve efficiencies across the entire employee lifecycle by simplifying the process of obtaining e-signatures.  
If you're an HR department that wants to make the case for e-signatures, I invite you to read our white paper 'The Case for E-Signatures in Human Resources'. Ready to take the leap with e-signatures? Sign up for a 30-day free trial to discover how easy it is to send and sign documents with e-signatures.