People's United Bank: The Road to Digital Banking
Amid an almost immediate industry shift to remote banking, one regional bank with over 400 retail locations across the northeastern United States has shown great agility in adapting their digitization strategy to meet the new challenges brought on by the global health crisis.

Like many financial institutions, People's United Bank (PUB), a northeastern community‑based bank with $63 Billion in assets, has been on an ongoing digital transformation journey. In our recent webinar, "Digital Transformation and E‑Signatures: From Initial Deployment to Expansion Across the Bank," Ruchi Gupta, Director of Digital Products at People's United Bank joined OneSpan to discuss the experience in setting up e‑signatures as an enterprise shared service for multiple groups within the bank.
Pre‑Pandemic: The First Steps of the Digital Transformation Journey
Prior to the pandemic, People's United Bank had already established a few key objectives to focus on in their digital transformation:
Deliver a best‑in‑class customer experience
Enhance operational efficiencies
Reduce costs
To that end, the Digital Products team worked to deliver e-signing capabilities to new areas with the bank, in phased deliveries, under the following five requirements.
A focus on client experience was important for customers and internal staff alike. Internal teams become tied up with administrative tasks and sending documents back and forth. This experience needed to be completely automated.
A multitude of document management scenarios were then considered, such as reworking how to retrieve and store signed documents in real‑time complete with all the audit trails.
A review of their back‑office operations ensured all parties had the tools needed to avoid manually printing, scanning, or mailing documents to sign.
Solid governance was also essential, so they worked with their risk teams early on and in close concert to make sure they had the policies, controls, and procedures mapped out and validated, precluding any unwelcome surprises.
Finally, a deep look at technology solutions allowed them to preemptively consider future needs in terms of integration, partnerships, and potential gathering of business intelligence.
The bank launched a first successful use case with an early adopter using the out-of-the-box, user-initiated OneSpan Sign solution — no complicated coding or integration required. As an enterprise shared e-signature service, it was possible to onboard additional business groups very quickly and with little IT involvement.
"Productivity increased by 60% just by sending documents to the customer and getting them back using OneSpan Sign."
– Ruchi Gupta, Director of Digital Products
To gain more traction across the bank, the Digital Products team evangelized e‑signatures with every group in need of greater automation. A few early successes demonstrated the beneficial impact of OneSpan Sign and led to further executive sponsorship of e-signature initiatives.
How the Pandemic Accelerated the Pace of Change
Like many organizations at the onset of COVID‑19, People's United Bank was faced with the difficult task of maintaining operational and business continuity as lockdowns stifled business across the country. Almost overnight, the bank needed to enable remote business wherever paper was involved without losing focus on providing a top‑of‑the‑line customer experience.
In a poll conducted during the webinar on the audience's top priorities in responding to the pandemic, over 60% of respondents selected either "Improving digital onboarding and product origination" or "Bringing new digital channel capabilities live". This is reflected by the team's decision to first create alternative digitized workflows for all manual processes requiring in‑person internal approvals. They then turned their focus to digital onboarding and concentrated on strengthening their anti‑fraud protections with a more robust ID verification process.
Through their demonstrated ability to launch successful e‑signature workflows, the team quickly responded to new opportunities like the SBA's Paycheck Protection Program (PPP) under the CARES Act to distribute emergency small business loans.
The launch of these new initiatives was done at lightning speed. For instance, the team learned of the PPP lending initiative on a Thursday evening and by the following Saturday morning, the business teams were ready to begin processing over 10,000 e‑signed transactions over the next three‑week period, totaling more than $2 billion in loans.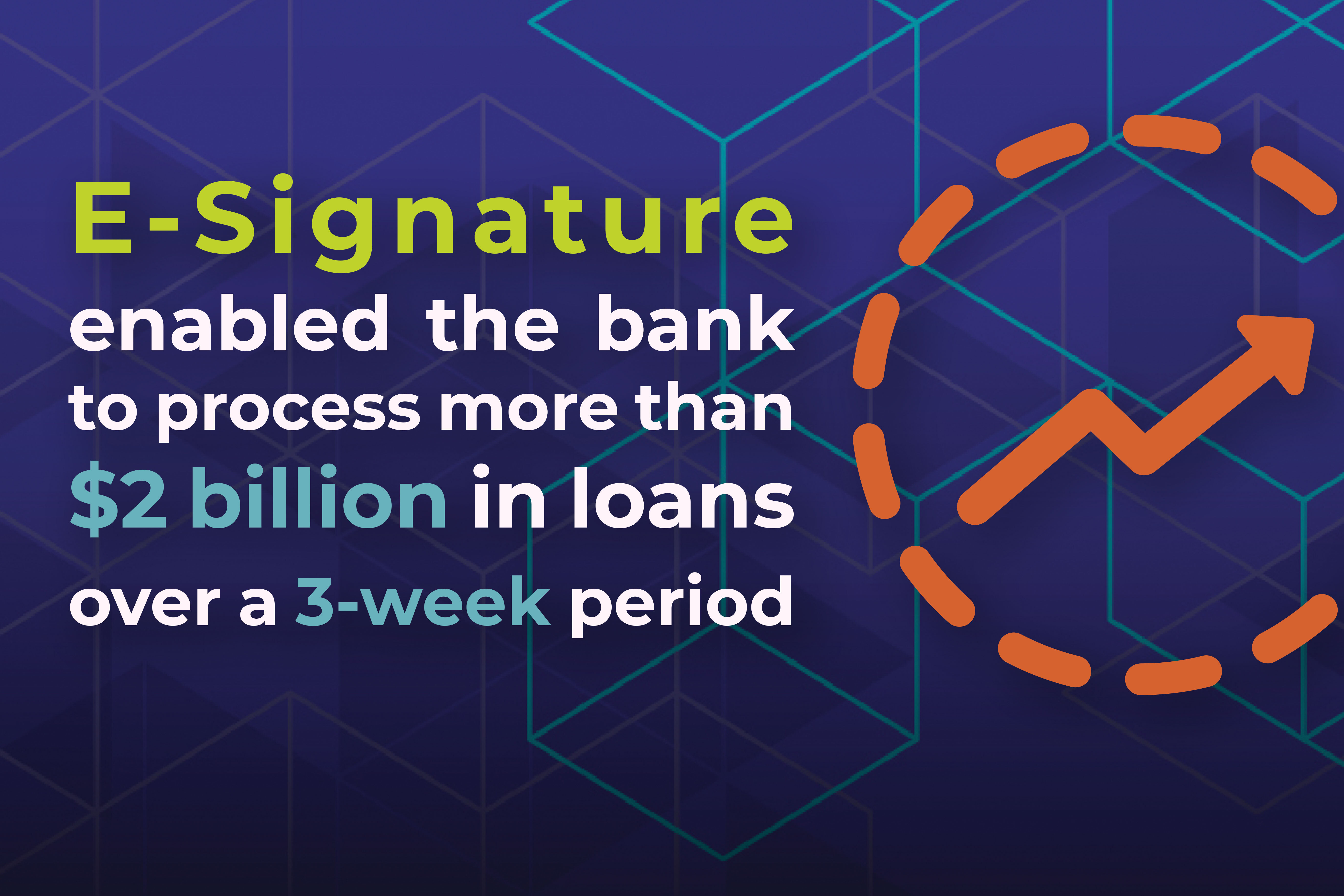 E‑Signature Lessons Learned
In sharing some of their learnings and best practices, People's United Bank addressed how to better balance security and customer experience by removing friction in low-risk scenarios and strengthening ID verification for high-value transactions.
They also learned to build in contingency workflows throughout the digital experience, giving their customers the choice to seek out another channel to complete the process, all while maintaining solid legal protections.
Through their dedication to deliver a holistic first-class customer experience, People's United Bank fully embraced the digital channel and e-signatures. And once the pandemic hit, they were fully equipped to adapt their digital strategy in order to maintain operations across several lines of business, all while continuing to reduce costs and improve internal efficiencies.
Learn more about People's United Bank's digital transformation story and key lessons learned by watching the recording of our November 17th webinar, Digital Transformation and E‑Signatures: From Initial Deployment to Expansion Across the Bank